Consumption and dietary intake of fruits and vegetables in Sri Lanka with a focus on traditional and indigenous fruits and vegetables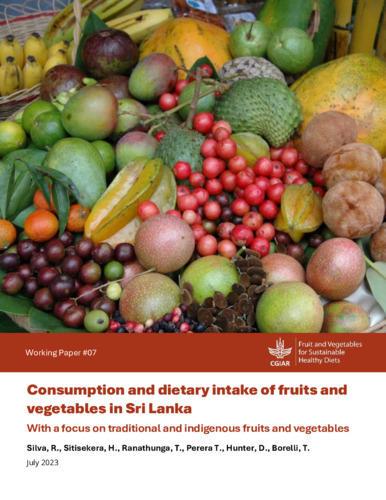 From
Published on

17.11.23

Challenges
Suboptimal diets are a significant preventable risk factor for non-communicable diseases (NCDs). Low- and middle-income countries (LMICs) often consume insufficient levels of fruits and vegetables (F&V), falling below recommended dietary intakes. To address this issue, detailed individual-level dietary data are needed to determine the extent and underlying factors contributing to inadequate F&V consumption. Additionally, understanding variations in F&V consumption across different life stages, genders, and demographic and socio-cultural factors is essential.
In Sri Lanka, the Fruit & Vegetables for Sustainable Healthy Diets (FRESH) project, launched by One CGIAR, aims to tackle these challenges. FRESH takes an end-to-end approach, focusing on increasing F&V intake, enhancing diet quality, improving nutrition and health, and simultaneously promoting sustainable livelihoods. The project also prioritizes empowering women and youth while mitigating negative environmental impacts. By implementing a comprehensive approach, FRESH strives to make significant improvements in the food environment and eating habits in Sri Lanka. Through research, partnerships, and community engagement, FRESH aims to raise awareness, facilitate behavior change, and create an enabling environment that supports increased F&V consumption. By doing so, the project aspires to enhance the overall health and well-being of the population while promoting sustainable development.
The aim of the present report is to provide a comprehensive overview of the status, challenges, and opportunities related to the conservation, use, and consumption of traditional vegetables and specifically to understand the dietary patterns of the Sri Lankan population along with drivers for these patterns and their associated health and nutrition problems.
The current consumption of F&V in Sri Lanka is significantly lower than the WHO recommendations for these food items across population groups and geographic locations. Among the factors recognized as affecting F&V intake are quality, freshness, price, safety, seasonality, affordability, and distance to market. Contributing to these patterns is a general lack of understanding of the long-term benefits of consuming F&V for improved nutrition and health.
Recommendations are provided in the latter part of this document to encourage greater consumption of F&V in Sri Lanka.
Silva, R.; Sitisekera, H.; Ranathunga, T.; Perera, T.; Hunter, D.; Borelli, T.