CLEANED environmental assessment of cattle and pig systems in Mai Son district, Vietnam. Baseline Validation Workshop Report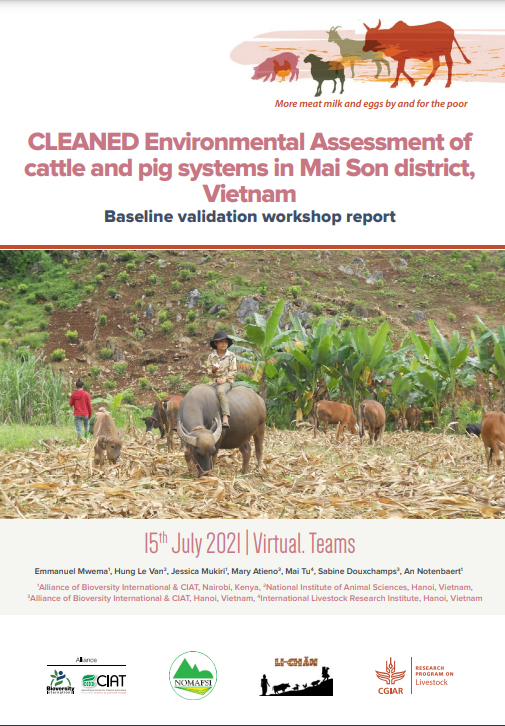 From
Published on

11.11.22

Challenges
Download
Li-chăn is a project under the CGIAR Research Program on Livestock (Livestock CRP) that aims to provide research-based solutions to transition smallholder farmers to sustainable and resilient livelihoods and to more productive small-scale enterprises that will help feed future generations. The project area is Mai Son district, Son La province. One-hundred and nine households were interviewed using the Gendered Feed Assessment (G-FEAST) tool in Son La, North-West Vietnam between April and November 2021. The G-FEAST tool was designed to identify opportunities and constraints in animal feeding practices for different household types by assessing the availability and use of local feed resources, identify challenges and constraints affecting livestock production through the gender lens, opportunities for improved animal nutrition and propose context-specific interventions on livestock feed for improved animal nutrition (Lukuyu et al., 2019a; Lukuyu et al., 2019b). When surveying representative farming systems, households that did not have cattle or pigs were removed, resulting in a total of one-hundred and four households. The interview responses were grouped into a farm typology with households close to roads and markets, in the valley bottoms with the best soil and most commercialized and intensified classified as farm Type A; those on the valley edges and slopes, who practice more mixed agriculture and are less specialized classified as farm Type B; and those high on the slopes who have poor road access, poorer quality land, and are generally more extensive and subsistence-oriented than the others classified as farm Type C (Hammond
et al., 2020).
Six villages are selected for project implementation in 2020-2021: Khoa and Xam Ta in Chieng Chung commune; Mon 1, Mon 2, Oi, Buom Khoang in Chieng Luong commune. Five case study model farms were selected (One from each village except Mon 2) from the household list for the CLEANED environmental assessments to represent mixed systems with cows and pigs which formed the majority in the region. The systems were then named as A, B1, B2, C1 and C2. The differences within type B arose from the feeding diets being different in the two villages (Khoa and Oi), while the differences within type C arose from management system and herd composition.
In the framework of this project, the Alliance of Biodiversity International and the International Center for Tropical Agriculture (CIAT) and the International Livestock Research Institute (ILRI), together with their partners, are jointly working on Comprehensive Livestock Environmental Assessment for Improved Nutrition, a Secured Environment and Sustainable Development (CLEANED) of cattle and pigs systems in Son La province, Vietnam.
This report presents the discussions and outputs of the virtual CLEANED internal expert validation workshop that took place on MS Teams on 15th July 2021. Due to the COVID-19 situation in Vietnam, this was an internal validation workshop, bringing together with experts from CIAT, the International Livestock Research Institute (ILRI) and local partners.
The workshop aimed to validate the environmental footprint quantified by CLEANED for cattle and pigs' systems in Mai Son, Vietnam. CLEANED runs were carried out for Son La in Chieng Chung and Chieng Luong communes with key input data including farm inputs, herd composition and animal whereabouts. Based on these data, the model quantifies land use and water requirements, nutrient balances and greenhouse gas emissions (GHGe). This is a first step in understanding environmental trade-offs in the modeled systems and forms the basis for designing systems with a reduced environmental footprint that enhance ecosystem services.
Mwema, E.; Van L.H.; Mukiri, J.; Atieno, M.; Tu, M.; Douxchamps, S.; Notenbaert, A.