Accelerating Impacts of CGIAR Climate Research for Africa (AICCRA) Environmental and Social Management Plan (ESMP) for Pilot of Climate Smart Agricultural Innovations and Climate Information Service Technologies in Kenya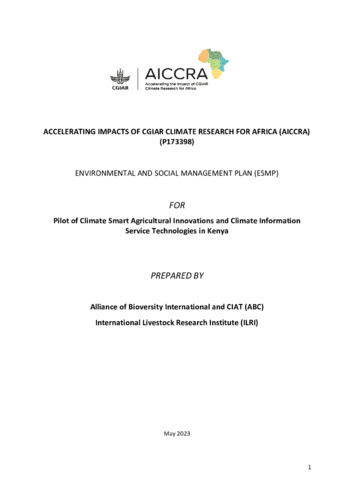 From
Published on

24.02.23

Challenges
Accelerating Impacts of CGIAR Climate Research for Africa (AICCRA) is a project being implemented in Africa to help deliver a climate-smart African future, driven by science and innovation in agriculture. It is led by the Alliance of Bioversity and Centre for International Tropical Agriculture (CIAT) and supported by a grant from the International Development Association (IDA) of the World Bank.
The Project Development Objective is to strengthen the technical, institutional, and human capacity needed to enhance transfer of climate-relevant information, decision-making tools, and technologies in support of scaling efforts in IDA-eligible countries in Africa. The project is structured into 4 major components and comprises Component 1: Knowledge generation and sharing; Component 2: Strengthening partnership for delivery; and Component 3: Validating climate-smart agriculture (CSA) innovations through piloting, testing, and demonstration.
The AICCRA project activities in Kenya are focused on improving the quality of CSA practices and information services in the Arid and Semi-Arid Land (ASAL) areas of Kenya. The project seeks to increase awareness and uptake of selected CSA practices and access to Climate Information Services (CIS), especially by women and youth. AICCRA-Kenya is also focused on piloting CSA innovations and CIS technologies in farmers' fields to expand the awareness and application of relevant climate adaptation innovations among farmers.
The AICCRA-Kenya team intends to promote practical demonstration of CSA innovations with selected farmers and public universities in Kenya. The pilot of CSA innovations and CIS technologies in Kenya will be led by International Crop Research Institute for Semi-Arid Tropics (ICRISAT) Alliance Bioviersity-CIAT (ABC) and International Livestock Research Institute (ILRI). ICRISAT will be demonstrating agronomic CSA practices with farmers on farmer fields, ABC will run joint experimentation of CSA practices with Chuka, and Murang'a Universities at the universities farmers to build the capacity of students, whilst ILRI's is focused on promoting and building capacity in climate-smart pastoralism practices in Arbajahan Ward of Wajir County. The training will cover community governance and inclusion of vulnerable groups; rangeland management; and relationship management. The training is meant to prepare the ward-level committee for the implementation of the PRM process and to quality-assure the delivery process and outcome. The backstopping technical assistance will focus on assisting the ward-level committee to conduct mapping of rangeland resources, long-term management planning, and short-term action planning for the ward-level committee.
Alliance Bioversity International and CIAT, ILRI.