What's in the soil, stays in the soil: Conserving carbon in our soils to transform food systems
From
Published on

19.05.20

Impact Area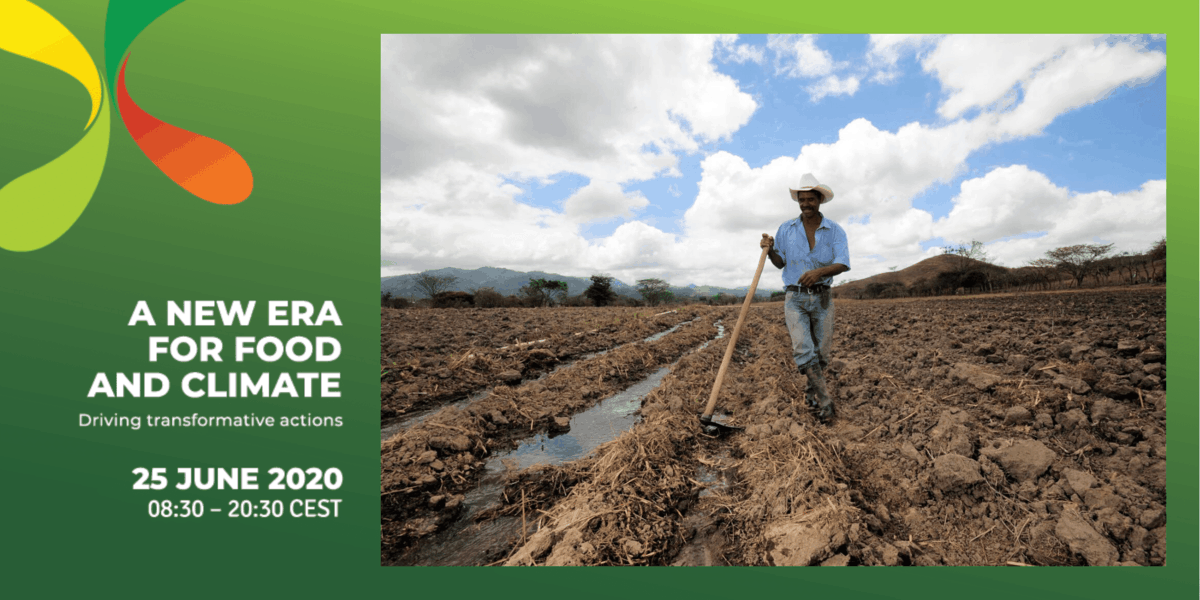 We are in a time of crisis and great uncertainty. COVID-19, besides being responsible for the deaths of thousands of people, has shown us the fragility of our food systems. Faced with this situation, we need to support Latin American countries so the food security of the population is not at risk.
Ensuring the production, mobility and distribution of food is one of the challenges in the current situation. It is very important to take into account climate change impacts in order to make the best decisions aimed at greater productivity. It is now more than ever that the need for a transformation in food systems is evident.
The Transforming Food Systems Under a Changing Climate initiative, led by the CGIAR Research Program on Climate Change, Agriculture and Food Security (CCAFS), in partnership with various institutions around the world such as the Inter-American Development Bank (IADB), the United Nations Development Program (UNDP), the Food and Agriculture Organization (FAO), and the World Bank, among others, seeks to explore ways to achieve sustainable, inclusive, healthy and climate-resilient food systems.
Latin America is no stranger to the need to transform food systems. Various studies have found that key crops for the region, such as corn, rice and wheat, will suffer serious impacts in terms of yields due to climate change. Moreover, deforestation is a major issue, where almost 4 million hectares per year were lost in South America during the period 2000–2010.

On the 11 deforestation fronts shown on the map, the greatest forest losses are expected to occur (2010–2030). Four of them are in Latin America. Source: WWF Living Forest Report: Chapter 5.
In this sense, agroforestry and silvopastoral systems are presented as an interesting option to achieve integrated results of mitigation and adaptation to climate change, highlighting and enhancing the synergies between trees, crops and forages and animal grazing in production systems.
It is not in vain that Latin American countries such as Peru, Colombia, Brazil and Costa Rica, in their Nationally Appropriate Mitigation Actions (NAMAs) have proposed to expand their silvopastoral systems. Similarly, 34% of Latin American countries mention in their Nationally Determined Contributions (NDCs) agroforestry as an adaptation-mitigation measure to climate change.
In fact, a study carried out by CCAFS, mentions, "80% of developing countries could achieve the fulfillment of their unconditional goals through a conversion of 25% of deforested areas into agroforestry."
A successful case that presents interesting synergies between agricultural productivity, improvement of farmers' incomes, conservation of natural resources, and the reduction of deforestation is the IADB-led project in Brazil, Low Carbon Agriculture. This project focused on the implementation of integrated crop, livestock and forest systems, while prioritizing actions for the recovery of degraded land and the sustainable management of extractive products from the forest.
This case is a striking example of transformation of food systems, and is part of one of the 11 actions proposed by the Report on the Transforming Food Systems Under a Changing Climate.
Preventing the agricultural land expansion on high-carbon landscapes
Considering that agriculture is responsible for most deforestation and contributes between 10–12% of annual global greenhouse gas (GHG) emissions, preventing the agricultural land expansion on high-carbon landscapes is presented as one of the most interesting structural solutions for reducing GHG emissions in food systems.
In the framework of the Transforming Food Systems Under a Changing Climate initiative, the goal is to prevent the expansion of the agricultural frontier by 250 billion hectares of tropical forests and 400 million hectares of peatlands while meeting global food demand. The idea is simple: feed a growing population without destroying our forests, wetlands and high-carbon grasslands that are so important for our planet health.
It is key that policies do their part as well, through an effective regulation that considers food demand and supply. Working together, governments, consumers and producers can achieve this.
This blog is part of a series for the Transforming Food Systems Under a Changing Climate initiative. It describes one of the 11 priority actions for transforming food systems outlined in the initative's 

flagship report

, 

launching 25 June 2020

. We invite you to join us for an 

around-the-world virtual event 

to engage on ways to take action together.

See details and register here. 
Read more: