Videos for behavior change: Evidence on improving diets in Ethiopia
From

CGIAR Initiative on Sustainable Healthy Diets

Published on

21.08.23

Impact Area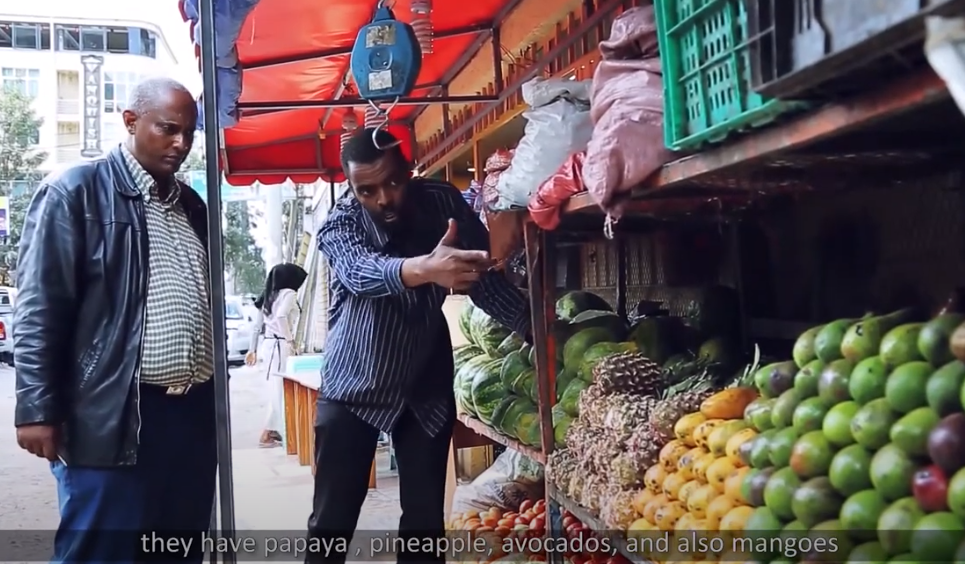 Worldwide, one in three people is affected by malnutrition. Hundreds of millions of people suffer from micronutrient deficiencies, and overweight and obesity is on the rise almost everywhere. In low- and middle-income countries, poor diets are a major driver of malnutrition and the rising burden of noncommunicable diseases. In most places, fruit and vegetable (FV) consumption is far below the recommended amount, which contributes to poor diet quality. People do not eat enough FV for many reasons, including limited supply, relatively high prices, and lack of consumer awareness.
In a recent article in the Journal of the Agricultural and Applied Economics Association, researchers from the CGIAR Initiative on Sustainable Healthy Diets through Food Systems Transformation (SHiFT) collaborated with partners to examine whether a video-based intervention would affect FV consumption in Ethiopia. The intervention aimed to improve nutrition knowledge through two videos that highlighted WHO-recommended practices for FV consumption and featured local characters. The first video included general advice on recommended consumption, with a focus on FV, while the second video added an in-depth explanation of how FV consumption can lead to better health and nutrition. Four months after viewing either video, average household consumption of FV increased by about 9 percent in both treatment groups relative to the control group, in terms of both kilocalories and consumption expenditure.
The study focused on Ethiopia, which has recently experienced rapid economic growth and is the second-largest country in Africa. Ethiopia is facing a rapid rise in overweight and obesity, and cardiovascular diseases are the leading cause of age-standardized death. Despite the country's large community health program, only 2.4 percent of Ethiopians eat five servings of FV each day, as recommended by the WHO.
This research is helping to shape SHiFT's work on consumers and their food environments, also known as Work Package 1. The International Food Policy Research Institute and the Alliance of Bioversity International and CIAT lead SHiFT in close collaboration with Wageningen University & Research and with contributions from the International Potato Center. SHiFT combines high-quality nutritional and social science research capacity with development partnerships to generate innovative, robust solutions that contribute to healthier, more sustainable dietary choices and consumption of sustainable healthy diets. It builds on CGIAR's unparalleled track record of agricultural research for development, including ten years of work on food systems and nutrition under the CGIAR Research Program on Agriculture for Nutrition and Health (A4NH).
Header image: Screenshot from the video drama used in this experiment. The approach used information and communications technology (ICT) featuring characters acting in the local context to explain how and why increasing fruit and vegetable consumption can lead to better nutrition and health outcomes. The full video (with English subtitles) is available on YouTube: https://youtu.be/TWAAgcr54RU.