Underutilized yet important wild edible plants threatened in Kenya
From

CGIAR Initiative on Nature-Positive Solutions

Published on

18.07.23

Impact Area
Funders

Germany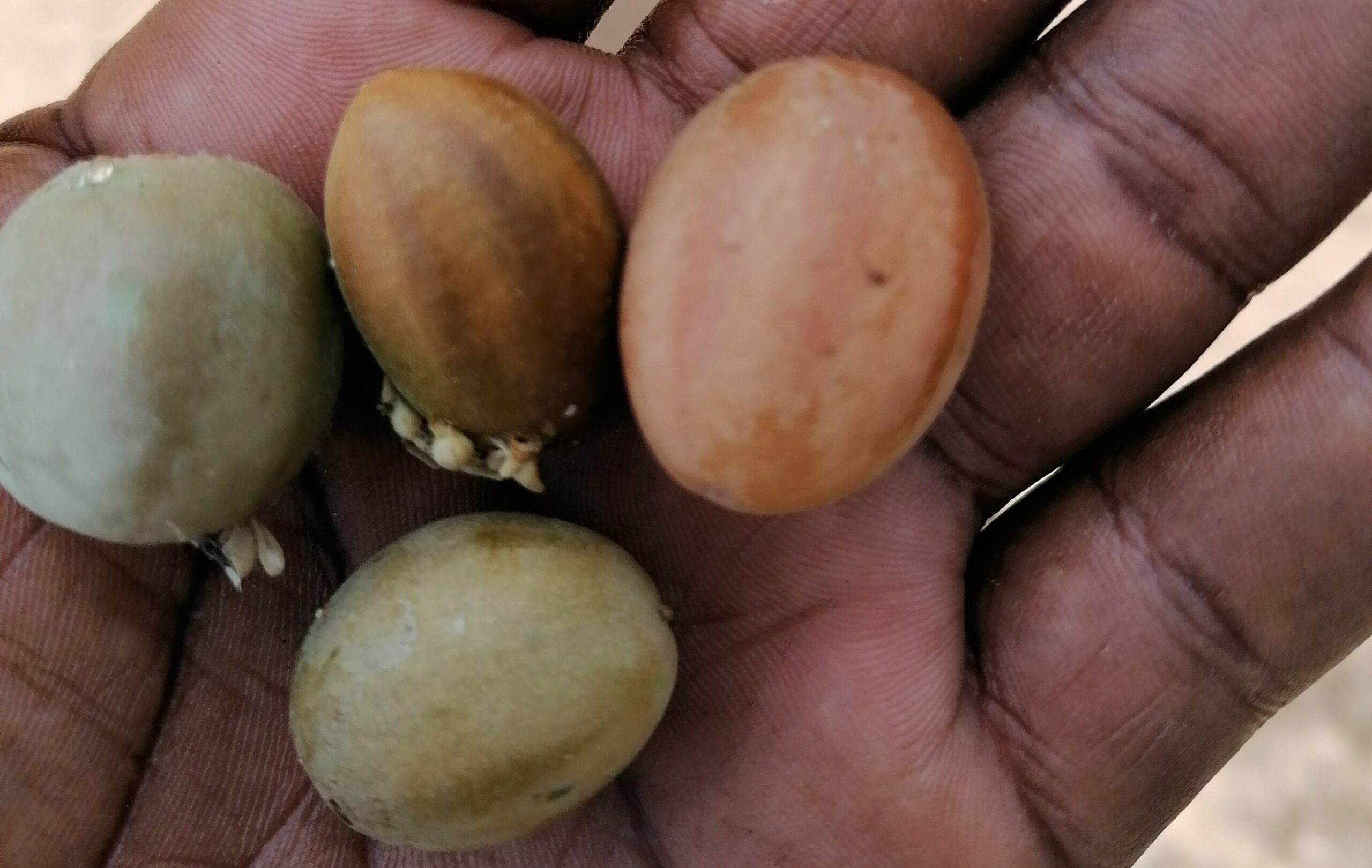 Authors: Dr. Céline Termote, Francis Oduor, Wyclife Agumba Oluoch and Rachel Kibui (The Alliance of Bioversity International and CIAT)
Photos by Wyclife Agumba Oluoch
Climate change, increased reliance on processed food and landscape degradation threaten a potentially critical source of nutrition in Kenya's arid and semi-arid lands. Work by CGIAR's NATURE+ Initiative and partners points to actions to increase production and consumption of these foods.
Northern Kenya's Turkana County is part of the country's arid and semi-arid lands (ASALs). Livestock keeping is the main economic activity here, with nomadic pastoralism being a common practice, whereby people move with their livestock from place to place in search of water and pasture.
For many decades, the people of Turkana, as in many other African regions, especially in the Horn of Africa, have consumed wild edible plants (WEPs). The Turkana people have a deep knowledge of the local vegetation and have passed it down for generations.
Most community members can differentiate the edible and non-edible plants and know how they are prepared for consumption. While most consumers are likely unaware of the benefits of WEPs, both indigenous and scientific knowledge have revealed that these plants are loaded with nutrients that are very important in family diets.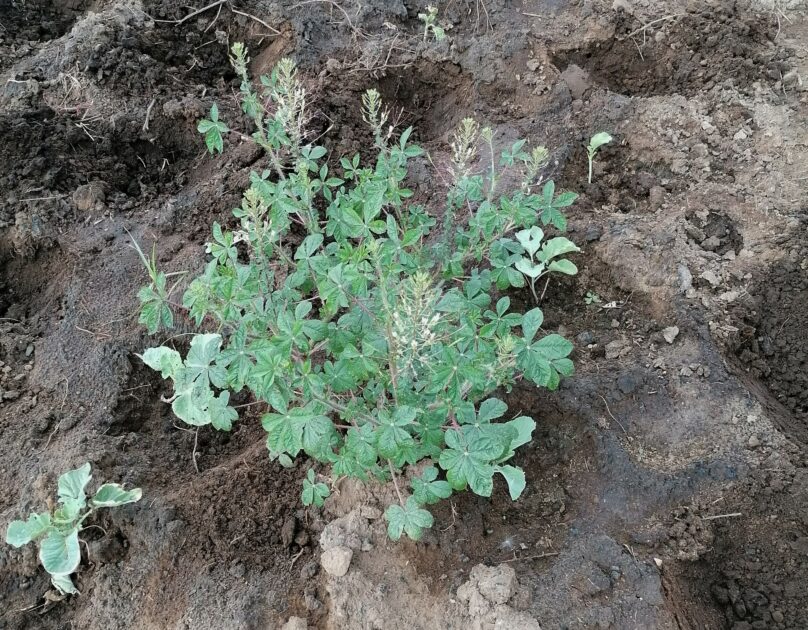 WEP consumption declines
Consumption of wild edible plants is, however, declining because of several factors including climate change, landscape degradation shifts in diets, which negatively affect the cultivation of these plants. Urbanization, coupled with employment and income constraints have also contributed to a decline in the utilization of WEPs as people prefer to buy what is available and easily accessible for family meals.
Modernization has slowly resulted in the adoption of conventional foods at the expense of traditional meals. Although this may not be as prominent in Turkana where culture, including food culture, is still largely followed, it cannot be ignored as a factor that is hindering the consumption of WEPs. The low availability and low uptake of WEPs calls for globally intensified and sustainable ways of reintroducing lost varieties and conserving and multiplying the available ones.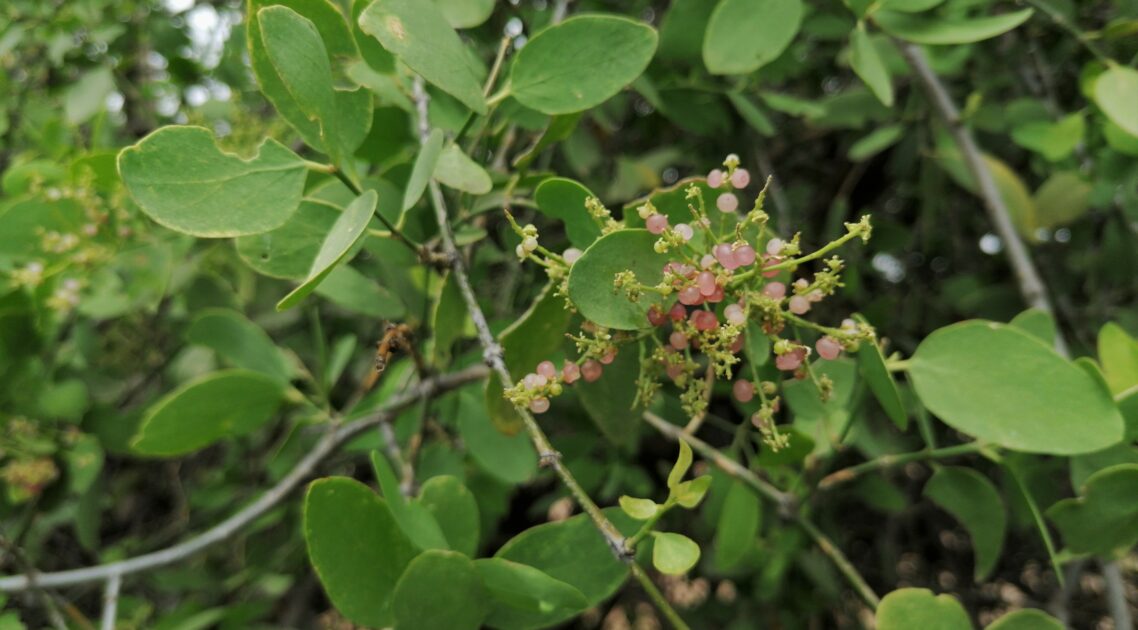 A wild health-food store
Some of the WEPs found in Turkana that are nutritionally rich, yet neglected or underutilized, include woody species such as Salvadora persica (Esekon), Balanites rotundifolia (Ebei) and Ziziphus mauritiana  (Ekalale). Vegetable species include amaranthus spp. (pigweed), which is locally known as Morongo, and, in other regions of Kenya, commonly known as Terere. The leafy vegetable is consumed as soup and an accompaniment, mainly with an ugali, a dish made with maize. Another is the Sesbania sesban (Egyptian river hemp), locally known as Mbaria, whose leaves and pods are consumed as vegetables.
Wild foods: documented yet missing
Unfortunately, Turkana is gradually losing its agrobiodiversity. While up to 60 wild foods have been documented here, they are conspicuously missing in many family diets. This means that families miss out on the diet diversity and nutritional value of diversified natural food sources.
"The lack of WEPs at family dining tables could be because the local communities do not know what is in them, their nutritional value, their resilience to climate-related challenges, their high diversity levels and potential for income generation to the locals," said Dr. Céline Termote a Senior Scientist and project leader at The Alliance of Bioversity International and CIAT.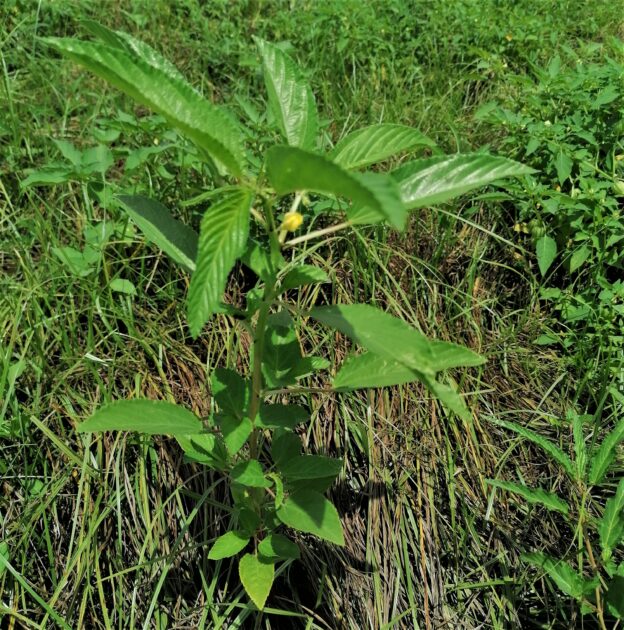 Dr. Termote spoke during the final Turkana outreach workshop on "Improving dietary quality and livelihoods using farm and wild biodiversity through an integrated community-based approach in Turkana and Busia counties," a project implemented in Turkana from 2020 to 2023. The project was funded by the German Federal Ministry for Economic Cooperation and Development (BMZ) through the Deutsche Gesellschaft für Internationale Zusammenarbeit (GIZ) and the Fund for International Agricultural Research (FIA).
Wavering cooperation among public sectors that cover nutrition, forestry, health and environment is among the factors that negatively affect efforts to enhance biodiversity. It is important to bring together policymakers, agricultural extension officers, farmers and consumers to discuss their potential roles in collaborating in the creation of strategies to enhance dietary diversity by utilizing locally available resources.
Local perception of WEPs
A study was conducted in three communities in Turkana County – Nasiger, Atala Kamusio and Lopur – all of which have different socio-economic and environmental characteristics. Led by Mr. Wyclife Agumba Oluoch, a Ph.D. student, the study aimed to understand how communities perceive the availability of WEPs and their contribution to rural welfare. It used an integrated participatory approach to investigate important parameters and themes that influenced the perceptions of the availability of WEPs.
According to the study, important factors determining how local communities perceived the availability of WEPs included distance to and accessibility of harvest sites, abundance, seasonal availability and the price of buying the WEPs. Hunger status, climate change, household size, land management and changes in livelihood strategy also influenced how the communities perceived the availability of WEPs. Efforts to bring back WEPs to the table should therefore consider such parameters that are important to how communities perceive the availability of WEPs.
Neglected yet nutritious
Four leafy wild plant vegetables were collected in Turkana for laboratory analysis at the University of Göttingen. They included Mrere (Corchorus olitorius), Dodo (Amaranthus hybridus), Lokiliton (Amaranthus graecizans), Akio (Cleome gynandra) and one fruit known as Ng'akalalio (Ziziphus mauritiana).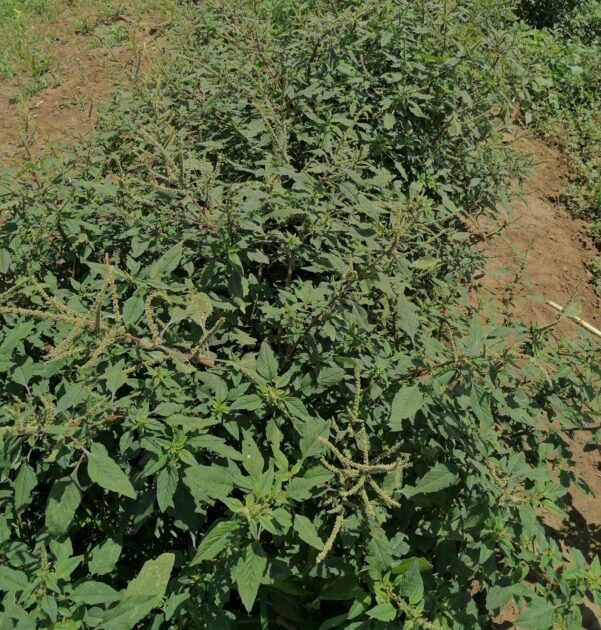 The following nutrients were analyzed in all plants: dry matter, crude ash, crude protein, crude fiber, crude fat and gross energy. Mineral content analyzed included calcium, copper, iron, potassium, magnesium, manganese, phosphorus, sulfur and zinc. Carotenoids analyzed were lutein, zeaxanthin and (all-E)-β-carotene. Vitamins B1 (thiamin), B2 (riboflavin), B5 (pantothenic acid), B6 (pyridoxin) and B9 (folic acid) were also analyzed.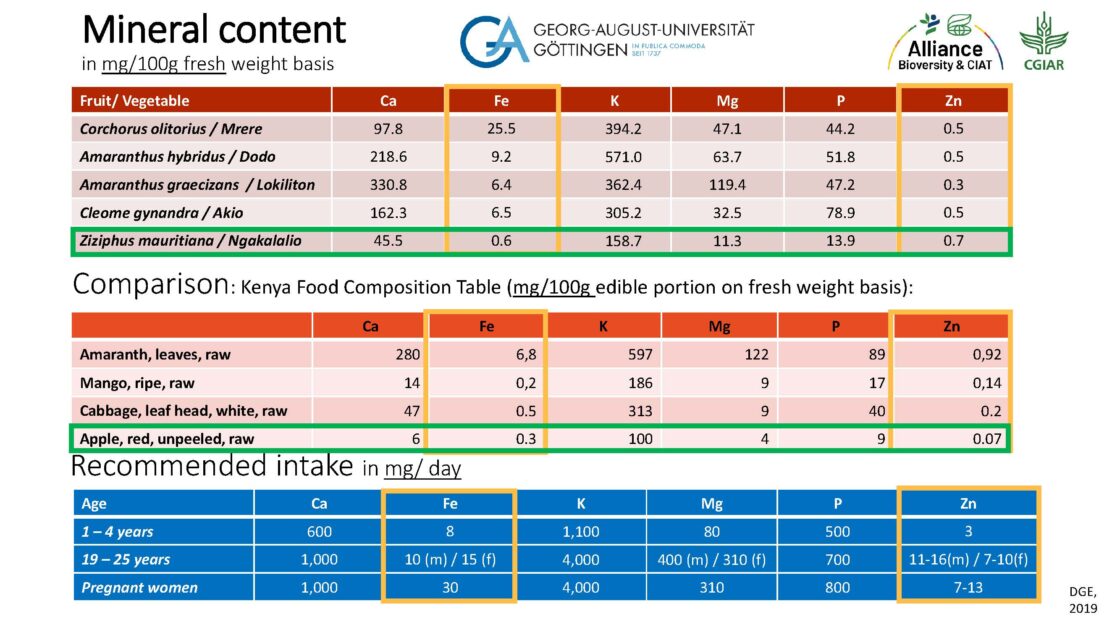 Some of the important nutrients found were highlighted and compared to data from the Kenya (or Tanzania) food composition table, namely in relation to amaranth and cabbage leaves for the vegetables and mango and apple for the fruit.
The iron and zinc contents in the wild leafy vegetables from Turkana were found to be clearly higher than that of cabbages and even higher or equal to that of amaranth leaves. Iron and zinc contents in Ziziphus mauritiana were also higher than that of mangoes and apples. Folic acid content was far much higher in the wild leafy vegetables than in cabbages and comparable or slightly less than in amaranth leaves. The folic acid content in Z. mauritiana was slightly lower than in apples and much lower in mangoes.
In general, wild fruits and vegetables can contribute to a balanced diet and seem to be partly superior in terms of nutrient content than "exotic" fruits and vegetables.
Threats to wild plants and mitigation measures
The major threats facing WEPs availability were identified by Mr. Oluoch, through focus group discussions and filed plot surveys on issues like climate change, invasive species, overgrazing and overharvesting. Others included agricultural expansion (specific to riparian zones), charcoal burning, uncontrolled fires, infrastructure development, pests and diseases.  Some threats such as agricultural expansion were different in each of the three communities while others such as invasive species were similar in all three communities.
Overall, Mr. Oluoch found a strong correlation between what was discussed in focus group discussions and field observations, which pointed to the fact that communities are very much aware of what is threatening their WEPs and should be engaged in any management and conservation strategies to be implemented.
Climate change mitigation, preservation of local knowledge, selection, propagation and cultivation were ranked high as plausible management options for the WEPs across all three communities that Mr. Oluoch studied. Other management options included controlled harvesting, regulation of charcoal burning, assessment of nutrition and toxicity, creation of public awareness, conservation of WEPs in sacred places and protection of these areas, monitoring and keeping of an inventory of WEPs.
The path toward greater WEP conservation and use
Our research reveals important understanding of the decline of consumption of WEPs in the arid and semi-arid lands of Turkana County, Kenya and the need to engage stakeholders in the effort to improve dietary diversity using agricultural and wild biodiversity. We now understand how the communities perceive availability of the WEPs and nutritional composition of the priority WEPs in the county. Very importantly, we obtained important insights on threats and identified management options to mitigate threats. The results will inform action plans and strategies that could be built by key stakeholders to ensure sustainable use of the WEPs in the county to enhance dietary and agricultural diversity.