The Ethiopian food-based dietary guidelines: Gamechanger for food system transformation? New project note from SHiFT
From

CGIAR Initiative on Sustainable Healthy Diets

Published on

30.10.23

Impact Area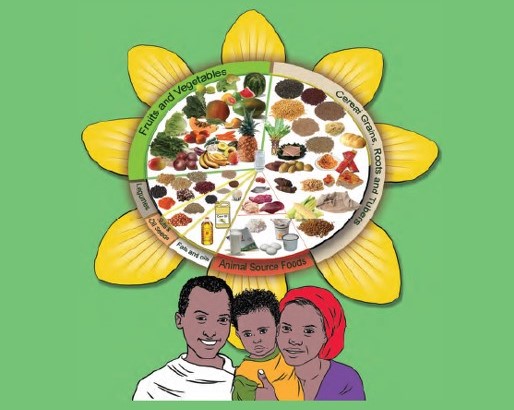 Despite making significant progress over the last two decades, Ethiopia still experiences high rates of malnutrition among children and women. In 2022, 39 percent of children under the age of five were affected by stunting, one of the highest rates of stunting worldwide. Among women of reproductive age, 19 percent were underweight, and two out of three were deficient in one or more micronutrients. Poor diets are a major contributor to all forms of malnutrition, with the country's recent Food and Nutrition Strategy Baseline Survey showing inadequate consumption of diverse and healthy diets—only 8 percent of children under two years of age ate a diverse diet, while 1 out of 3 drank sugar-sweetened beverages and 3 out of 4 did not eat any fruits or vegetables in a day.
To combat all forms of malnutrition, the government of Ethiopia has pledged to improve its national food systems. Launched in 2022, the country's food-based dietary guidelines (FBDGs) have been recognized as a critical gamechanger in this effort. In a recent project note, researchers Mestawet Gebru and Inge Brouwer from the CGIAR Initiative on Sustainable Healthy Diets through Food Systems Transformation (SHiFT), along with colleagues, reflect on why the FBDGs received high-level recognition in key Ethiopian policy documents and describe the activities currently underway to ensure implementation and monitor impact.
The project note highlights the importance of the former CGIAR Research Program on Agriculture for Nutrition and Health (A4NH), which maintained a strong collaborative relationship with the Ethiopia Public Health Institute (EPHI). A4NH supported a consultation process, conducted a literature review that led to an agenda paper profiling food systems in Ethiopia, and contributed to discussions at the global UN Food Systems Summit and at the country level, all of which helped build collaboration, align Ethiopia's process with global goals, and achieve high-level recognition of the FBDGs. Other key factors that contributed to the acknowledgement of the FBDGs include strong multisector support and alignment with other country-level processes, such as joint policy dialogues and other food systems dialogues.
The authors also highlight the many ongoing activities to implement the FBDGs and monitor their impacts. These include the creation of a Healthy Diet Coalition to integrate efforts across food systems by bringing together stakeholders and existing knowledge, as well as pilot plans to implement the FBDGs in three target areas. Various other efforts aim to contextualize the FBDGs for pastoralist settings, monitor whether consumers follow FBDG recommendations on edible oil consumption, and establish regular monitoring of the cost and affordability of healthy diets.
Overall, Ethiopia's FBDGs have been well-received by all actors and have helped to raise awareness about the importance of healthy diets and nutrition in the country The FBDGs were identified as a gamechanger of food systems transformation – they not only serve as a framework for promoting healthy eating, but also as a framework to guide decision-making in policy, and public and private investments. While much work remains to be done, the guidelines provide a framework for promoting healthy eating habits and improving the health and well-being of Ethiopia's people.
The International Food Policy Research Institute and the Alliance of Bioversity International and CIAT lead SHiFT in close collaboration with Wageningen University and Research and with contributions from the International Potato Center. SHiFT combines high-quality nutritional and social science research capacity with development partnerships to generate innovative, robust solutions that contribute to healthier, more sustainable dietary choices and consumption of sustainable healthy diets. It builds on CGIAR's unparalleled track record of agricultural research for development, including ten years of work on food systems and nutrition under the CGIAR Research Program on Agriculture for Nutrition and Health.
Header image: Cover photo of the Ethiopian Food-Based Dietary Guidelines booklet. Graphic designed by Yitagessu Mergia.