Playing games to strengthen groundwater governance in rural India
From

CGIAR Initiative on NEXUS Gains

Published on

05.12.22

Impact Area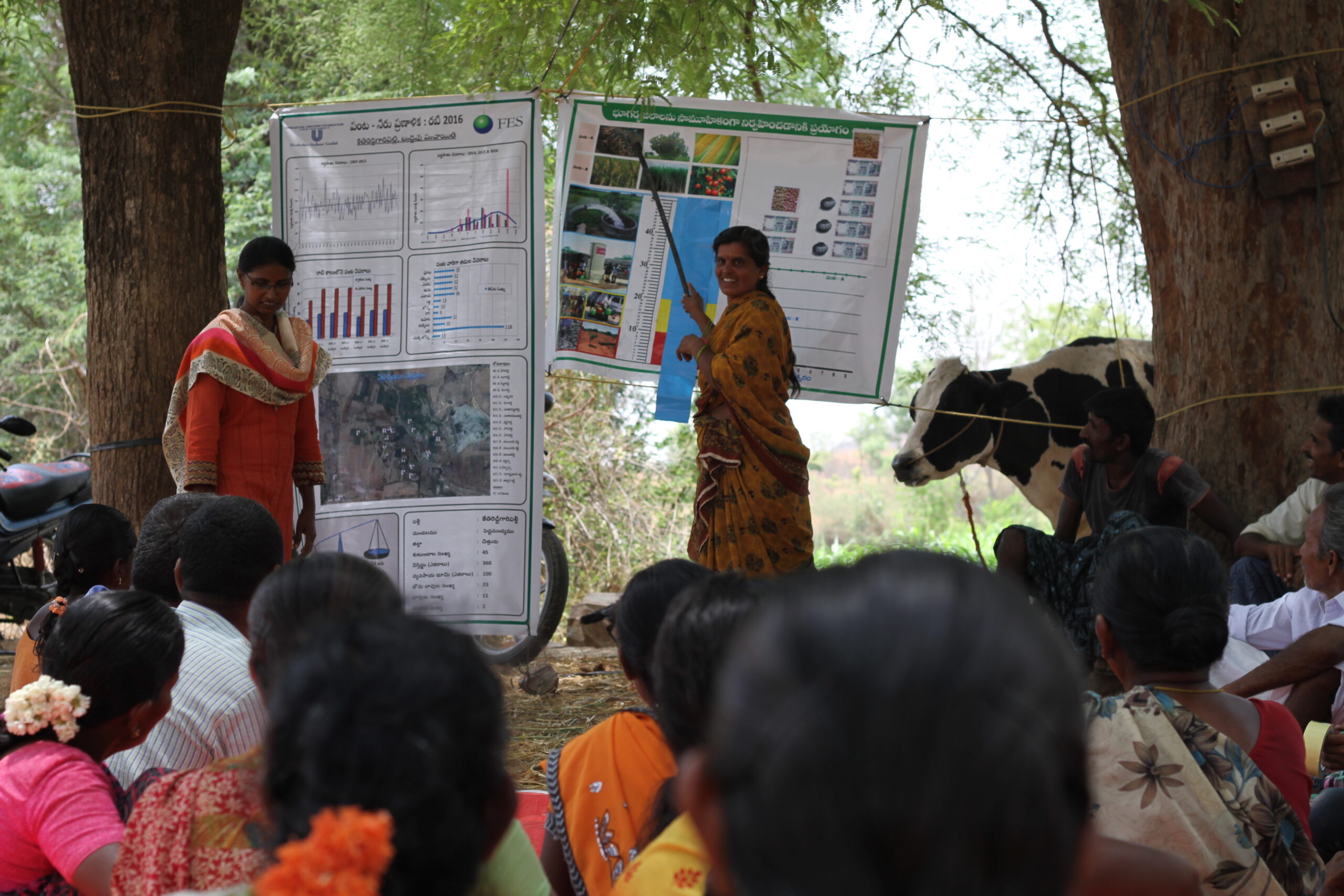 As part of NEXUS Gains' support for more inclusive, sustainable and effective governance of water, energy, food and environmental systems, the Initiative has been co-developing a groundwater governance toolbox. This research is looking at how social learning interventions, such as behavioral games, can be linked with technical and policy measures to develop inclusive, community-based groundwater governance systems.
In India, where communities are struggling with increasing groundwater competition, degradation and depletion, the tools will allow government agencies, local communities and other stakeholders to better understand groundwater management and improve water productivity and sustainability. On November 16, NEXUS Gains' latest webinar, "Tools for Groundwater Governance", gave people the chance to find out more about this innovative work.
The challenges of groundwater governance
The online event was introduced by Ruth Meinzen-Dick, a Senior Research Fellow at the International Food Policy Research Institute and the leader of NEXUS Gains' governance work package. Ruth outlined some of the difficulties surrounding groundwater governance. "It's really hard to establish boundaries for water use, and there's a lack of understanding of groundwater dynamics," she observed. "We're also finding that traditional groundwater governance is unable to keep up with rapidly developing pumping technology."
Bryan Bruns, an independent researcher in irrigation, water governance and institutional development, added that top-down approaches to groundwater management are often ineffective. "State-led groundwater governance is, in many cases, not working well," he noted. "Instead, co-management between the government and the community looks like a more promising approach, as it can combine stakeholders' knowledge, values and collective action with external science, resources and authority."
Tools for groundwater governance
Much can be learned from a set of groundwater governance tools developed by the Foundation for Ecological Security. This series of experimental groundwater games was introduced to Indian farming communities between 2013 and 2019. Communities that took part in these experiential learning exercises were significantly more likely to adopt groundwater use rules and grow less water-intensive crops.
Richu Sanil, a Project Manager at the Foundation for Ecological Security, provided more information about how games can help farmers understand how they could work together to choose crops that would make groundwater use sustainable. "Farmers can choose either profitable but water-intensive crops or less profitable but less thirsty crops," he explained. "Through this, they learn that their water use affects their neighbors' farms, and vice versa. The games emphasize the shared nature of groundwater resources and encourage players to understand the interlinked nature of water, energy, food and the environment."
These games have been accompanied with training and capacity building for agricultural communities. Farmers are encouraged to switch to less water-intensive crops and varieties and to adopt more efficient irrigation methods and scheduling. Other practices, such as compost application, mulching and in-situ decomposition of crop residues, are promoted as well. Richu also described a crop water budgeting app developed as part of the toolbox. The mobile app combines information inputted by the community and community resource staff, such as rainfall levels, household water use and irrigation requirements, to calculate whether current practices and planned cropping patterns will lead to a water deficit or surplus in the local area.
An inclusive, community-focused design
Asked by an audience member whether the experiential games fairly reflect all community needs, Ruth reported that the team "initially found some strange results when we piloted the games with women. We realized it was because we hadn't included drinking water as a factor, even though that's something women were particularly concerned about. So we adapted the games to include drinking water, and we continue to make efforts to ensure women as well as men are included in the games and debriefings."
Richu was asked about the capacity of local communities to use the apps and other technologies provided as part of the toolbox. "A big challenge has been to best communicate information in areas where literacy levels are low," he replied. "That's why designing and implementing these tools is a collective process – we work with the community and create resources that can be easily understood by them. Hence the emphasis on pictorial depictions in our posters and apps."
Promising results from India
The fruits of this inclusive, collaborative design can be seen in the results emerging from across India. "Since we began implementing these tools a few years ago we have seen changes at the household level," said Richu. "Farmers are changing their cropping patterns by switching to less water-intensive crops. We're also seeing the adoption of community-wide solutions, from a ban on drilling borewells in parts of Rajasthan to the revival of traditional tank management in Karnataka," added Richu. Overall, there is evidence that these games are leading to changes in governance rules that may help balance groundwater supply and demand.
As the hour-long webinar ended, Bryan offered his perspective on the importance of nexus solutions like the groundwater governance toolbox. "One of the challenges of a nexus approach is trying to balance water use with economic gains for farmers and their communities," he concluded. "Solar pumps might be great news for farmers, for instance, but they could deplete groundwater reserves. But what's exciting about the nexus is that offers opportunities to go beyond what's been done before – to provide solutions that keep resources in balance and don't sacrifice ecosystems."
Unable to attend the webinar? You can watch it here.
You can also catch up on previous webinars in this series on YouTube:
Header image: Playing a groundwater game in Andhra Pradesh, India. Photo by Foundation for Ecological Security.