Partners of the CGIAR Initiative highlight the importance of agroecological intensification for food and water security on World Food Day 2023
From

CGIAR Initiative on Agroecology

Published on

09.11.23

Impact Area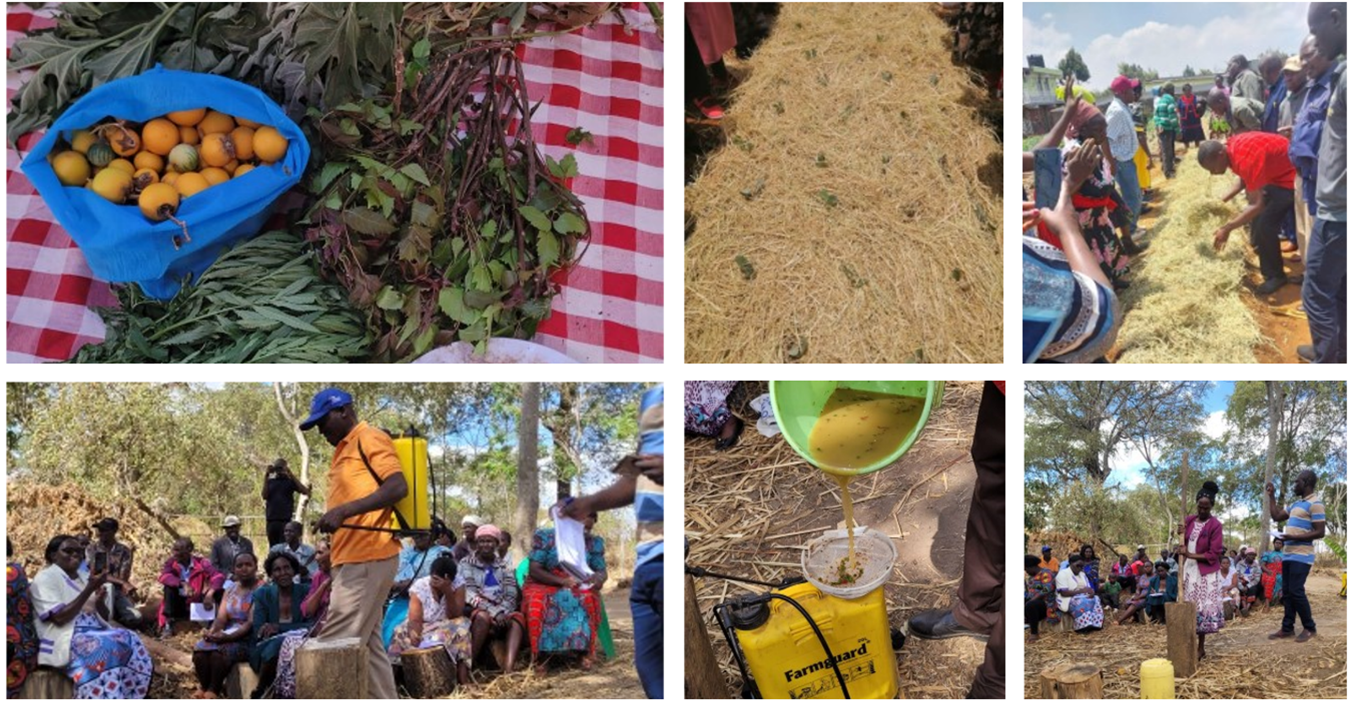 Authors: Beatrice Adoyo, Agroecologist (CIFOR-ICRAF) and Lisa E. Fuchs, Initiative country coordinator (CIFOR-ICRAF)
There is a growing interest among local stakeholders in adopting agroecological intensification to provide local solutions to global challenges. For the 2023 World Food Day, the Community Sustainable Agriculture and Healthy Environment Program (CSHEP), one of the host centers of the CGIAR Initiative on Agroecology organized an impactful event to raise awareness about the importance of water and the role of agroecological practices in water conservation
Water, the backbone of agricultural productivity
According to the 2022-2023 Global Risks Perception Survey, food insecurity ranks as the third most significant societal challenge, after the energy supply crisis and rising living costs. It is expected to become the most severe global risk in the next decade. With various scenarios projecting a 35% to 56% increase in global food demand between 2010 and 2050, and an envisioned 10% decline in land productivity attributed to reduced water availability, food systems are likely to face mounting pressure through intensified agriculture and overexploitation of limited land resources fueled by the use of conventional chemical agricultural inputs. This will have further detrimental effects on water resources.
Yet, water is the backbone of agricultural productivity. Limited availability of high-quality and sufficient water for both agriculture and human consumption is a dual aspect resulting from and contributing to unsustainable agricultural techniques and food insecurity. While water shortage adversely affects agricultural productivity, poor farming practices can render water resources unavailable or unsuitable for further use. This mutual interaction propels the over-exploitation and contamination of water resources in attempts to foster agricultural productivity. The vicious cycle demands innovative approaches that simultaneously address the challenges of water and food security.
Finding sustainable solutions to these global challenges that holistically address and balance the challenges of food security, social resilience, and environmental conservation requires the active participation of local actors who are agents of transformative changes. It also requires actively seeking multi-stakeholder collaborations and building transformative partnerships.
Agroecology offers context-specific pathways to safeguarding water resources
Agroecology, the application of ecological principles to food systems, promotes a holistic approach to creating fairer and more sustainable food and ecosystems. Guided by the 13 HLPE principles, agroecology offers numerous context-specific pathways to achieving food security while safeguarding our water resources for environmental sustainability. Agroecology, for instance, places a strong emphasis on resource efficiency (first organizing principle). It specifically promotes recycling (principle 1), which includes efficient water use by adopting ecologically friendly practices such as mulching, zai-pits, and water recycling. Further, it promotes self-sustaining processes that recycle organic biomass and nutrients and thereby reduce the reliance on external inputs (principle 2). The adoption of ecological pest control, e.g. through plant-based biopesticides, crop rotation, mulching, and organic manure also reduces reliance on external inputs and consequently minimizes contamination of water resources. Finally, agroecology advocates for farm diversification and use of locally adapted crops which optimizes both water utilization and profit maximization.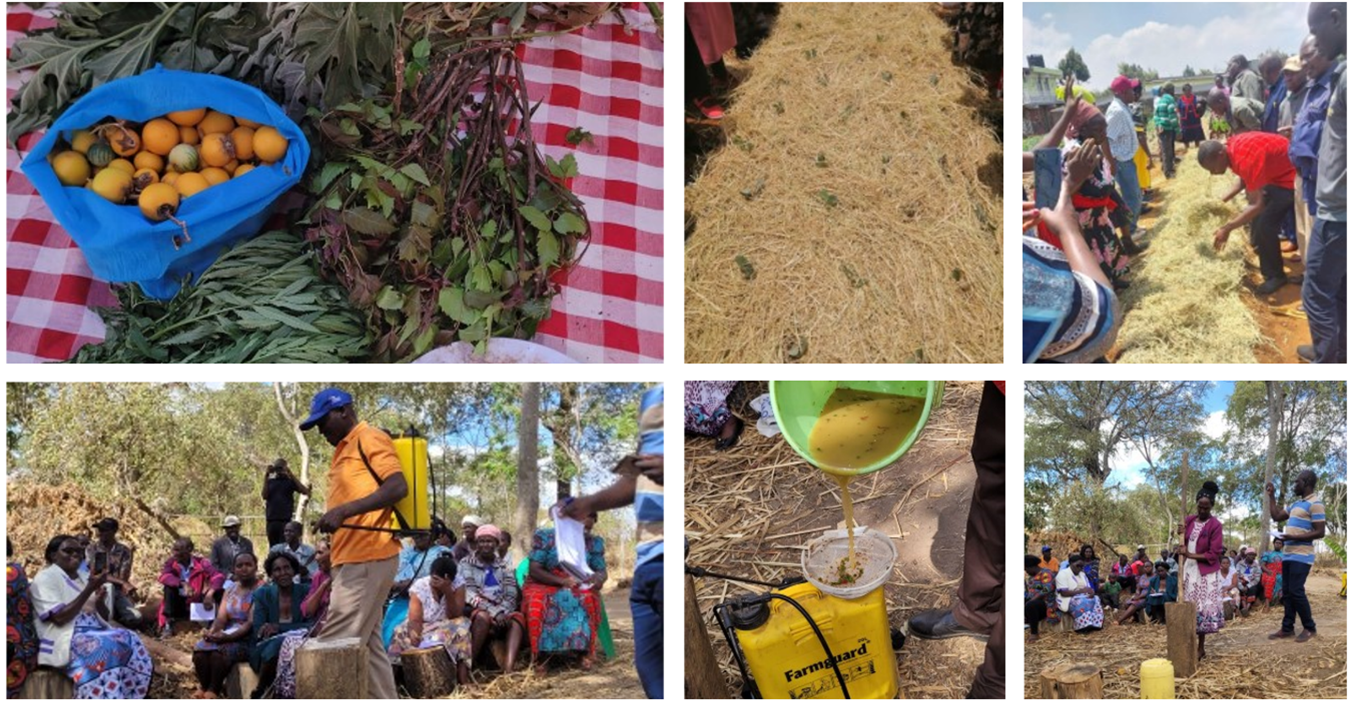 Small-scale actions taken by local stakeholders impact global water security
CSHEP celebrated World Food Day with an event (Photo collage) that conveyed several key messages to inspire the adoption of agroecological practices at the grassroots level:
Agroecology, while it can entail new technologies and innovative solutions, is not new. Instead, it represents a return to traditional farming approaches that operate in harmony with ecological processes and thereby enhance ecological integrity.
Agroecology reflects a profound respect for oneself and the resources that surround us. This perspective encourages us to act as stewards of our essential resources, including water, by prioritizing environmental conservation alongside the economic benefits derived from agricultural production.
Addressing global water security challenges relies on the collective impact of small-scale actions taken by local stakeholders. The involvement of rural community members who interact with natural resources daily in meaningful discussions is therefore crucial for promoting sustainable transitions in food systems.
Action research for succesfull agroecological transitions
To realize these points, the Agroecology Initiative is collaborating with local stakeholders to support agricultural transformations and promote the intensification of agroecological practices. In partnership with territorial partners, the so-called 'ALL host centers' including CSHEP, the Drylands Natural Resource Centre (DNRC), scaling partners Participatory Ecological Land Use Management (PELUM-Kenya) and the Intersectoral Forum on Agrobiodiversity and Agroecology (ISFAA), the initiative aims to foster local ownership and facilitate the scaling up of agroecological transitions. To ensure priority is given to what matters to local communities, local farmers and other stakeholders are engaged in a visioning process to develop their desired future changes and action plans towards achieving their communal vision. In line with the 2023 World Food Day theme (Water is life, Water is food, Leave no one behind), the Agroecology Living Landscape members from Kiambu and Makueni Counties are engaged in action research to evaluate the implications of contextually suitable agroecological practices on among others, water security. Jointly building community capacities presents an unparalleled opportunity for collectively navigating the agricultural challenges in food systems and promoting food security for dignified livelihoods.

We live in critical times in which planetary boundaries are overstretched. Agroecology can help to prevent, address and overcome the negative impact of unsustainable farming practices on our water resources, and make a meaningful contribution to saving our food and planet.