Working in partnership with PELUM Kenya to achieve agroecological transitions
From

CGIAR Initiative on Agroecology

Published on

18.09.23

Impact Area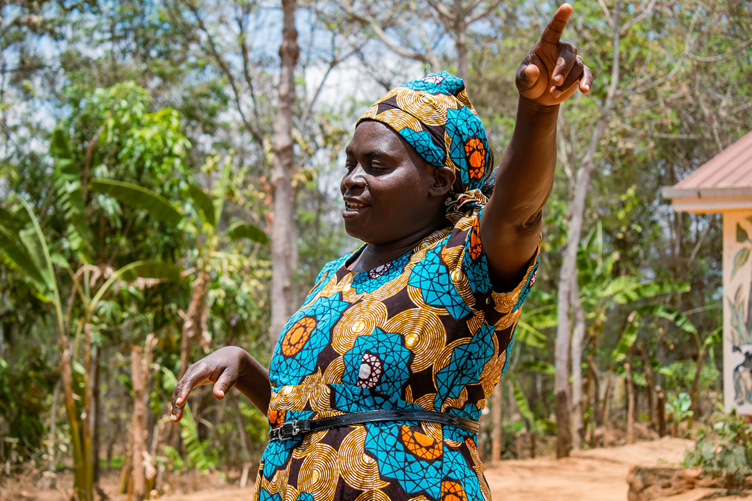 Authors: Rosinah Mbenya, Country Coordinator, PELUM Kenya, and Lisa Fuchs, country focal point of the CGIAR Initiative on Agroecology
In Kenya, climate change mitigation and adaptation are among the top priorities of national and county government policies. The country considers agroecological innovations to play a critical role in addressing these issues, and Kenya is currently developing a national agroecology strategy.  Several Non-Government Organizations and collectives are promoting agroecology including the network of organizations that are part of the Kenyan chapter of Participatory Ecological Land Use Management (PELUM) Kenya.
The CGIAR Initiative on Agroecology is fortunate to have PELUM Kenya as a partner to implement and scale agroecological innovations in Kenya. The Initiative works in eight countries in Agroecological Living Landscapes (ALLs), where diverse food system actors are convened to work towards commonly agreed agroecological transition pathways with focus on: 
Evidence building, assessing what agroecological innovations work best, where, why, and for whom.

Agroecological business opportunities and financial mechanisms for local enterprises.

Strategies and action plans that encourage, and support behavior change oriented to agroecology.  

Suitable agroecological policies and policy integrations.
Each country devises its partnership and engagement strategy depending on the context, such as levels of advancement in agroecology, socio-economic and political circumstances, or already existing partnerships and engagements at the beginning of the Initiative activities in countries.
Agroecological Living Landscapes in Kenya
Country activities in Kenya are led by CIFOR-ICRAF and implemented in collaboration with the Alliance of Bioversity International and CIAT, the International Institute of Tropical Agriculture (IITA) and WorldFish.
In Kenya, the project has been focusing on two Agroecological Living Landscapes that are situated in Kiambu and Makueni Counties, in a diversified but connected landscape that covers humid / semi-humid highlands (Kiambu) and semi-arid areas (Makueni). Communities and food system actors who operate in Kiambu and Makueni have worked with the Initiative and its partners to identify plausible agroecological transition pathways. They are related to the advancement of sustainable production systems including practices such as plant-based biopesticides and biofertilizers, farmyard manure, terraces, water harvesting and agroforestry. The transition pathways include strengthening farmers' networks and connectivity to markets, and the creation of inclusive business models in prioritized value chains (mango and green leafy vegetables). Read the Kenya country profile

PELUM Kenya, a strategic partner to mainstream the use of Evidence-based approaches
Participatory Ecological Land Use Management PELUM Kenya and the Intersectoral Forum on Agrobiodiversity and Agroecology (ISFAA) are the strategic partners to mainstream the use of the evidence-based approaches of the Initiative.
PELUM Kenya is a network of Civil Society Organizations working with small-scale farmers in East, Central, and Southern Africa and counts over 280 members. The PELUM Kenya country chapter has currently 61 member organizations working with small scale farmers, pastoralists, and fisher folks in 42 of Kenya's 47 counties. The network promotes agroecological principles and practices through advocacy and policy influence, networking, capacity development, information, and knowledge sharing.
PELUM Kenya supported the identification of two of their outstanding member organizations as so-called ALL "host centers" in each Agroecological Living Landscape that provide a physical space where Food System Actors can meet, interact, and co-create knowledge: The Community Sustainable Agriculture Healthy Environmental Program (CSHEP) situated in Ndeiya, Kiambu County and the Drylands Natural Resources Centre (DNRC), in Mbumbuni, Makueni County. PELUM Kenya contributes to activities related to all initiative work packages, from the identification of promising agroecological practices, the identification of suitable business opportunities and financial mechanisms for local enterprises, behavioral change strategies, or agroecological policies and policy integrations.

Learning together to foster agroecological transitions
"At PELUM Kenya, we act as a facilitator of conversations and rigorous action planning that support individual and collective self-realization and self-mobilization within an Agroecological Living Landscapes so that the vision of the food system actors for an agroecological future can be achieved," says Rosinah Mbenya, country coordinator at PELUM Kenya.
During such conversations, members of the ALLs analyze issues like the still quite limited application of agroecological practices among farmers in Makueni and Kiambu in the critical context of persistent droughts and despite known agroecological practices such as dryland water harvesting. Together they devise strategies to overcome the challenges of transitioning to agroecology, namely learning from elders' traditional knowledge, growing local crops, or using composting, intercropping and other practices to maintain soil fertility and health. PELUM, as an active participant and facilitator of this multi-stakeholder collaboration, pays particular attention to holistic and context-specific approaches acknowledging interconnectedness of ecological, social, and economic factors in agricultural systems.
Recently, PELUM Kenya facilitated the participation of exhibitors from the two ALL hosting centers CSHEP and DNRC alongside a dozen other organizations and agro-dealers, KCOA farmers and multipliers at the Machakos Agricultural Show, the annual event of the Agricultural Society of Kenya (ASK).
Rosinah Mbenya highlights the importance of showcasing the good work done by the host centres, and their role in creating awareness about the importance of sustainable agriculture. "It was gratifying to see the positive response from the visitors who gained valuable insights and ideas from the exhibitors' displays and presentations", she says.

At the end of the show, PELUM Kenya was awarded the prestigious Chairman's Trophy. The trophy is presented to the exhibitors who demonstrate exceptional innovation, quality, and overall excellence in their display. Winning this trophy was a testament to the hard work, creativity, and attention to detail that the team from PELUM Kenya had put into the exhibit, and the display of sustainable farming practices, cutting-edge technologies, and the importance of environmental stewardship. Mbenya recognizes that "the recognition received through the Chairman's Trophy boosted the team's morale and affirmed the network's commitment to promoting sustainable agriculture. It was an incredibly proud moment and served as a validation of our efforts in contributing to the agricultural sector's development and advancement."
"The event would not have been a success without the financial support of the Agroecology Initiative in collaboration with the [GIZ-funded] KCOA/KHOA project", Rosinah Mbenya adds. Inversely, PELUM plays an important role in creating synergies between the Agroecology Initiative and the many local, national and international actors driving agroecology in Kenya.