Innovative strategies for coping with salinity intrusion in Asian Mega-Deltas presented at IRC 2023
From
Published on

18.10.23

Impact Area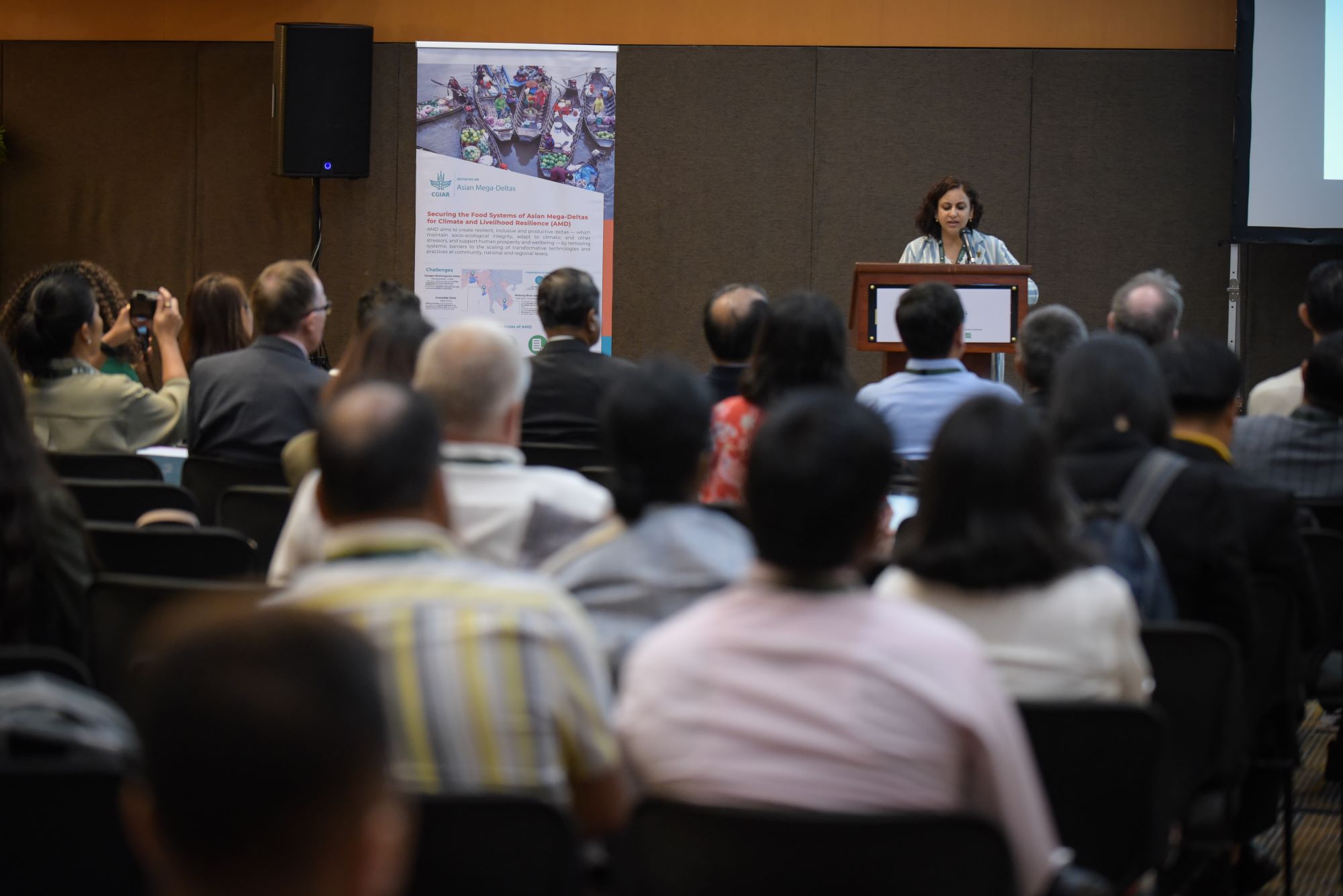 Manila, Philippines (October 17, 2023) — Innovative strategies and technologies to address the problem of salinity intrusion in rice production in Asian mega delta countries were presented by experts from various disciplines at the 6th International Rice Congress (IRC2023) in Manila.
The side event, Coping with Salinity in Asian Mega-Deltas , was organized by the CGIAR Initiative on Asian Mega-Deltas ( AMD ) to provide a platform for exploring practical solutions and fostering collaboration among stakeholders to address salinity intrusions in the Mekong, Irrawaddy, and Ganges-Brahmaputra Deltas that pose significant threats to the agri-food systems in these regions.
"Salinity causes reduced yield, stunted growth, leaf burn, nutrient imbalance, and poor grain quality," said Sheetal Sharma, a scientist at the International Rice Research Institute (IRRI).
Dr. Sharma presented several strategies for managing soil salinity including precision irrigation, plant breeding, salt-resistant crops, application of gypsum and organic matter, leaching, tile drainage, phytoremediation and biological agents, soil testing and electrical conductivity mapping, desalination, and surface drainage. There is also a need for educating farmers and implementing government policies and regulations that promote sustainable agricultural practices, according to Dr. Sharma.
In Vietnam, 90% of rice is grown in the Mekong Delta. Tran Ngoc Thach, director of Cuu Long Delta Rice Research Institute talked about the testing of salinity-tolerant varieties to address the problem of salinity intrusion in rice production.
IRRI scientists Nguyen Van Hung and Rica Flor discussed the importance of tools and stakeholder participation in managing the problem.
Dr. Nguyen recommended the integration of various tools such as climate risk crop with climate-smart mapping and adaptation planning (CS-MAP), prioritizing agronomy in changing environment (PAiCE), soil-based crop suitability, and e-extension for farmers as an approach to mitigating the growing salinity problem.
Dr….