Food systems transformation in Viet Nam: Interview with SHiFT researcher
From

CGIAR Initiative on Sustainable Healthy Diets

Published on

04.08.23

Impact Area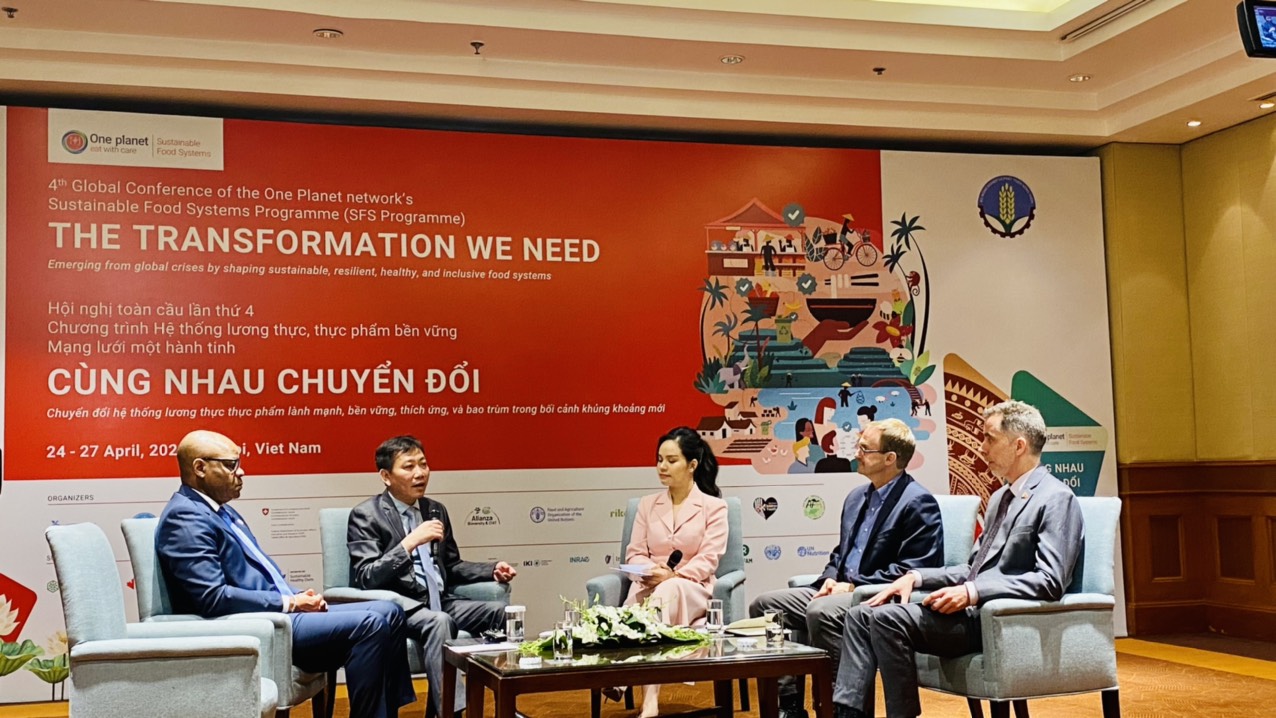 After hosting the 4th Global Conference of the Sustainable Food Systems Programme (SFS) in May, Viet Nam's Ministry of Agricultural and Rural Development (MARD) and the Secretariat of the UN SFS held a panel discussion on the country's own food systems. At this event, representatives from local and international agencies discussed the prospects for implementing Viet Nam's action plan for food systems transformation.
As part of the post-conference panel, Dr. Alan de Brauw from the CGIAR Initiative on Sustainable Healthy Diets through Food Systems Transformation (SHiFT) spoke about the importance of food systems transformation for improving environmental outcomes and inclusion as well as nutrition, and noted how CGIAR research has helped advance progress toward this transformation.
"In Viet Nam, SHiFT is taking a consumer-focused approach to better understand the millions of choices that people make every day about what to eat, given their incomes, food prices, and the knowledge about what they should eat for a healthy diet," explained de Brauw.
He described SHiFT's research partnerships with MARD and the National Institute of Nutrition, highlighting the Initiative's focus on understanding what works best as it helps shape decisions that lead to better outcomes for Viet Nam's food systems.
SHiFT combines high-quality nutritional and social science research capacity with development partnerships to generate innovative, robust solutions that contribute to healthier, more sustainable dietary choices and consumption of sustainable healthy diets. It builds on CGIAR's unparalleled track record of agricultural research for development, including ten years of work on food systems and nutrition under the CGIAR Research Program on Agriculture for Nutrition and Health (A4NH). The International Food Policy Research Institute and the Alliance of Bioversity International and CIAT lead SHiFT in close collaboration with Wageningen University & Research and with contributions from the International Potato Center.
Header image: From left to right, Mr. Rémi Nono Womdim, FAO Representative in Viet Nam; Dr. Nguyen Do Anh Tuan, Director General of the International Cooperation Department (ICD-MARD); MC Giang Hong, VTC16; Dr. Alan de Brauw, Senior Research Fellow at IFPRI; and Mr. Brian Allemekinders, Head of Cooperation, Embassy of Canada in Viet Nam, discuss prospects for implementation of Viet Nam's action plan for food systems transformation. Photo by Phuong Thao, VTC16.