Food, finance and implementation are on the menu at COP 27
From

CGIAR Initiative on Climate Resilience

Published on

14.11.22

Impact Area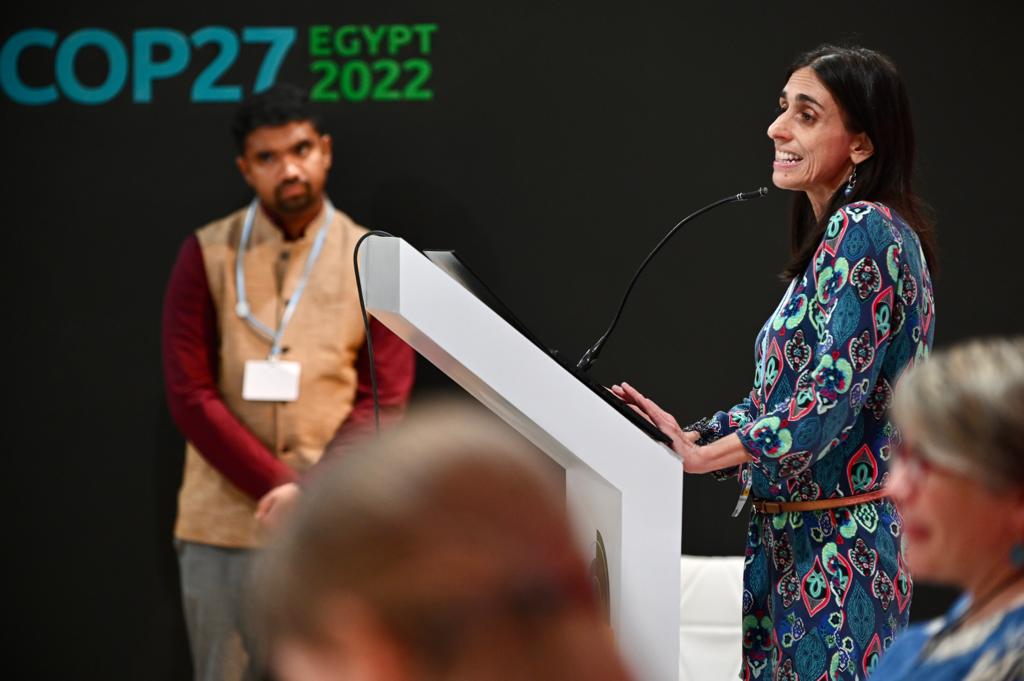 The CGIAR Climate Resilience Initiative, ClimBeR, has a strong presence at this year's global climate conference. The Initiative's scientists are engaging with partners from farmers to government ministers to implement ClimBeR's ambitious research-for-development agenda.
Photo: CGIAR's Ana María Loboguerrero speaks at COP 27 in Sharm el-Sheikh, Egypt. Credit: Neil Palmer
The Intergovernmental Panel on Climate Change (IPCC) 's call to urgently speed up climate action set the agenda – implementation – for the annual global climate conference, which is happening now in Sharm el-Sheikh, Egypt. 
CGIAR's Climate Resilience Initiative, or ClimBeR, has a strong presence at this year's bustling meeting. The Initiative's scientists are sharing insight and new science at events, discussing implementation with partners in the Initiative's six focal countries, and supporting country delegations as they navigate complex negotiations with governments across the globe.
While there have not yet been significant high-level agreements – especially those related to the future of agriculture in the climate negotiations – this year's event stands out for the prominent presence of food systems' role in climate change. The first Food and Agriculture Pavilion, organized by CGIAR, the Food and Agriculture Organization of the United Nations (FAO) and the Rockefeller Foundation, underscored the importance of food systems in the climate conversation.
"Agriculture and food systems are being discussed a lot," said Ana María Loboguerrero, the leader of the ClimBeR Initiative. "We have delivered a clear message on how we contribute to moving the agenda forward, especially about transformative adaptation."
COP 27 is shorthand for the 27th edition of the Conference of the Parties to the United Nations Framework Convention on Climate Change (UNFCCC). The annual meeting is to bring countries to consensus on climate change, like the Paris Agreement of 2015, which set the goal to limit global warming to well below 2 degrees C – preferably to 1.5 degrees C – compared to pre-industrial levels. "Parties" are the 197 nations and territories in the UNFCCC.
CGIAR at #COP27
The CGIAR delegation at COP 27 is one of the largest at the climate meeting in recent memory. Through the first week of the conference, CGIAR scientists participated in several dozen events, with ClimBeR's scientists involved in about 15.
"It's super important that we are here with many people. We make a lot of connections, and people see that we are an organization that delivers knowledge of impacts of climate change and food security," said Martin Kropff, CGIAR's Managing Director for Resilient Agri-Food Systems, last week at COP 27. "We're also showing that we are part of the solution. We have a huge number of people working on our Initiatives (and) these teams work together in an integrated way with our partners. Only with our partners can we have an impact at scale."
Partner focus at The Africa COP
The Climate Resilience Initiative and AICCRA, or Accelerating Impacts of CGIAR Climate Research for Africa (also led by Loboguerrero), held or participated in events relating to food system transformation, climate finance, transformative adaptation and climate security, among others.
Collaboration with partners is central at COP 27. AICCRA hosted Esther Zulu, a Zambian farmer and leader of a farmer cooperative. She spoke at several events about the urgency of the climate crisis for the farmers she represents, which brought an oft-unheard voice to the climate conference.
ClimBeR is working on strengthening ties with partners at COP 27, including the four African countries where the Initiative works: Kenya, Morocco, Senegal and Zambia. The Initiatives launched this year and have a ten-year horizon for delivering impact. In the case of ClimBeR, which aims to help 30 million farmers build climate resilience by 2030, the Initiative works with 130 partners. 
"ClimBeR is good because the problem we have is that climate variability is getting stronger and stronger. High temperatures definitely are impacting agriculture," said Ousmane Ndiaye, the director of Senegal's meteorological service at ANACIM, an Initiative partner. "ClimBeR is an excellent opportunity for us to work with experts from various sectors, benefit from experiences in other countries, and better support our users and our population, which is our general goal."
"We want our partners to take ownership and not see our work as exclusively CGIAR projects," said Loboguerrero. "This is how I see us working successfully. For example, their collaboration with us has helped deliver a solid and robust strategy and implementation plan for the African Union concerning building climate resilience."
Science and finance
CGIAR and ClimBeR scientists who participated in week one at COP 27 said partners gave positive feedback, made new connections and had forward-looking conversations about overcoming barriers to reaching scale for the Initiative's planned outcomes.
"Our partners reiterated the value of CGIAR as a science partner in many of the conversations and panels I participated in," said Caroline Mwongera, a lead scientist for the Climate Action research area of the Alliance of Bioversity International and CIAT. Mwongera spoke at several ClimBeR-related events last week.
Finance for implementing climate-smart agriculture was one key topic at events with ClimBeR scientists. 
"It's been an excellent COP so far," said Evan Girvetz, ClimBeR's Kenya lead and leader of the Climate Finance research area of the Initiative. "We've seen a need for getting finance down to the local level. Large flows of finance want to come into the things our partners and we have as priorities."
"Our science can come in and help determine the risk level of investments and pair that with climate-smart agriculture and other technologies to reduce risk and increase the flow of much-needed finance on the ground," Girvetz said.
Girvetz said that one of the key outcomes for ClimBeR from the conference was making new connections through panels and on the sidelines of events. He pointed to one event with Uganda's Minister of Karamoja Affairs and farmers where success stories about getting finance to farmers showed that increasing funding for climate resilience is possible and scalable.
"I think we did a good job of getting our story out there," he said.
#ClimateResilience Week 2 Preview
ClimBeR will have a busy final week at COP 27. Events will cover gender and social equity, climate security (the nexus between climate change and conflict), the need for justice for vulnerable farmers to achieve climate resilience in agriculture, food and water in Arab states, and science and innovation for climate adaptation of African agriculture.
Check out ClimBeR's schedule here.
To follow CGIAR's activities at COP 27, please see here. CGIAR news updates are here. The Twitter accounts of CGIAR and CGIAR's climate-smart agriculture are also great channels to stay up to date.