Expanding BISA expertise to new horizons in South Asia
From
Published on

05.10.22

Impact Area
Funders

India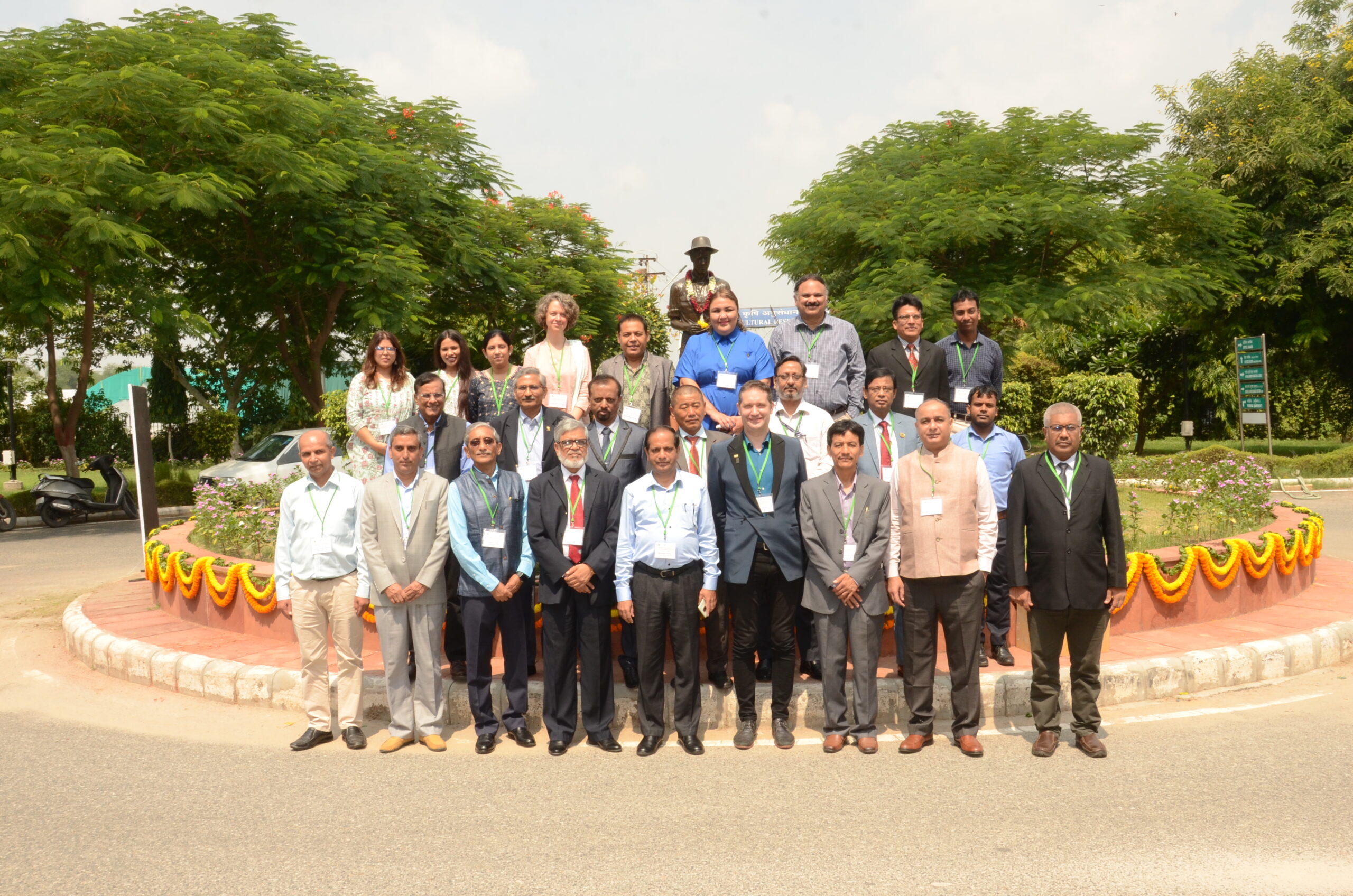 Ten years ago, a foundation was laid on the principles of Norman Borlaug to translate agrarian challenges into opportunities through collaboration between the International Maize and Wheat Improvement Centre (CIMMYT) and the Indian Council of Agricultural Research (ICAR). This major step toward sustainable food and nutrition security was taken through the establishment of the Borlaug Institute of South Asia (BISA) as an independent, non-profit research organization.
Today, BISA is a global name in agriculture research with a vision to promote food security, nutrition, stable livelihoods, and eco-friendly practices in South Asia. Given the prominent challenges of climate change in these economically fragile agroecosystems, the partnership between BISA, ICAR, and CIMMYT plays a pivotal role in developing improved wheat and maize varieties with climate-smart and conservation agriculture-based practices.
A decade of impact
One of the most significant outcomes of BISA's work has been its contribution to building a vast, solid network for evaluating and disseminating new high-yielding and climate-resilient wheat varieties for India and other South Asian countries in close partnership with ICAR and CIMMYT. BISA's transformative solutions and science-led research are critical to targeting stressed resources and attaining global food security.
With support from ICAR and CIMMYT, BISA has developed state-of-the-art research facilities at its three strategically selected research stations, having 1,200 acres of land that the Government of India, jointly with the respective state governments, generously granted to the project. Located in three disparate agro-climatic and socioeconomic environments, these sites are model research farms supporting agriculture research in South Asia. The learning labs at BISA emphasize that scaling climate-smart villages also strengthen climate-resilient agriculture, primarily through addressing challenges such as residue burning. BISA's collaborative and inclusive approach is more relevant today when the world is grappling with various food and nutrition insecurity challenges.
Time for expansion
BISA envisages attracting countries from south Asia, the Bay of Bengal Initiative for Multi-Sectoral Technical and Economic Cooperation (BIMSTEC) and the South Asian Association for Regional Cooperation (SAARC), as well as National Agricultural Research Systems (NARS), national research institutes, private sector companies, and civil society organizations as active partners for expanding reach in the region. To this end, BISA has completed extensive work in Nepal and Bangladesh and has extended its services to Bhutan and Sri Lanka.
Still, more needs to be done in South Asian countries. Therefore, there is an urgent need for a strong commitment to harnessing the best of international scientific discoveries with local efforts. Collective action is to be garnered to provide trusted and effective mechanisms for developing and sharing cutting-edge agricultural technologies in the South Asian region.

To this end, a BISA High-Level Meeting was organized on September 1 and 2 in Delhi, with senior government representatives from the NARS in Bhutan, Sri Lanka, Pakistan, Nepal, Bangladesh, and India. The meeting provided a forum to identify opportunities to co-create and deploy innovative, multidisciplinary solutions to effectively address the transboundary challenges related to food, nutrition, and environmental security faced by farming communities in South Asia. This platform strives to unite the scientific community and thought leaders to support research and development across the agriculture domain.
Delegates from these countries felt that there is a need for a robust program of germplasm exchange within the region, which is essential to strengthening agriculture's resilience. All countries expressed a significant need to raise their capacity of young researchers in advanced research techniques related to genomics, phenotyping, climate-smart agriculture, precision agriculture, and digital technologies. Delegates also discussed BISA's role as a research and innovation regional catalyst, innovation hub, and integrated research platform to build resilient agrifood systems and achieve long-term sustainability and resilience for food security in South Asia.
BISA's farm-ready research, from setting up climate-resilient villages and developing viable alternatives to rice residue burning to facilitating an open exchange of elite germplasm and cutting-edge technologies, reflects not only the vision of CIMMYT but also the philosophy of our mutual inspiration, Borlaug, who believed strongly in sharing knowledge and "taking it to the farmer".
Cover photo: Delegates from Bhutan, Sri Lanka, Nepal, Pakistan, Bangladesh, and India meet to deliberate on the significant issues in South Asia's agriculture sector. (Photo: BISA)