Dr. Mahalingam Govindaraj of HarvestPlus to Receive the 2022 Normal Borlaug Award for Field Research and Application
From
Published on

30.08.22

Impact Area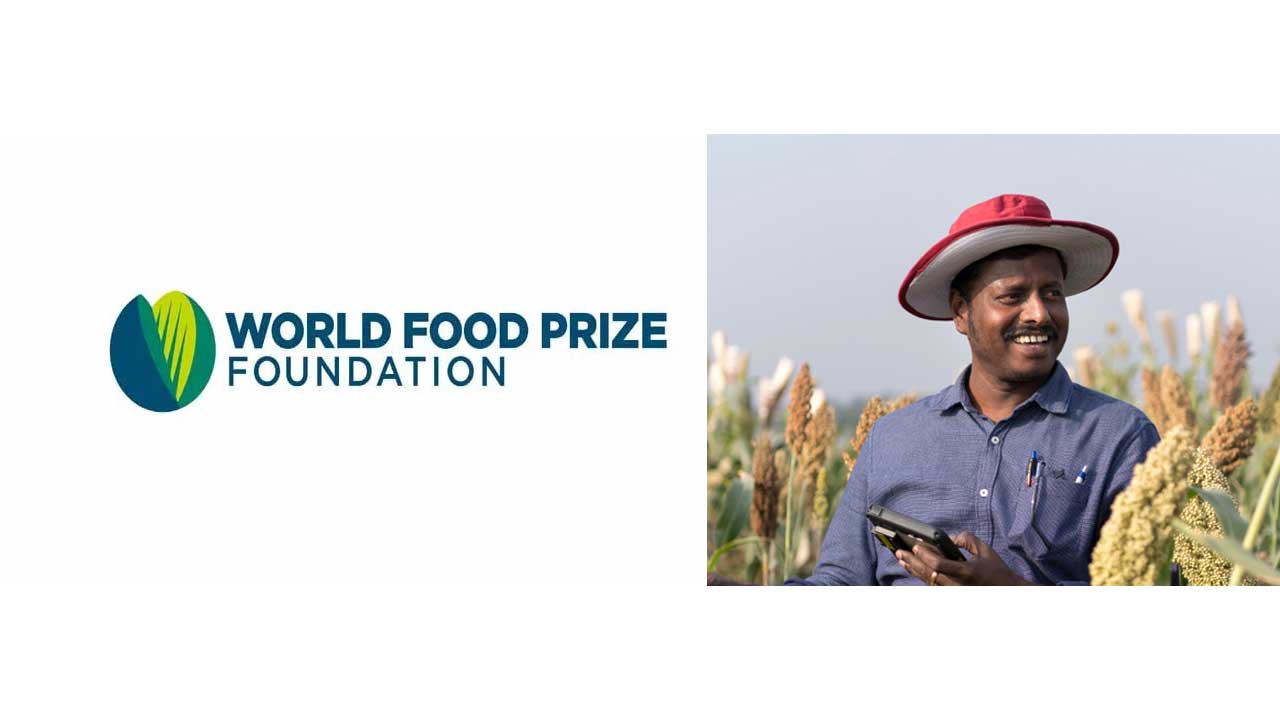 The World Food Prize Foundation has announced that Dr. Mahalingam Govindaraj, Senior Scientist for Crop Development at HarvestPlus and the Alliance of Bioversity International and CIAT, will receive the 2022 Norman E. Borlaug Award for Field Research and Application, which is endowed by The Rockefeller Foundation.
World Food Prize Foundation Senior Director Keegan Kautzky made the announcement during the National Symposium on Food, Nutrition and Environmental Security on August 30 in New Delhi, India.
Govindaraj is being recognized for his outstanding leadership in mainstreaming biofortified crops, particularly pearl millet, in India and Africa. For more than a decade, he has directed the development and dissemination of high-yielding, high-iron and high-zinc pearl millet varieties that have contributed to better nutrition for thousands of farmers and their communities.
"Pandemics remind us that food and nutrition security must go hand in hand," Govindaraj said. "Effectively addressing malnutrition requires that staple crops, such as millet, be bred for essential nutrition, in addition to yield."
Govindaraj credits the biofortification alliance with providing the global interdisciplinary opportunity, support and guidance that transformed his research and development in millet.
"Dr. Borlaug believed that food is a moral right for all who are born into this world," he said. "Today, we recognize that both food and nutrition security are moral rights for everyone. I'm delighted to receive this global award just ahead of the international year of millets (2023), as interventions like biofortified millet allow us to fill the gap between food and nutrition security."
In 2014, while working at the International Crops Research Institute for the Semi-Arid Tropics (ICRISAT), Govindaraj released the world's first biofortified pearl millet, called Dhanashakti. Independent clinical studies showed that 200 grams of Dhanashakti provided women with more than 80 percent of their recommended daily allowance of iron, compared to only 20 percent in regular pearl millet varieties.
Now, more than 120,000 farming households in India grow the specialized crop. Estimates show that, by 2024, more than 9 million people in India will be consuming iron- and zinc-rich pearl millet and reaping the health benefits of better nutrition.
Govindaraj's additional accomplishments include:
collaborating with the Indian government to implement iron and zinc standards into their national cultivar release policy, making India the first country in the world to do so;
playing a direct role in the development of more than 10 significant high-iron, high-zinc pearl millet cultivars in India, positively impacting thousands of farmers, seed producers, processors and consumers; andcreating and disseminating biofortified plant breeding materials throughout sub-Saharan Africa, including in Kenya, Zimbabwe, Sudan, Niger, Nigeria, Senegal and
other countries.
"Dr. Govindaraj has shown a tireless commitment to making biofortified pearl millet widespread, improving nutrition for people in India and Sub-Saharan Africa," said Barbara Stinson, President of the World Food Prize Foundation. "Most importantly, he emulates Norman Borlaug's example of understanding the importance of local circumstances by reaching across cultures to identify the needs of communities and connecting them with appropriate partners."
Established in 2011 with a generous endowment by The Rockefeller Foundation, the $10,000 Borlaug Field Award recognizes exceptional science-based achievement in international agriculture and food production by an individual under the age of 40. Awardees emulate the same intellectual courage, stamina and determination in the fight to eliminate global hunger and poverty demonstrated by Dr. Borlaug as a young scientist working in Mexico to develop "miracle wheat."
"Dr. Govindaraj truly follows in the footsteps of Norman Borlaug in his quest to ensure nutritious food for all throughout India and Africa," said Ronnie Coffman, Professor Emeritus at Cornell University and Chair of the Borlaug Field Award Jury. "This is the first time the Borlaug Field Award has recognized achievement in biofortification, and Dr. Govindaraj is someone who has really raised awareness of the important role biofortified crops play in improving nutrition for millions of people."
Coming from a farming background, Govindaraj saw firsthand the positive impact biofortified crops could have on the nutrition and health of rural communities. He earned his Master of Science and Doctorate degrees in plant breeding and genetics from Tamil Nadu Agricultural University and a Bachelor of Science degree from the Agricultural College and Research Institute, Killikulam.
Govindaraj will formally receive the Borlaug Field Award during a ceremony on October 19 at the 2022 Norman E. Borlaug International Dialogue in Des Moines, Iowa.