Cross-sectoral cooperation needed to prepare for Pakistan's next flood
From

CGIAR Initiative on NEXUS Gains

Published on

14.11.22

Impact Area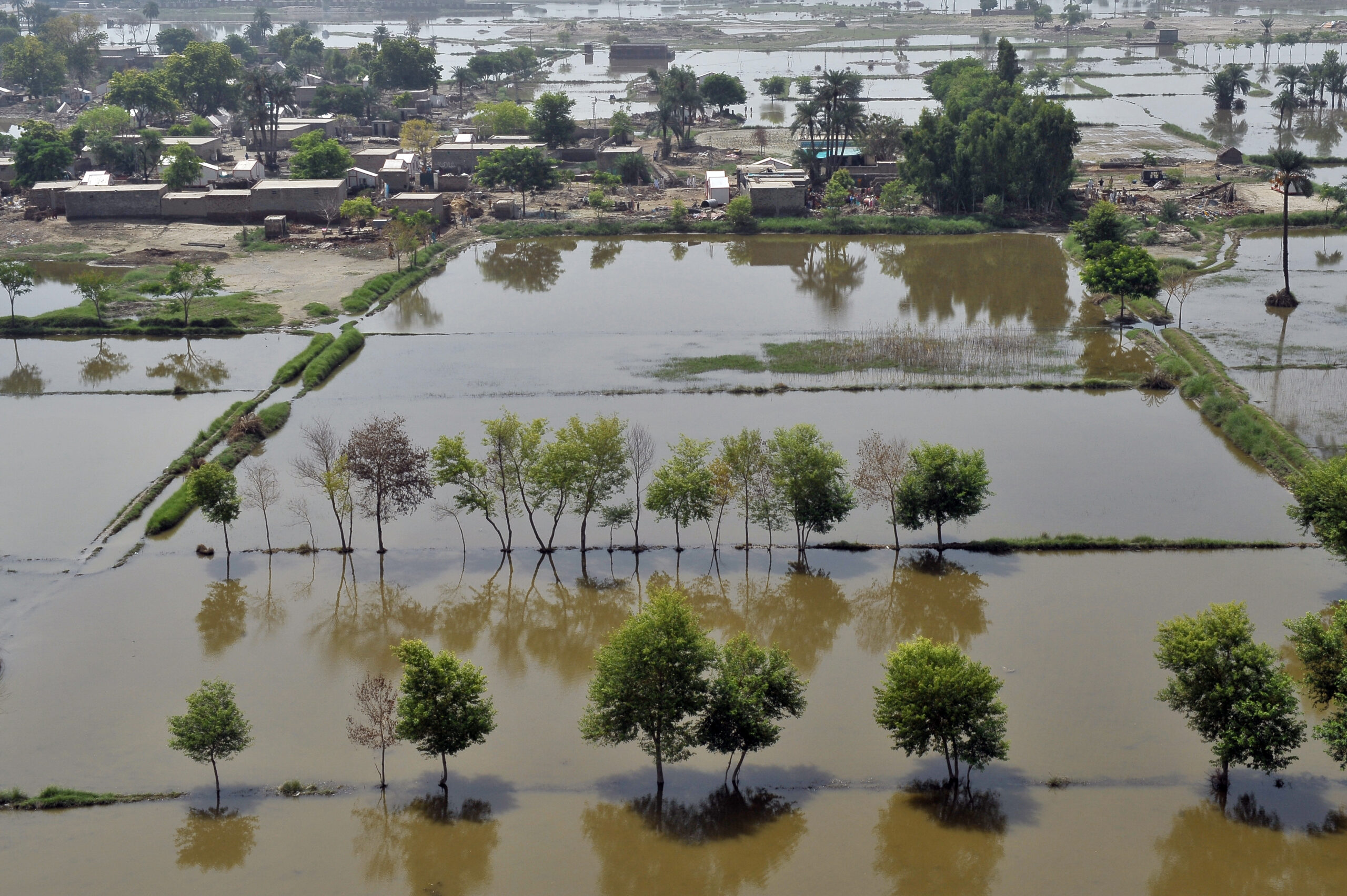 In the wake of Pakistan's devastating floods, questions about flood resilience have been front and center for many working in the water–energy–food–environment nexus. NEXUS Gains' latest event, "Recurring Floods – Building Resilience in the Wake of Climate Change", gave experts from academia, banking and government the opportunity to consider how to reduce the adverse impacts of climate change on poor rural communities through more integrated water planning and management.
The hybrid event was held on October 25 as part of Pakistan Water Week 2022, a five-day conference and exhibition co-organized by the Pakistan Council of Research in Water Resources (PCRWR), the International Water Management Institute (IWMI), Pakistan and the NEXUS Gains Initiative. It was also the fifth in a series of webinars introducing NEXUS Gains and its aims to realize multiple benefits across water, energy, food and ecosystems.
Challenges and opportunities in the Indus basin
Moderated by Dr Claudia Ringler, co-lead of NEXUS Gains, the event began with a presentation on the Indus Basin by Dr Santosh Nepal, a Researcher in Water Resources and Climate Change at IWMI Nepal. "The Indus is the lifeblood of Pakistan," said Santosh. "The river is essential for the country's agriculture and food security, water and energy security, but also presents many challenges. These range from avalanches and landslides upstream to sedimentation and, of course, floods downstream."
Santosh also emphasized the basin's sensitivity to climate change. Citing recent research, he explained how a combination of rapid population growth, a projected temperature rise of 1.9°C by 2050 and increasingly variable rainfall make the Indus one of the most vulnerable basins in the world. And with 63% of the basin's water derived from glaciers and snowfall, there are strong melt water dependencies on agriculture production. In the future, there will be more dependencies on melt water because of early melting due to warming temperature and on groundwater due to rainfall variability.
Systemic approaches to mitigate water risks
The second speaker was Dr Mohsin Hafeez, IWMI Pakistan Country Representative and NEXUS Gains Basin Coordinator for the Indus. Mohsin presented a stark comparison of Pakistan's 2010 and 2022 floods, showing how this year's flooding was more severe according to most measurements of impact: size of area affected, crop area destroyed, livestock lost, houses damaged and financial impact.
Mohsin then explored systemic approaches to mitigate water risks in the Indus Basin. These include improved risk identification and quantification to highlight the most vulnerable areas and assets. Such efforts, he noted, should be matched with risk reduction measures such as strengthened early warning systems and enhanced emergency planning and response capacities. Additional policies will be needed to address the inclusion of women and youth and the provision of knowledge products and advisory services to at-risk communities.
"Climate change is already here"
The presentations were followed by audience questions and a panel discussion. Asked about inaccurate rainfall predictions before the 2022 floods, Ahmad Kamal, Chairman of the Federal Flood Commission at the Ministry of Water Resources, explained that a changing climate was making it more difficult to make reliable weather forecasts. "For Pakistan, it's clear that climate change is already here," he said.
Fiza Naz Qureshi of the Indus Consortium reminded participants of the social dimension to the recent floods. "We all know that the most vulnerable in society were worst hit. And women and children are facing basic health and sanitation issues in the wake of the floods," she observed, calling for community-based interventions specifically targeted to the needs of rural populations when designing future disaster responses.
Further government perspectives were provided by Habib Ullah Bodla, Chief Engineer of the Punjab Irrigation Department, and Faisal Fareed, Director General of the Provincial Disaster Management Authority for Punjab. Both panelists explained how the province of Punjab is working to improve flood resilience, including investing in resilient housing, restoring wetlands and improving dikes in densely populated areas. Faisal also expressed hope that a fledgling smallholder crop insurance scheme would be extended to cover more farmers in the province.
Nathan Rive, a Water Resources Specialist at the Asian Development Bank, offered a donor perspective to the panel. "We need to ensure that we don't find ourselves having these same discussions in another 10 or so years when the next flood inevitably hits," he warned. "The Asian Development Bank is working with the government to address flooding through a broader, programmatic approach rather than through individual, fragmented projects." Nathan also stressed the scale of the work ahead for Pakistan and its partners: "It's going to take a lot of people from a lot of sectors and require a lot of investment."
The need for system-level approaches
Despite their diverse backgrounds, panelists and speakers were united in stressing the importance of establishing an early warning system for Pakistan and urged cross-sectoral cooperation to strengthen flood resilience and water security. "Departments in Pakistan are still working in silos," argued Mohsin. "We need to look at the bigger picture and approach the Indus basin holistically, at a system level."
In his closing remarks, Syed Zafar Ali Shah, Secretary of the Ministry of Planning Development & Special Initiatives, responded with an update on government-wide efforts to strengthen flood resilience. These include a post-disaster needs exercise, national flood response planning and a drive to embed climate resilience into reconstruction efforts. "For a long time we took water for granted," Syed concluded. "But now we're talking about it much more. And in Pakistan some very positive developments are taking place."
Unable to attend the webinar? You can watch it here.
You can also catch up on previous webinars in this series on YouTube:
Header image: Flood affected area in Multan, Pakistan. Photo by Thomas Koch/Shutterstock.