Cross-center learning between CIMMYT and WorldFish
From
Published on

15.07.22

Impact Area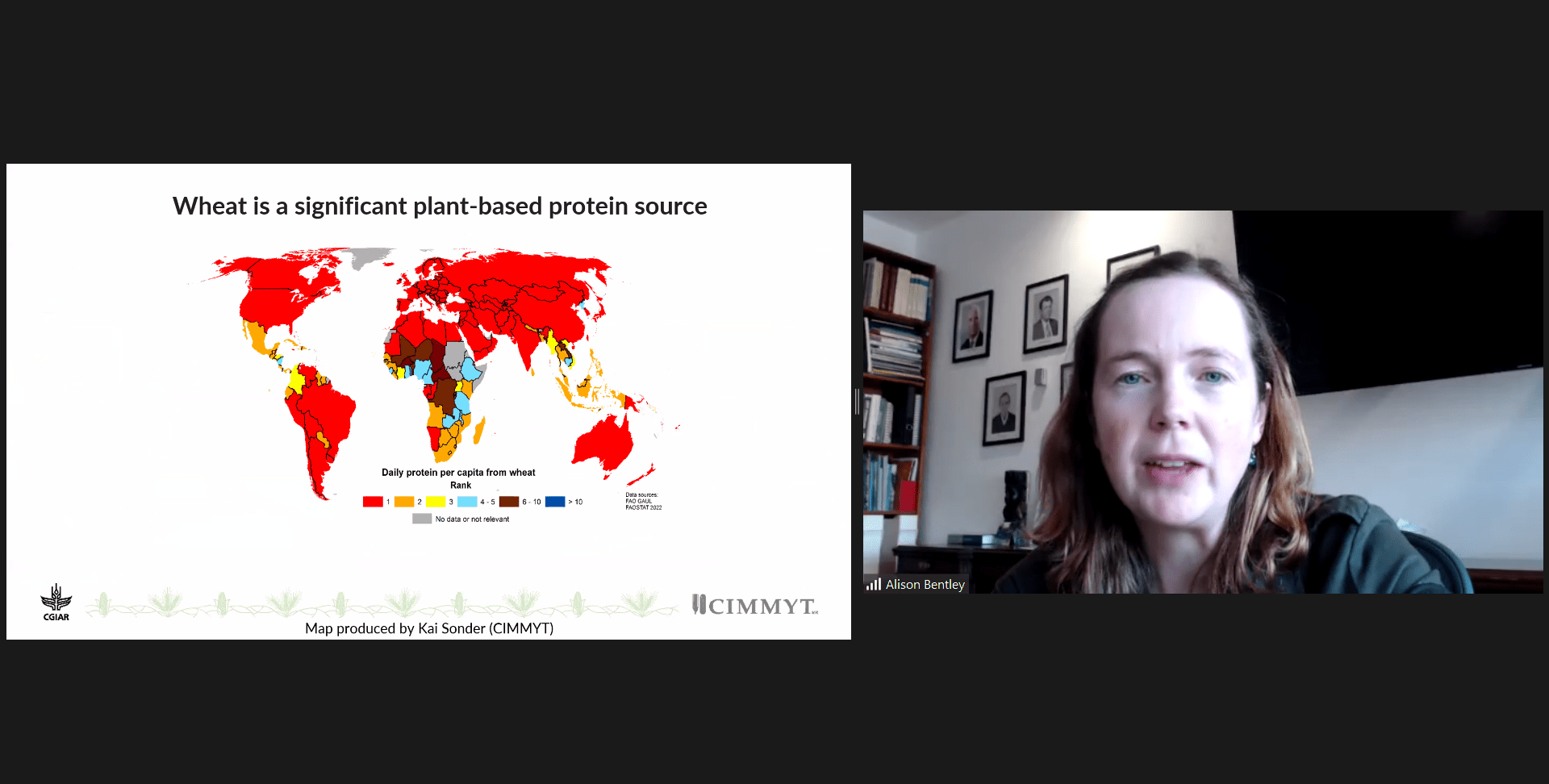 "Now more than ever, we need to build greater resilience across our global food system," said Alison Bentley, Director of Global Wheat Program at the International Maize and Wheat Improvement Center (CIMMYT), to introduce her part of a joint seminar between CIMMYT and WorldFish. The two CGIAR research centers may appear to have different focuses, but the pairing draws attention to many opportunities for intra-CGIAR collaboration to address the looming global food crisis.
Beginning with Ahmed Nasr-Allah, Country Director (Egypt) at WorldFish, the presentation explored Integrated Agriculture and Aquaculture (IAA) systems for food security. Over the coming decades, population growth and increased scarcity of water pose a challenge for food production and agriculture, so water efficiency needs to be maximized.
Nasr-Allah explained that wheat nutrients improve soil quality, which in turn positively impacts fish quality when using water running off growing crops. He gave an example of a farmer who allocated more space on his farm to irrigate and store water and fish, which enabled him to produce higher crop yields. Further research between WorldFish and CIMMYT in this area could be examining nutrient flow from the fish system to the crop system.
Second to present was Bentley, looking at shock-proofing wheat to build future resilience. "It's important we understand where the risks lie in our global system so we can respond to shocks," she explained, citing data on global import dependency on Ukrainian and Russian wheat. She went on to describe potential solutions to combat the predicted yield decrease in wheat in the Global South, including substituting a proportion of wheat flour with other under-utilized crops in products, without impacting flour quality or consumer evaluation.
Linking to WorldFish's work, Bentley highlighted the need to use water more effectively by combining new varieties with enhanced mechanization options to improve crop management, and the potential of optimizing individual components in fish and wheat rotations that could then be combined for greater impact.
The third session was with WorldFish Scientist Sarah Freed, who discussed designing integrated production practices to meet diverse needs. She invited event attendees to consider whether the lessons learnt from challenges in rice growing areas, such as climate change, poverty, food and nutrition insecurity, and increased demand, could be applicable solutions to problems in wheat growing areas.
Using biophysical and sociocultural insights from rice-fish innovations as an example, she listed five recommendations for design: identify objectives; identify a range of production options; use a co-design process; implement fit-for-purpose design and evaluation; and enable adaptation. Of particular interest was the co-design process with people who are involved at all levels, from landowners to rice farmers to laborers, so that the design benefits a variety of stakeholders. Freed also noted that decisions taken for economic reasons, such as extending the shrimp season, can lead to increased soil salinity, which means the ground can no longer incorporate diverse crops.
All three speakers concluded the event by acknowledging the potential in combining their research areas to determine and implement food security solutions.