CGIAR and Partners Align on Key Initiatives to Achieve Nature-Positive, Resilient, Sustainable Food Systems in South Asia
From
Published on

15.06.22

Funders

India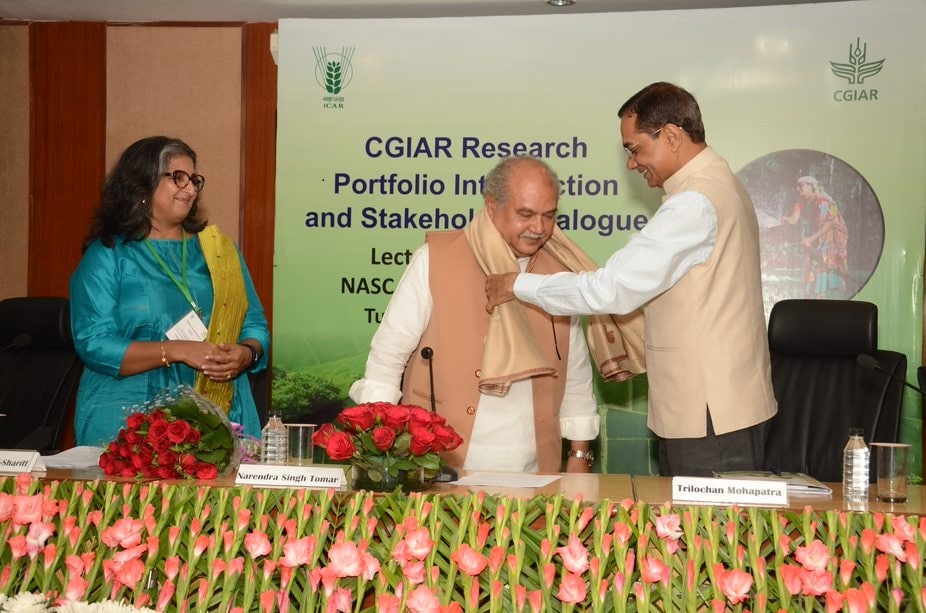 June 15, 2022, New Delhi, India – Participants at a high-level meeting in New Delhi agreed on strengthened collaboration on research and development and enhanced support to Indian institutions, to respond to escalating threats to food, water, and energy ecosystems. The CGIAR Research Initiative Introduction and Stakeholder Dialogue held on June 14 also saw the inception of a concrete research and innovation agenda for India with specific, ambitious deliverables in the areas of environmental health and biodiversity, poverty reduction, gender equality, and nutrition and food security. The 13 Initiatives launched include:
It is estimated that these Initiatives will positively impact livelihoods, productivity, and health for tens of thousands of smallholder farmers, indigenous fishers, and food-insecure families over the coming three years. The challenges across the region are considerable; in fact, India is facing a "Perfect Storm." There are currently over 700 million people who are hungry every day, and the largest number live in South Asia. Climate change has reduced yields, while farmers face droughts, heatwaves, and erratic weather patterns. Natural resource degradation, low resource use efficiency, and agriculture-based air pollution undermine sustainability and human health, contributing to rural out-migration, labour scarcity and increased production costs.
Present at the Initiative launch, Narendra Singh Tomar, the Honourable Minister of Agriculture and Farmers Welfare, appreciated CGIAR's efforts in the agriculture sector and said, "CGIAR and India have been collaborating in the area of research for a long time with a significant impact. I firmly believe this initiative is praiseworthy and excellent, and we will see it achieving good results in the future; we expect this kind of partnership to be forged with all stakeholders. We want this partnership to go a long way and we are committed to CGIAR initiatives. We want a collaborative, healthy, supportive approach extended toward ICAR, associated centers, and state agricultural universities."
Rising populations, increasing economic inequality, and the impact of the COVID-19 pandemic and the conflict in Ukraine, which is driving up prices for fertilizer, fuel and food, are additional contributing factors to a challenging context for achieving the UN Sustainable Development Goals (SDGs) in South Asia. Against this background, representatives from the Indian Ministries of Agriculture & Farmers Welfare, the Department of Animal Husbandry and Dairying, the National Institution of Nutrition and the Central Water Commission, met with members of CGIAR to consider research, capacity and advocacy priorities and how to achieve maximum impact through CGIAR's systems approach.
Dr. Mohapatra, Director General, ICAR, and Secretary, DARE, reflected on the CGIAR and India partnership and said, "CGIAR System institutions have been quite important as a partner to India for decades. And as a partner in the CGIAR System, India has contributed immensely to the research and innovations at the global level. I firmly believe that this transformation to One CGIAR can contribute strategically and help strengthen systems at the local and regional level in addressing concerns surrounding impacts of climate, water security, sustainable food systems, gender, and others. Thus, this partnership plays a critical role."
Dr. Martin Kropff, Global Director, Resilient Agri-Food Systems, CGIAR, said: "I want to thank our partners in India and South Asia, whose expertise, commitment and collaboration are vital to our common goal of transforming food, land and water systems across the region. I am convinced the One CGIAR reform will make the organization more accessible and responsive to local needs, opportunities and circumstances, for example enabling us to deliver more impact for Indian farmers and vulnerable consumers through a holistic 'systems' approach to research and innovation, while offering a one-stop shop to access CGIAR's global capabilities for our partners. At the same time, we are committed to helping build capacity in institutions here in India, to meet increased threats to food security and grow research and innovation."
Temina Lalani-Shariff, Regional Director, South Asia, CGIAR, noted, "We are incredibly energized and motivated coming out of this meeting, which builds on a solid, 50-year foundation of research and collaboration for CGIAR in India. Today saw transparent, constructive, and thoughtful discussion among engaged stakeholders to move ahead with a strategic approach to delivering science and innovation. To highlight one domain of work to address the challenges ahead, CGIAR with its partners in India will harness digital technologies to optimize timely decision-making across food, land, and water systems for maximum impact. We are committed to a transformation that bridges the gender and urban-rural digital divides, growing digital technology access and infrastructure, literacy, and skill levels."
The event was organized by CGIAR Research Centers in India with national government partners, including the National Institution of Nutrition, the Central Water Commission and the Ministry of Agriculture & Farmers Welfare. The International Water Management Institute (IWMI), the International Rice Research Institute (IRRI), the International Livestock Research Institute (ILRI), The Alliance of Bioversity International and CIAT (International Center for Tropical Agriculture), the International Food Policy Research Institute (IFPRI), the International Potato Center (CIP), the International Center for Agricultural Research in the Dry Areas (ICARDA), the International Maize and Wheat Improvement Center (CIMMYT), and WorldFish make up the CGIAR Centers in India.
——————————-
Media contact: Richa Sharma Puri, email: r.puri@cgiar.org
About CGIAR
CGIAR is a global research partnership for a food-secure future. CGIAR science is dedicated to transforming food, land, and water systems in a climate crisis. Its research is carried out by 13 CGIAR Centers/Alliances in close collaboration with hundreds of partners, including national and regional research institutes, civil society organizations, academia, development organizations and the private sector. www.cgiar.org
We would like to thank all Funders who support this research through their contributions to the CGIAR Trust Fund.
List of Initiatives launched (please click here for full details on the individual Initiatives)