Capacity assessment and design meeting for training of trainers on sustainable healthy diets through food systems transformation in Viet Nam
From

CGIAR Initiative on Sustainable Healthy Diets

Published on

15.09.23

Impact Area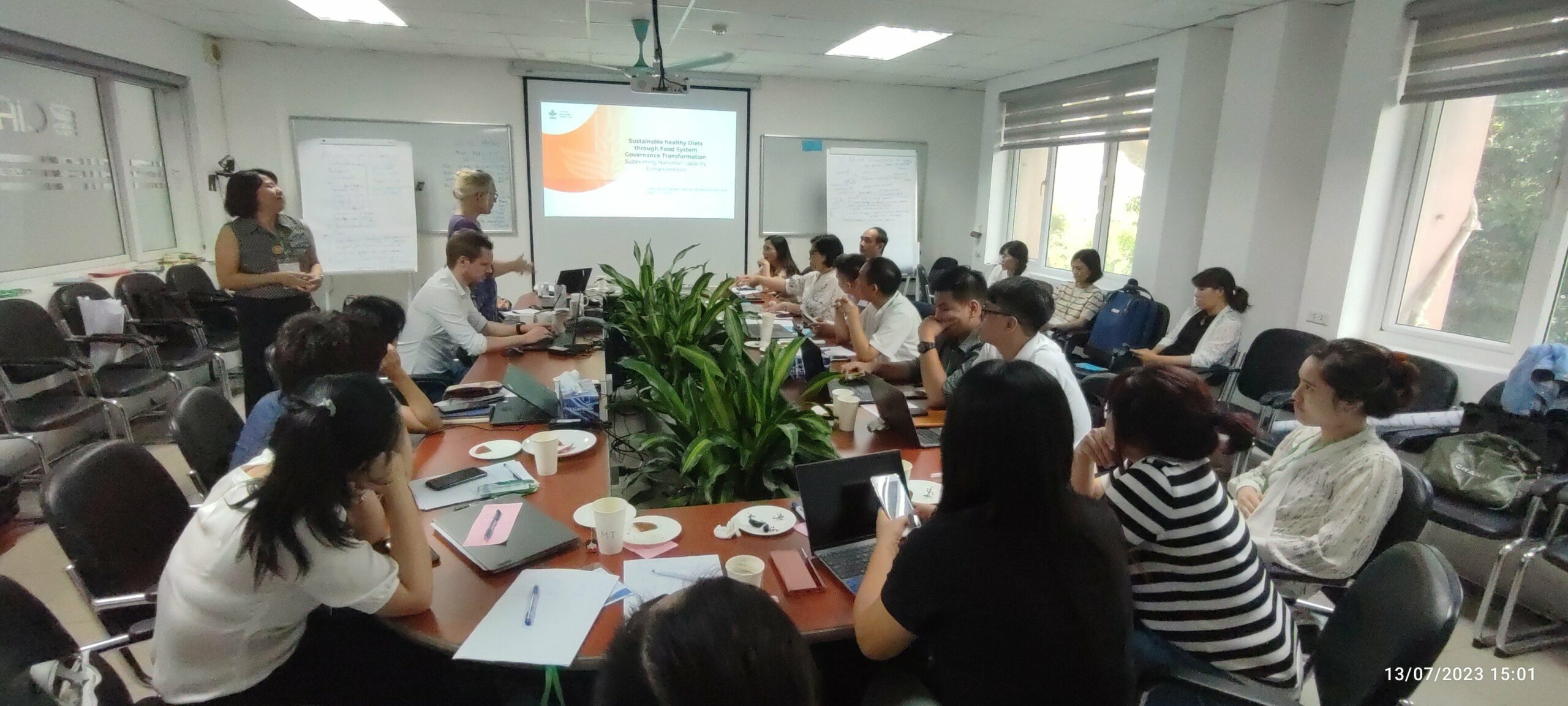 The Alliance of Bioversity and CIAT (the Alliance) in collaboration with the Wageningen Center for Development Innovation (WCDI) from Wageningen University and Research (WUR) met with local partners in Viet Nam from July 11 to July 13, 2023, to design a new training of trainers (ToT) program. In the meeting, participants identified how the program can build a common understanding of what sustainable food systems for sustainable healthy diets means in the Viet Nam context. The ToT program will be developed to support the implementation of Viet Nam's National Action Plan for Transparent, Responsible, and Sustainable Food Systems Transformation (2022–2030), also known as the Sustainable Food System NAP.
This capacity building program is part of the CGIAR Research Initiative on Sustainable Healthy Diets through Food Systems Transformation (SHiFT) and, specifically, Work Package 5 on Catalyzing Food Systems Transformation. Experts from the Alliance and WCDI are working closely with experts from the Vietnam Academy of Agricultural and Social Science (VAAS), National Institute of Nutrition (NIN), and Institute of Policy and Strategy for Agriculture and Rural Development (IPSARD) to design the ToT program. VAAS, NIN, and IPSARD are formally engaged in cooperative activities with SHiFT to strengthen stakeholder engagement in food systems transformation for sustainable healthy diets. They are known as SHiFT's Strategic Partners in Viet Nam.
The meeting was divided into two parts. It began with a capacity assessment with SHiFT's Strategic Partners and was followed by a two-day ToT design workshop with a wider group of partners.
Capacity assessment to identify opportunities to support systemic transformation toward sustainable healthy diets in Viet Nam
In focus group discussions facilitated by experts from WCDI and the Alliance, participants from VAAS, NIN, and IPSARD used the Five Capabilities (5C) assessment tool to evaluate themselves and their organizational capability to identify opportunities and threats to effectively implementing the emerging parts of the Sustainable Food Systems NAP.  All three strategic partners identified areas for capacity strengthening.  For example, VAAS and NIN both prioritized the capability to act and commit, which relates to the ability to be open to new concepts and food system challenges. IPSARD emphasized the need to strengthen their capability to adapt and self-renew, which relates to the ability to monitor, learn, and use new information to contribute to context-specific food system adaptations. Their insights will be used by SHiFT to design appropriate and relevant activities, like the new ToT program, that address stakeholder needs.
Training of trainers for sustainable healthy diets through food system transformation
In the second part of the meeting, nearly 20 experts from VAAS, NIN, IPSARD, and four universities (Hanoi University of Science and Technology, Hanoi University of Public Health, Hanoi Medical University, and Can Tho University of Medicine and Pharmacy) discussed how to design the ToT program. Participants considered what should be the key components of the content, what skills participants would need before participating, and how to roll-out the ToT program with support from existing programs, networks, training institutions, and government agencies in Viet Nam.
Participants suggested that the ToT content should build a common understanding of concepts related to food systems policies and sustainable healthy diets and equip participants to assess the current state of food systems transformation and the challenges/limitations therein. How to design a useful monitoring and evaluation framework for the Sustainable Food Systems NAP and principles and best practices to apply in coordination of the implementation of the Sustainable Food Systems NAP, were also identified as key topics the participants would like to see in the program. They also strategized how the ToT program would be rolled out to reach others in their organizations and at subnational or local levels in Viet Nam. The shared ambition of the ToT program is that it will contribute to fostering collaboration, generating transformative solutions, and advancing Viet Nam's journey toward sustainable healthy diets and robust food systems transformation, ensuring a lasting positive impact.
Currently, a comprehensive ToT program is in development. A selection process for participants is in place. Their first step will be to join SHiFT's e-Course on Food Systems Governance, which was launched at the end of 2022 and will be re-launched in an updated version translated into Vietnamese. The face-to-face portion of the ToT program is expected to start in November 2023.
The International Food Policy Research Institute and the Alliance of Bioversity International and CIAT lead SHiFT in close collaboration with Wageningen University & Research and with contributions from the International Potato Center. SHiFT combines high-quality nutritional and social science research capacity with development partnerships to generate innovative, robust solutions that contribute to healthier, more sustainable dietary choices and consumption of sustainable healthy diets. It builds on CGIAR's unparalleled track record of agricultural research for development, including ten years of work on food systems and nutrition under the CGIAR Research Program on Agriculture for Nutrition and Health (A4NH).
This News item was authored by SHiFT researcher, Thanh Thi Duong from the Alliance, and edited by Claire Davis from IFPRI.
Header image: SHiFT's partners propose a plan for the ToT program for sustainable healthy diets through food systems transformation on July 12–13, 2023. Photo by Thanh Duong/Alliance of Bioversity and CIAT.