Birds eye view of CGIAR's Innovation Packages and Scaling Readiness (IPSR)
From
Published on

16.12.22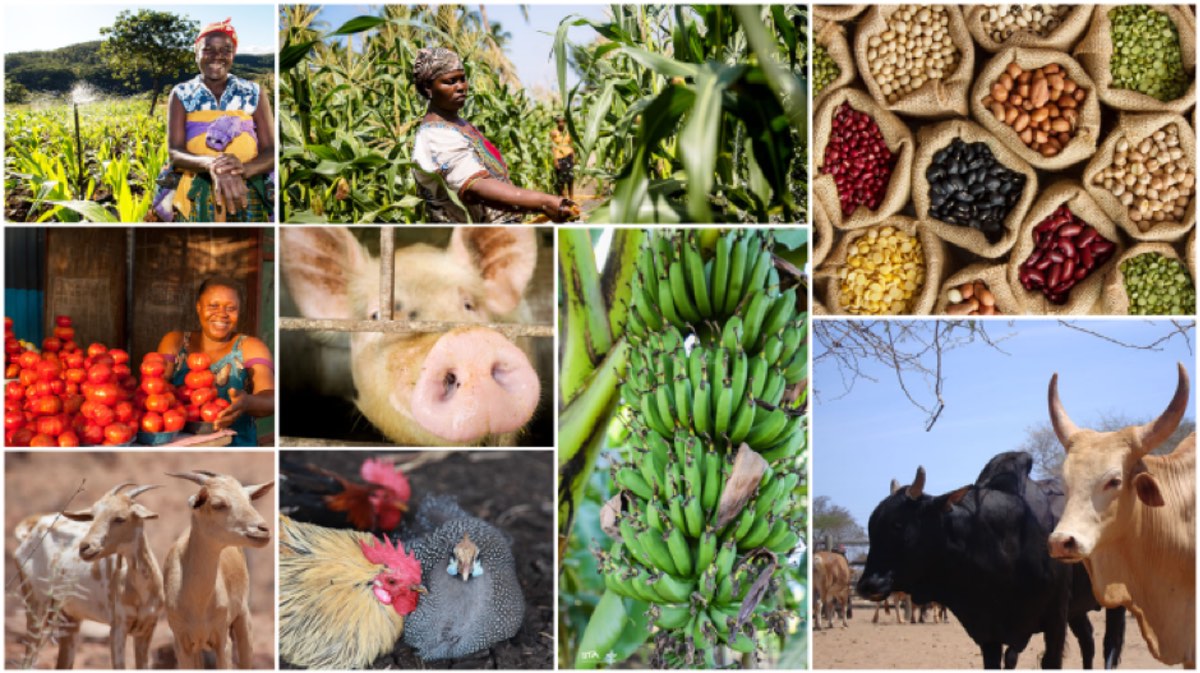 Climate, political and economic crises are putting millions at risk of poverty and hunger. We need, now more than ever, to improve food security, foster economic growth and boost resilience in the face of the current crisis the world is experiencing. CGIAR is transforming food, land, and water systems in a climate crisis, crucial for a sustainable, climate-resilient world free from hunger and malnutrition.
CGIAR's 2030 Research and Innovation Strategy embraces an innovation system approach to deliver science and innovation to achieve the Sustainable Development Goals (SDGs). CGIAR recognizes that its science and innovations are part of a broader (innovation) ecosystem, where other players work, innovate and learn to achieve similar or different objectives. It positions its science and innovation along an impact pathway, where the ultimate objective is to have real positive societal impact at scale, for example by contributing to combatting malnutrition, agrobiodiversity loss and climate change.
CGIAR puts emphasis on strategic partners and being intentional and realistic about scaling agricultural innovations. For CGIAR to contribute to positive societal impact such as those laid out in the SDGs, it needs to work together with other knowledge and innovation partners (e.g., academia, applied research) and with public and private organizations that can achieve broader impact. CGIAR can make an important contribution to scientific breakthrough and transformative innovation, but only when those innovations become part of 'innovation packages', they will be able to reach and benefit farmers and other users in a sustainable way.
Key innovation and scaling concepts
Innovation: New, improved, or adapted outputs or groups of outputs such as products, technologies, services and institutional arrangements with high potential to contribute to positive impacts when used at scale.
Scaling: Intentional investments, strategies and processes aimed at increasing innovation readiness and/

innovation use to contribute to positive impacts at scale.

Innovation Packages: Combinations of interrelated innovations and enabling conditions that, together, can lead to transformation and impact at scale in a specific context.
Scaling Readiness: Evidence-based approach to support the design, implementation, monitoring and evaluation of strategies to scale innovations at project or portfolio level.
Adapted from: CGIAR MELCOP Glossary and Schut et al., 2020
Innovations go through a process of development and maturity. Not all innovations will change the world, which means that organizations constantly need to make decisions on which innovations to continue funding and which ones to put on hold or stop. Developing a great idea into a proven innovation that is used by many people may take at least 10-15 years, and we need to appreciate and monitor how investments aim at increasing the 'scaling readiness' of innovations, one step at a time.
It is against this backdrop that CGIAR has embraced the Scaling Readiness approach to achieve the objectives set out in its 2030 Research and Innovation Strategy. Scaling Readiness' development started in 2017, led by Wageningen University, to close the gap between 'research' and 'impact'. With the Innovation Packages and Scaling Readiness (IPSR), CGIAR is embedding key Scaling Readiness principles into the new 32 CGIAR Initiatives' innovation and scaling approach.
IPSR aims to accelerate the scaling of innovations by providing processes and tools for initiatives and other projects to achieve four key objectives:
Track the development of all innovations;
Create innovation packages for specific contexts (e.g., country);
Strategize on scaling innovations with a high impact potential;
Manage a portfolio of multiple innovations along an impact pathway or pipeline as is visualized below.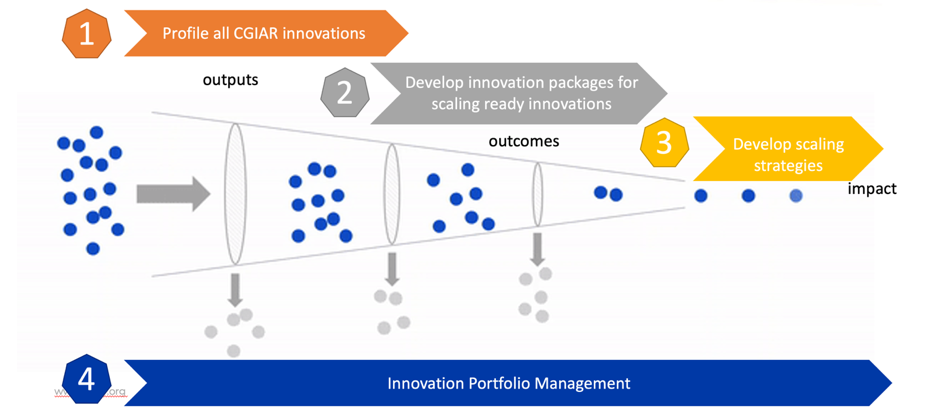 What has been achieved so far?
IPSR is built into the new CGIAR Performance and Results Management System. CGIAR Initiatives have developed an IPSR plan, budgeted and planned against it. As part of the annual technical reporting, the Initiatives report their innovations, innovation packages, and scaling readiness of the innovations. The team spearheading the IPSR approach is hosted in CGIAR's Portfolio Performance Unit (PPU), from which it actively collaborates with scaling experts across the CGIAR System.
How is the IPSR work organized? What are the focus areas?
In 2022, the IPSR work was structured around five key building blocks:
Redesign – Simplify the original Scaling Readiness approach to meet the minimum viable requirements and CGIAR's implementation reality. Profiling innovations can now be completed in less than an hour, and the more complex innovation package process has been reduced to a 1-day workshop, while still assuring quality data.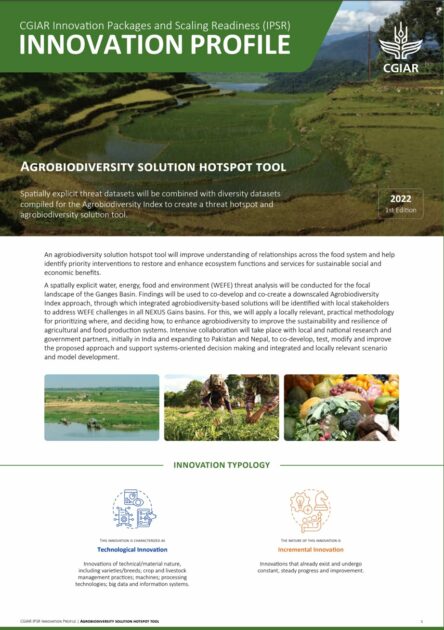 Pilot – IPSR products and tools have been successfully piloted with four 'early adopter' CGIAR Initiatives, namely, Sustainable Animal Productivity, NEXUS Gains, Genebanks and Diversification in East and Southern Africa. Over 60 innovations were profiled and published and two innovation package design workshops conducted in Tanzania and Kenya. An innovation portfolio management pilot with the CGIAR Initiative on Diversification in East and Southern Africa was conducted based on the 26 innovations profiled.
Integrate – IPSR is now fully integrated into the CGIAR technical reporting arrangement and the Performance and Results Management System (PRMS), which includes a quality assurance process to ensure that scaling readiness assessments are evidence-based. IPSR will feed the CGIAR results dashboard, strategic communication, and portfolio management.

Capacity – The IPSR team currently consists of seven people who spend part of their time on IPSR in addition to their other tasks and responsibilities. The team actively contributes to creating additional scaling capacity across Initiatives and at Action Area level (e.g., by helping colleagues to develop scaling position job descriptions). More than 1,600 students enrolled in an online course on innovation and scaling developed in English, French and Spanish, to strengthen innovation and scaling capacity more broadly in the agricultural sector. In addition, over 25 IPSR webinars, online meetings and in-person sessions were organized in 2022 to introduce the IPSR approach to CGIAR Initiatives' teams and the broader CGIAR scaling community.
Engage – To nurture broader innovation and scaling culture, the IPSR team is engaging with innovation and scaling champions from across the CGIAR System. The team co-organized the 'CGIAR week of science and practice of scaling agrifood systems innovation', with GIZ taskforce for scaling team, in Nairobi between November 21-25, 2022, bringing together CGIAR and GIZ scaling community for networking and learning.
What was most rewarding and most challenging in 2022?
Most rewarding was to see IPSR 'come to life'. By delivering the initial IPSR results, innovation profiles, innovation portfolio overview and scaling readiness assessment, people can see what IPSR is trying to achieve and how it can support scientists, project teams and managers.
Most challenging was the change process that IPSR triggers. IPSR proposes an approach to innovation and scaling that is new and fundamentally different from the status-quo. That sometimes creates tensions. The IPSR team tries to embrace that tension and build on feedback, whilst keeping in mind what IPSR ultimately tries to achieve.
What is next in 2023?
In 2023, the team will continue expanding the IPSR network and rolling out new/enhanced modules into the PRMS reporting system for improved user experience and tracking innovation use/outcome level. In addition, the team will provide overview of innovation portfolios and dashboards to help scientists, managers, and leaders identify priorities, synergies, and collaborations. The team will also assess if the Scaling Readiness of innovations that were reported in 2022 has changed following additional CGIAR and partner investments.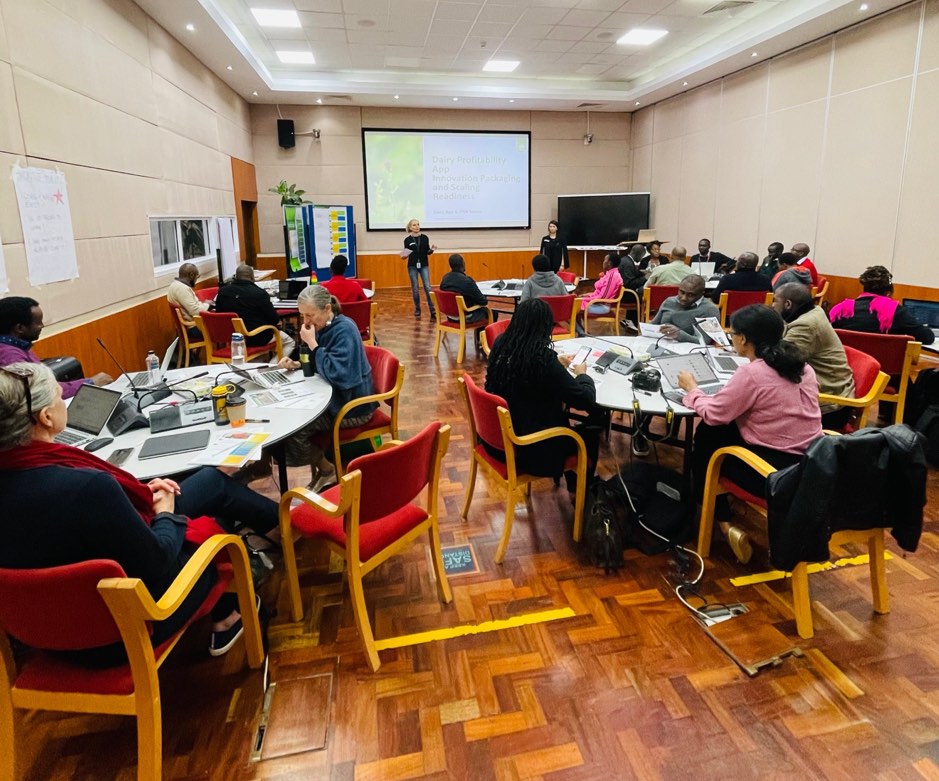 Blog by Marc Schut, Strategic Advisor Innovation, Scaling and Stage-gating, CGIAR, and Senior Innovation and Scaling Scientist, Wageningen University.