Aquaculture in Bangladesh – more than just a load of carp
From

CGIAR Initiative on Aquatic Foods

Published on

27.06.23

Impact Area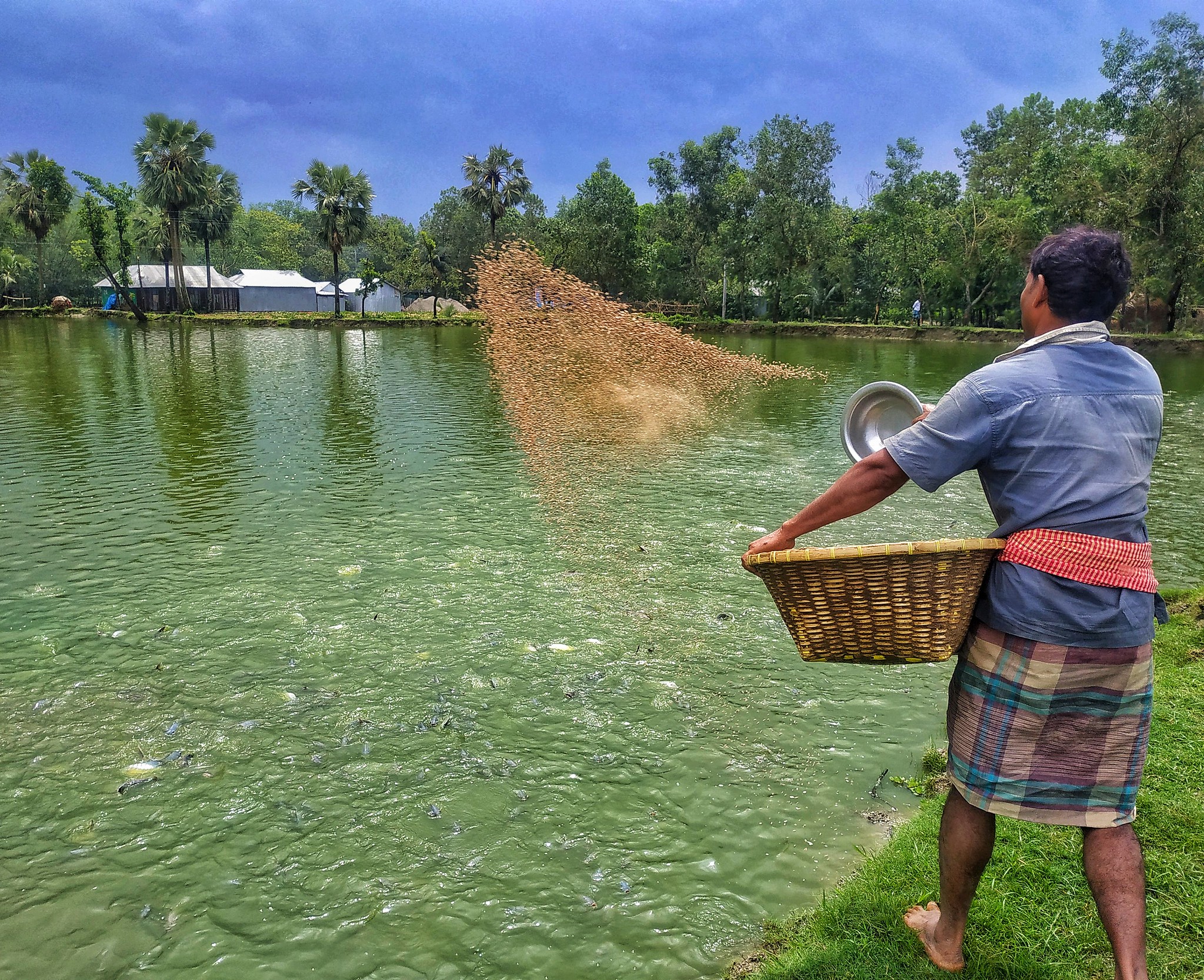 New research provides a clearer picture of small-scale carp production in Bangladesh, which could support the development of more targeted policies to boost sustainable aquaculture in the country.
Aquaculture plays a vital role in economic growth, rural development and food and nutrition security in Bangladesh, with the country ranked as the world's third largest inland fish producer after India and China. While output of farmed fish tripled between 2003 and 2022, improving productivity, management and sustainability has been hampered by a lack of accurate and up-to-date data and information on the sector.
A new study by researchers from WorldFish and partners, as part of the CGIAR Aquatic Foods Initiative, engaged over 200 stakeholders to gather insights from eight regions of Bangladesh on different small-scale production models for the country's most popular aquaculture species: carp. The sessions brought together representatives from academia, NGOs, research institutions, national government, farmers, feed suppliers and more.
The discussions revealed that polyculture systems involving combinations of different species of carp (typically rohu, catla and mrigal) dominated the aquaculture landscape, with significant variability in the range of production models. The researchers categorised these into four types, according to the level of intensification and the dominant carp species, combined with prevailing socio-economic conditions (e.g., the cost of feed and labour), infrastructure (e.g., the state of the road network for transporting fish seed or growout fish), and environmental conditions (e.g., the incidence of flash floods, droughts and water pollution) affecting production. The stakeholders identified the availability of high-quality seed, transport and flash floods as key determinants impacting the production system. They also flagged that climate change and the Covid-19 pandemic intensified the impacts.
Researchers also noted an important shift in small-scale carp aquaculture in the country – from subsistence to commercially-orientated production. They found that commercial fish farmers typically preferred to have available and use improved strains selected for traits such as large size, rapid growth.
Co-author Cristiano Rossignoli of WorldFish said: "This study provides valuable insights into the enormous potential for sustainable expansion of carp aquaculture in Bangladesh.
"The information provided by stakeholders sheds light on the variability within the sector, something that has generally not been visible in the highly-aggregated data available up to now. These new insights help us better understand the dynamics of the sector, the preferences and interests of its many stakeholders, and the opportunities for targeted and more localised policies and actions to improve and boost production."
Despite the findings, the researchers also stressed the need for more studies into the characteristics and performance of small-scale carp aquaculture systems in the country, to develop an even more comprehensive picture and help guide policy development.
Multi-stakeholder perception analysis of the status, characteristics, and factors affecting small-scale carp aquaculture systems in Bangladesh is published in Frontiers in Sustainable Food Systems.