A One Health approach to tackling zoonotic disease risks in wildlife farming in Vietnam
From

CGIAR Initiative on One Health

Published on

05.07.23

Impact Area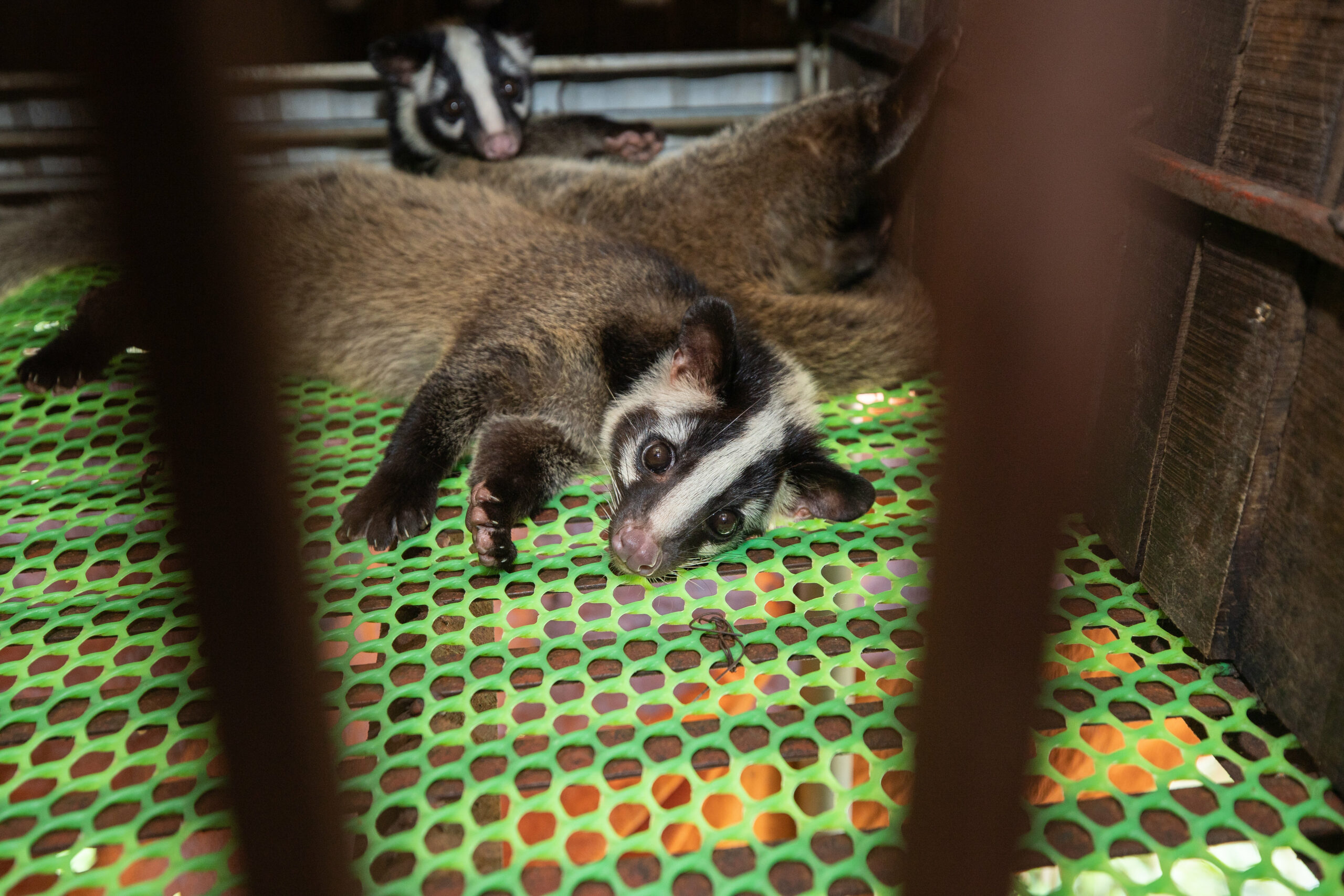 From 2020, the world has been devastated by COVID-19 which has claimed 6.9 million lives and is one of many diseases that probably originated from wildlife.
Wildlife from natural or captive conditions might be the reservoir of pathogens that can be transmitted to humans.
Seventy-five percent of emerging infectious diseases in humans are caused by zoonotic pathogens, which are transmitted from animals to humans.
The One Health approach, that mobilises inter-sectoral collaboration, is essential to detect and prevent the risks of disease transmission from animals to humans.
Acknowledging the urgent need for action, the CGIAR Initiative on One Health is leading efforts to safeguard human health using a comprehensive approach that recognises the interconnectedness of humans, animals and the environment.
The initiative is being implemented in seven countries, including Vietnam, where researchers are studying the transmission of zoonotic diseases in Dong Nai and Lao Cai provinces to strengthen disease prevention and control measures.
The initiative's work in Vietnam is co-implemented by the International Livestock Research Institute (ILRI), the International Food Policy Research Institute, the National Institute of Veterinary Research, Hanoi University of Public Health, Thai Nguyen University of Agriculture and Forestry, Vietnam One Health Partnership for Zoonoses, and the provincial authorities of Lao Cai, Hanoi, Thai Nguyen, Hue, Dong Nai and Can Tho.
Unveiling the wildlife farming situation in Vietnam
In Vietnam, wildlife farming has become a thriving socio-economic activity, boasting significant contributions to income generation, food production, job creation, economic growth and poverty alleviation.
A 2021 research brief by the Center for International Forestry Research found that illegal wildlife trade in Vietnam generates approximately 66.5 million United States dollars (USD) in total annual revenue, which is 12 times higher than the total annual revenue generated from legal trade (USD 5.2 million).
With over 14,000 wildlife farms housing various bird species and 70 species of animals, such as civets, bamboo rats, wild boars, porcupines, tortoises, long-tailed macaques and monkeys, these farms have become critical points where disease spillovers might occur.
'Findings from our scoping studies in Lao Cai and Dong Nai in January and February 2023, respectively, showed poor biosecurity measures and limited knowledge on zoonotic diseases among farmers,' said Hung Nguyen who leads the CGIAR Initiative on One Health.
'The human resource of the local government and resources to manage wildlife farming and risks are limited, which necessitates immediate action to address this situation,' he added.
Comprehensive approach to mitigating risks
One of the objectives of the CGIAR Initiative on One Health is to carry out a comprehensive review of the interspecies transmission risks in wildlife value chains in Vietnam and southeast Asia.
Based on this review, researchers will be able to assess the prevalence of specific zoonotic pathogens, identify associated risk factors and implement a syndromic surveillance scheme which would support the government to identify potential outbreaks and ongoing health threats quickly.
Analysing the interface of humans, domestic animals and wildlife will provide valuable insights to optimise zoonotic disease surveillance and control efforts.
The results of the risk assessment will inform the design of interventions, such as training activities, to minimise the health risks associated with wildlife farming.
This will be primarily through improving knowledge on zoonotic transmission risks and biosecurity practices among stakeholders in wildlife farming and trade value chains such as farmers, butchers, traders and consumers.
Focusing on hotspots
Lao Cai Province, which borders China, is a key study site due to observed wildlife trade between China and Vietnam.
With many wildlife facilities and over 12,000 people, Lao Cai is a recognised emerging hotspot for wildlife value chain activities in the north of Vietnam.
The study in Lao Cai is focused on assessing the prevalence of zoonotic pathogens in wildlife species such as bats, bamboo rats, civets and wild boars.
The second study site, Dong Nai Province, is located in the south of Vietnam and boasts over 336,000 wild animals across 670 wildlife facilities.
Because of Dong Nai's crucial role in captive wildlife breeding, its proximity to conservation and national parks, and wildlife trade, the study in this province also focuses on assessing zoonotic pathogens in the same wildlife species.
The insights from this study will inform the design of interventions along wild meat value chains and strengthen the capacity of public health authorities in the two provinces to prevent and control emerging infectious diseases.
Data collection is expected to begin in late 2023.
Currently, the research team is involved in a series of pre-testing activities, including consultations with key stakeholders, finalising data collection tools, procuring test kits, reagents and consumables, and training enumerators.
Making strides: progress and collaboration
Local authorities in the two provinces have expressed their satisfaction with the collaboration, highlighting the importance of such studies in enhancing their understanding of zoonotic diseases and how to mitigate associated risks.
'We are excited to contribute to this important study, which enhances our understanding of zoonotic diseases and ultimately helps protect human health in the province,' said Pham Ba Uyen, director of the sub-department of Animal Health in Lao Cai.
Additionally, the study will enhance surveillance and response mechanisms for infectious disease outbreaks within wildlife value chains.
According to Bernard Bett, a veterinary epidemiologist at ILRI and who leads the zoonoses work package of the CGIAR Initiative on One Health, improving our understanding of the risks associated with wildlife farming and its activities, and zoonotic disease transmission patterns will pave the way for governments to ensure an improved disease management strategy that safeguards the well-being of people and animals.
Collaborative research towards better health for all
'The combined expertise of an international team from Kenya, Sweden, the United States of America and Vietnam brings a multi-dimensional approach that includes qualitative and quantitative methods, laboratory and field studies, and human and animal research,' said Ha Nguyen, a PhD student from Uppsala University, hosted at ILRI Vietnam, and a key member of the research team.
'Together, we strive to reduce the risks associated with wildlife farming and pave the way for improved disease management,' she added.
As the world grapples with the devasting consequences of zoonotic diseases, the urgency to address the risks in wildlife farming has never been greater.
Collaborative research by the CGIAR Initiative on One Health provides hope of mitigating zoonotic disease transmission through targeted interventions to reduce health risks and ensure a healthier future for everyone.
Read about the earlier CGIAR Initiative on One Health stakeholder engagement process that paved way for the research activities in Vietnam.
Written by Chi Nguyen, Ha Nguyen, Sinh Dang and Hung Nguyen with contributions from David Aronson and Ekta Patel
Edited by Tezira Lore
Photo: A civet is kept on farm in Thai Nguyen Province, Vietnam for consumption (ILRI/Vu Ngoc Dung)