Solar Irrigation Pump (SIP) Sizing Tool: IPSR Innovation Profile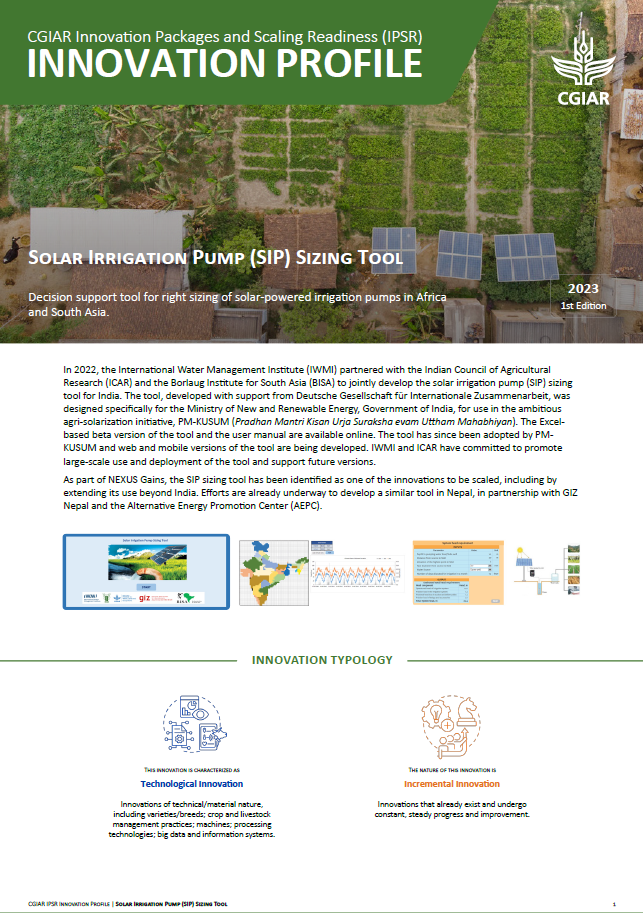 From

CGIAR Initiative on NEXUS Gains

Published on

15.11.23

Challenges
Download
In 2022, the International Water Management Institute (IWMI) partnered with the Indian Council of Agricultural Research (ICAR) and the Borlaug Institute for South Asia (BISA) to jointly develop the solar irrigation pump (SIP) sizing tool for India. The tool, developed with support from Deutsche Gesellschaft für Internationale Zusammenarbeit, was designed specifically for the Ministry of New and Renewable Energy, Government of India, for use in the ambitious agri-solarization initiative, PM-KUSUM (Pradhan Mantri Kisan Urja Suraksha evam Uttham Mahabhiyan). The Excelbased beta version of the tool and the user manual are available online. The tool has since been adopted by PMKUSUM and web and mobile versions of the tool are being developed. IWMI and ICAR have committed to promote large-scale use and deployment of the tool and support future versions.
As part of NEXUS Gains, the SIP sizing tool has been identified as one of the innovations to be scaled, including by extending its use beyond India. Efforts are already underway to develop a similar tool in Nepal, in partnership with GIZ Nepal and the Alternative Energy Promotion Center (AEPC).
Citation: Mali, S. and Verma, S. 2023. Solar Irrigation Pump (SIP) Sizing Tool: IPSR Innovation Profile. First edition, July 2023. Montpellier: CGIAR System Organization.
Permanent link to cite or share this item: https://hdl.handle.net/10568/132627