Mini-tillers bolster Nepal maize farmers' food supplies and profits, new study shows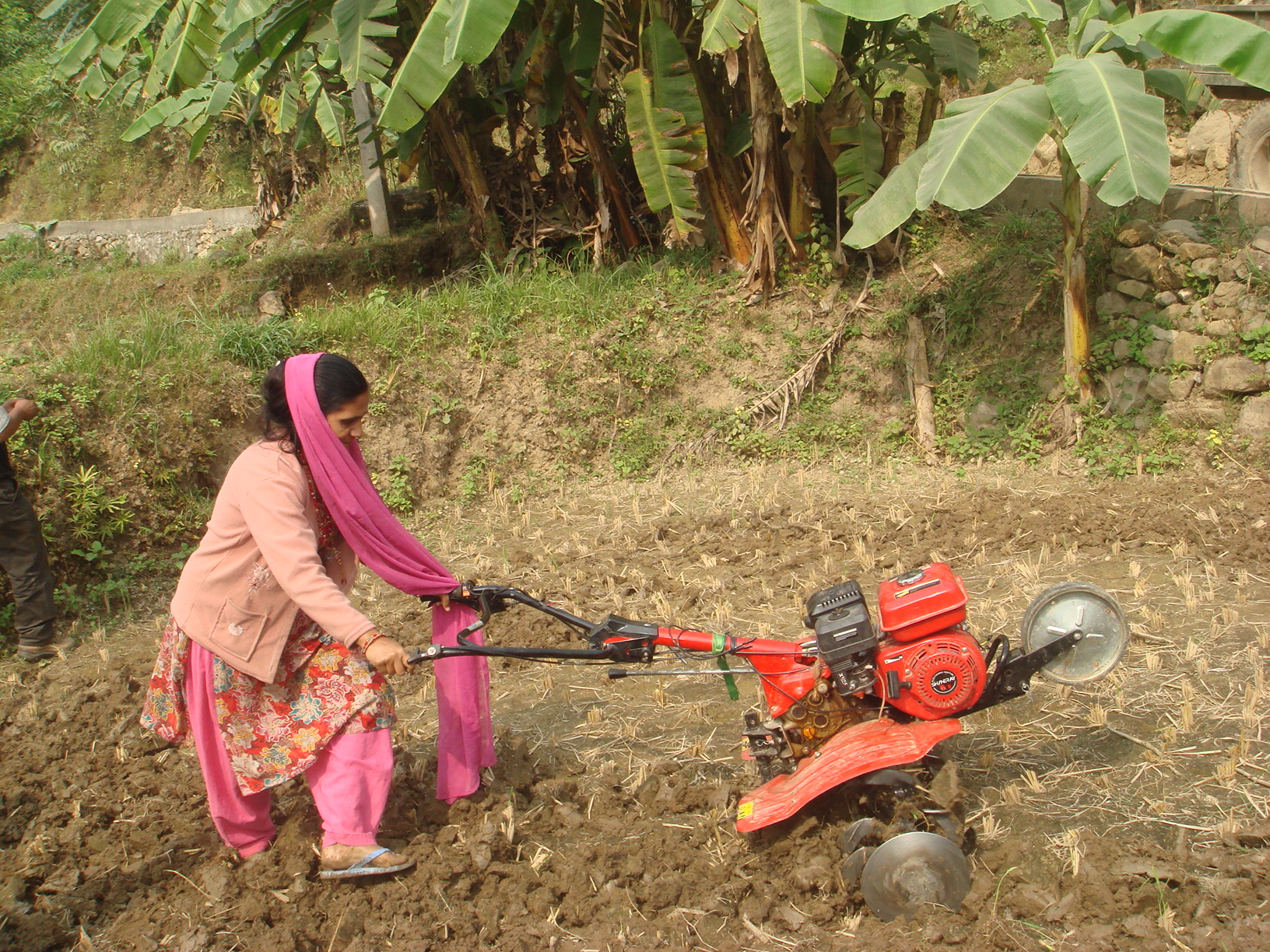 From
Published on

14.02.23

Challenges
Use of lightweight, 5-9-horsepower mini-tillers by smallholder farmers in Nepal's mid-hills cut tillage costs and boosted maize yields by facilitating timely maize cultivation, thus enhancing food self-sufficiency and farm profits and reducing rural poverty, a new study by an international team of scientists shows.
Published in the Journal of Economics and Development, the study reports findings of an on-farm survey involving more than1,000 representative households from six districts of the mid-hills, a region of steep and broken terrain where rainfed maize is a staple crop, outmigration of working-age inhabitants makes farm labor scarce and costly, and farmers on small, fragmented landholdings typically till plots by hand or using ox-drawn plows.
"Conventional two- or four-wheel tractors are difficult to operate in the mid-hills' rugged topography," said Gokul P. Paudel, researcher working together with the International Maize and Wheat Improvement Center (CIMMYT) and Leibniz University, Hannover, Germany, and lead author of the study. "Farms are small and the mini-tillers are a good fit. Very small farms — those comprising less than 0.4 hectares of land and normally not served by hired farm labor or larger machinery — benefited the most from mini-tiller adoption."
The paper is the first to provide empirical linkages between small-scale farm mechanization and the UN Sustainable Development Goals, particularly No Poverty (SDG-1) and Zero Hunger (SDG-2).
"Given its rural poverty and the resulting outmigration from farm areas to cities and to other countries, Nepal has increasingly become a labor-exporting country," explained Paudel, who partnered in this study with researchers from the Asian Development Bank Institute and Cornell University. "Our research can help guide investments by Nepal and other developing countries in scale-appropriate farm mechanization, supporting those who wish to remain on rural homesteads and make a go of it."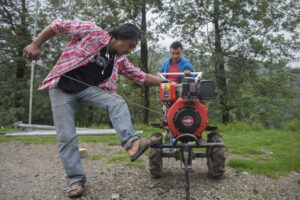 The science team found that farm size, labor shortages, draft animal scarcity, and market proximity were major factors that facilitate the adoption of appropriate mechanization in Nepal, according to Tim Krupnik, CIMMYT systems agronomist and study co-author.
"Smallholder farms dominate more than two-thirds of agricultural systems globally," Krupnik said. "Interest in scale-appropriate farm mechanization is growing rapidly, particularly among donors and governments, and practical empirical measures of its impact are crucial." The findings of the latest study fill this knowledge gap and provide sufficient evidence to prioritize the spread of appropriate technologies among smallholder farmers.
Krupnik noted that, through its office in Nepal and strong shared research and capacity-building activities, CIMMYT has worked for almost four decades with Nepali scientists and development partners, including the Nepal Agricultural Research Council (NARC) and the Ministry of Agriculture and Livestock Development (MoALD), to raise the productivity and sustainability of the country's maize and wheat based farming systems.
In addition to strong government partnerships, CIMMYT works closely in Nepal with a range of non-government organizations, and importantly, hand-in-hand with private farm machinery manufacturers, retailers, and mechanics.
The study described was supported by the Bill & Melinda Gates Foundation, the US Agency for International Development (USAID), the Academy for International Agricultural Research (ACINAR) commissioned by the German Federal Ministry for Economic Cooperation and Development (BMZ) and carried out by ATSAF e.V. on behalf of the Deutsche Gesellschaft fur Internationale Zusammenarbeit (GIZ) GmbH, the One CGIAR Regional Integrated Initiative Transforming Agrifood Systems in South Asia (TAFSSA), and generous funders who contribute to the CGIAR Trust Fund.
Read the study: The contributions of scale-appropriate farm mechanization to hunger and poverty reduction: Evidence from smallholder systems in Nepal
Cover photo: Mini-tillers are a big help to farmers working rugged landscapes; more than 30,000 such machines have been put into use in Nepal since 2011. (Photo: Peter Lowe/CIMMYT)