Lack of association between fluconazole susceptibility and ERG11 nucleotide polymorphisms in Cryptococcus neoformans clinical isolates from Uganda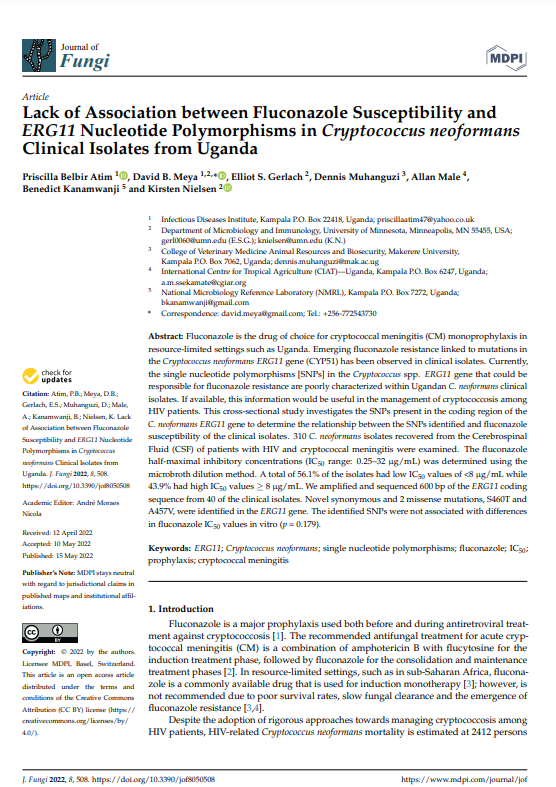 From
Published on

07.12.22

Challenges
Download
Fluconazole is the drug of choice for cryptococcal meningitis (CM) monoprophylaxis in resource-limited settings such as Uganda. Emerging fluconazole resistance linked to mutations in the Cryptococcus neoformans ERG11 gene (CYP51) has been observed in clinical isolates. Currently, the single nucleotide polymorphisms [SNPs] in the Cryptococcus spp. ERG11 gene that could be responsible for fluconazole resistance are poorly characterized within Ugandan C. neoformans clinical isolates. If available, this information would be useful in the management of cryptococcosis among HIV patients.
This cross-sectional study investigates the SNPs present in the coding region of the C. neoformans ERG11 gene to determine the relationship between the SNPs identified and fluconazole susceptibility of the clinical isolates. 310 C. neoformans isolates recovered from the Cerebrospinal Fluid (CSF) of patients with HIV and cryptococcal meningitis were examined. The fluconazole half-maximal inhibitory concentrations (IC50 range: 0.25–32 μg/mL) was determined using the microbroth dilution method. A total of 56.1% of the isolates had low IC50 values of <8 μg/mL while 43.9% had high IC50 values ≥ 8 μg/mL. We amplified and sequenced 600 bp of the ERG11 coding sequence from 40 of the clinical isolates. Novel synonymous and 2 missense mutations, S460T and A457V, were identified in the ERG11 gene. The identified SNPs were not associated with differences in fluconazole IC50 values in vitro (p = 0.179)
Atim, P.B.; Meya, D.B.; Gerlach, E.S.; Muhanguzi, D.; Male, A.; Kanamwanji, B.; Nielsen, K.