Increasing interoperability between food and agricultural systems: CGIAR & FAO collaboration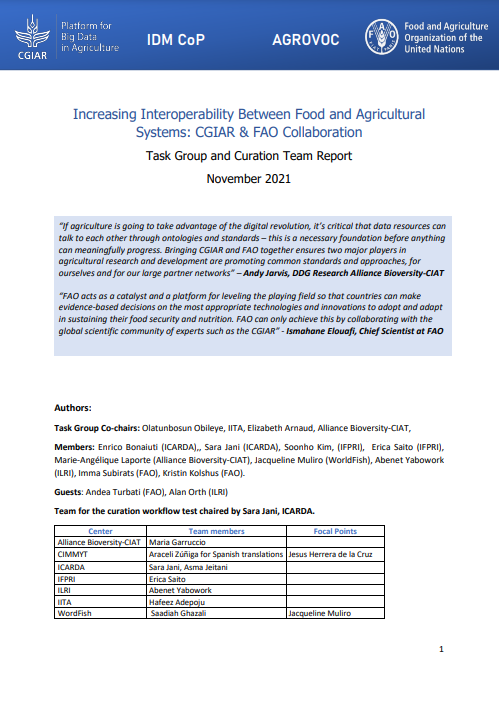 From
Published on

01.11.21

Challenges
Download
It is crucial that data resources can talk to each other through thesaurus, ontologies and standards. Therfore, the integration of CGIAR controlled vocabularynto the AGROVOC thesaurus is key to interlink our data sets and publications in the food and agricultural domain and produce multilingual quality labeling. The Task Group and a curation team defined the added value for the CGIAR to formally contribute to AGROVOC, and how to organize CGIAR contribution in a coherent workflow.
The recommendations are the following:
1. One CGIAR needs to strengthen its contribution to AGROVOC thus supporting the consolidation of the semantic landscape for labeling data in agriculture and food systems.
2. CGIAR centers should wait a bit till the affiliation process is complete so that the appropriate unit that will be responsible for AGROVOC can consume the Agreement since the timeline for the affiliation process is just some few months away.
3. OneCGIAR data managers will have to sustain the collaboration and submit terms to populate the ONECGIAR concepts schema newly created to provide direct visibility of the set of concepts (https://agrovoc.fao.org/skosmosOneCGIAR/cgiar/en/ ). Based on the collaboration concrete results, The TG recommends that the term submission effort and collaboration with FAO continues with proper allocation of data managers' time and a training plan. Contribution to AGROVOC should be part of the data managers ToRs to concrete provide recognition of this role.
Arnaud, Elizabeth; Obileye, Olatunbosun; Bonaiuti, Enrico; Jani, Sara; Kim, Soonho; Laporte, Marie-Angélique; Muliro, Jacqueline; Saito, Erica; Yabowork, Abenet; Zúñiga, Araceli; Jeitani, Asma; Adepoju, Hafeez; Garruccio, Maria; Ghazali, Saadiah.