Anticipating gender impacts in scaling innovations for agriculture: Insights from the literature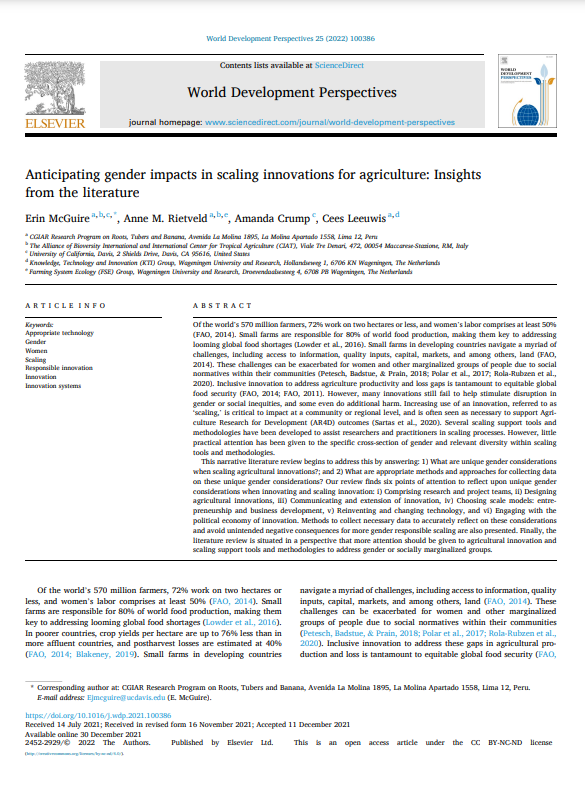 From
Published on

01.03.22

Challenges
Download
Of the world's 570 million farmers, 72% work on two hectares or less, and women's labor comprises at least 50% (FAO, 2014). Small farms are responsible for 80% of world food production, making them key to addressing looming global food shortages (Lowder et al., 2016). Small farms in developing countries navigate a myriad of challenges, including access to information, quality inputs, capital, markets, and among others, land (FAO, 2014). These challenges can be exacerbated for women and other marginalized groups of people due to social normatives within their communities (Petesch, Badstue, & Prain, 2018; Polar et al., 2017; Rola‐Rubzen et al., 2020). Inclusive innovation to address agriculture productivity and loss gaps is tantamount to equitable global food security (FAO, 2014; FAO, 2011). However, many innovations still fail to help stimulate disruption in gender or social inequities, and some even do additional harm. Increasing use of an innovation, referred to as 'scaling,' is critical to impact at a community or regional level, and is often seen as necessary to support Agriculture Research for Development (AR4D) outcomes (Sartas et al., 2020). Several scaling support tools and methodologies have been developed to assist researchers and practitioners in scaling processes. However, little practical attention has been given to the specific cross-section of gender and relevant diversity within scaling tools and methodologies.
This narrative literature review begins to address this by answering: 1) What are unique gender considerations when scaling agricultural innovations?; and 2) What are appropriate methods and approaches for collecting data on these unique gender considerations? Our review finds six points of attention to reflect upon unique gender considerations when innovating and scaling innovation: i) Comprising research and project teams, ii) Designing agricultural innovations, iii) Communicating and extension of innovation, iv) Choosing scale models: entrepreneurship and business development, v) Reinventing and changing technology, and vi) Engaging with the political economy of innovation. Methods to collect necessary data to accurately reflect on these considerations and avoid unintended negative consequences for more gender responsible scaling are also presented. Finally, the literature review is situated in a perspective that more attention should be given to agricultural innovation and scaling support tools and methodologies to address gender or socially marginalized groups.
McGuire, Erin; Rietveld, Anne M.; Crump, Amanda; Leeuwis, Cees.