Developing data interoperability using standards: A wheat community use case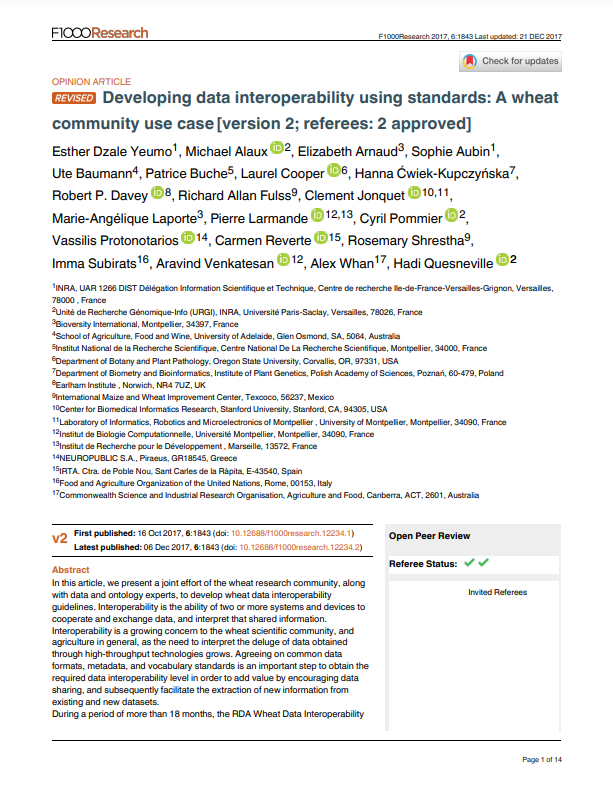 From
Published on

04.02.23

Challenges
Download
In this article, we present a joint effort of the wheat research community, along with data and ontology experts, to develop wheat data interoperability guidelines. Interoperability is the ability of two or more systems and devices to cooperate and exchange data, and interpret that shared information. Interoperability is a growing concern to the wheat scientific community, and agriculture in general, as the need to interpret the deluge of data obtained through high-throughput technologies grows. Agreeing on common data formats, metadata, and vocabulary standards is an important step to obtain the required data interoperability level in order to add value by encouraging data sharing, and subsequently facilitate the extraction of new information from existing and new datasets.
During a period of more than 18 months, the RDA Wheat Data Interoperability Working Group (WDI-WG) surveyed the wheat research community about the use of data standards, then discussed and selected a set of recommendations based on consensual criteria. The recommendations promote standards for data types identified by the wheat research community as the most important for the coming years: nucleotide sequence variants, genome annotations, phenotypes, germplasm data, gene expression experiments, and physical maps. For each of these data types, the guidelines recommend best practices in terms of use of data formats, metadata standards and ontologies. In addition to the best practices, the guidelines provide examples of tools and implementations that are likely to facilitate the adoption of the recommendations.
To maximize the adoption of the recommendations, the WDI-WG used a community-driven approach that involved the wheat research community from the start, took into account their needs and practices, and provided them with a framework to keep the recommendations up to date. We also report this approach's potential to be generalizable to other (agricultural) domains.
Dzale Yeumo, E.; Alaux, M.; Arnaud, E.; Aubin, S.; Baumann, U.; Buche, P.; Cooper, L.; Cwiek-Kupczynska, H.; Davey, R.P.; Fulss, R.A.; Jonquet, C.; Laporte, M-A.; Larmande, P.; Pommier, C.; Protonotarios, V.; Reverte, C.; Shrestha, R.; Subirats, I.; Venkatesan, A.; Whan, A.; Quesneville, H.