Changing behavior through agriculture-nutrition integration: field experience and results. Regional Technical Committee meeting of the Scaling Up Sweetpotato Through Agriculture and Nutrition (SUSTAIN) project, 11–12 September 2018, Kigali, Rwanda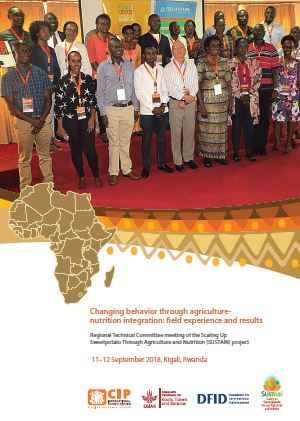 From
Published on

01.02.19

Challenges
Changing behavior through agriculture-nutrition integration: field experience and results. Regional Technical Committee meeting of the Scaling Up Sweetpotato Through Agriculture and Nutrition (SUSTAIN) project, 11–12 September 2018, Kigali, Rwanda
Grant, F.; Ackatia‐Armah, R.; Kebaara, K.
The Regional Technical Committee meeting of SUSTAIN in Kigali, held in September 2018, was organized to disseminate the results from the analyses of data from surveys, monitoring, and focus group discussions on SUSTAIN and VISTA–Tanzania projects. These analyses were conducted to provide insight into the implementation of the projects and also to shed light on the likely reasons for the observations made in the quantitative analysis. Results from field discussions with CIP partners – local and international NGOs, local government institutions, national and international organizations, the private sector, and donors – were also shared.