Assessment of food safety knowledge, attitudes, and practices among meat handlers in Bishoftu City, Ethiopia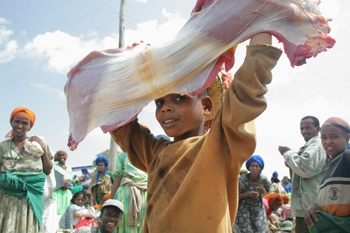 From
Published on

02.12.22

Challenges
Meat handlers play a critical role in food safety by preventing contamination of food for human consumption. Researchers from Addis Ababa University, the International Livestock Research Institute and the University of Liverpool carried out a cross-sectional survey among 391 meat handlers working in abattoirs and retail meat stores in Bishoftu, Ethiopia to investigate the meat handlers' food safety knowledge, attitudes and practices.
Data were collected in interviews using a semi-structured questionnaire adapted from previous research. The study is published in the American Journal of Tropical Medicine and Hygiene.
The findings of the study will help researchers to design appropriate training materials and guidelines on hygienic food handling to ensure the safety of the meat and meat products handled in abattoirs and retail stores in Bishoftu, Ethiopia.
Citation
Abunna, F., Kaba, M., Mor, S. and Megersa, B. 2022. Assessment of food safety knowledge, attitudes, and practices among meat handlers in Bishoftu City, Ethiopia. American Journal of Tropical Medicine and Hygiene. DOI: 10.4269/ajtmh.22-0268
Photo credit: A girl carries a slab of beef in Goro town, Ethiopia, on market day (ILRI/Stevie Mann)