World Food Day in Ethiopia: Achieving food and nutritional security—and better lives—through livestock
From
Published on

17.10.18

Impact Area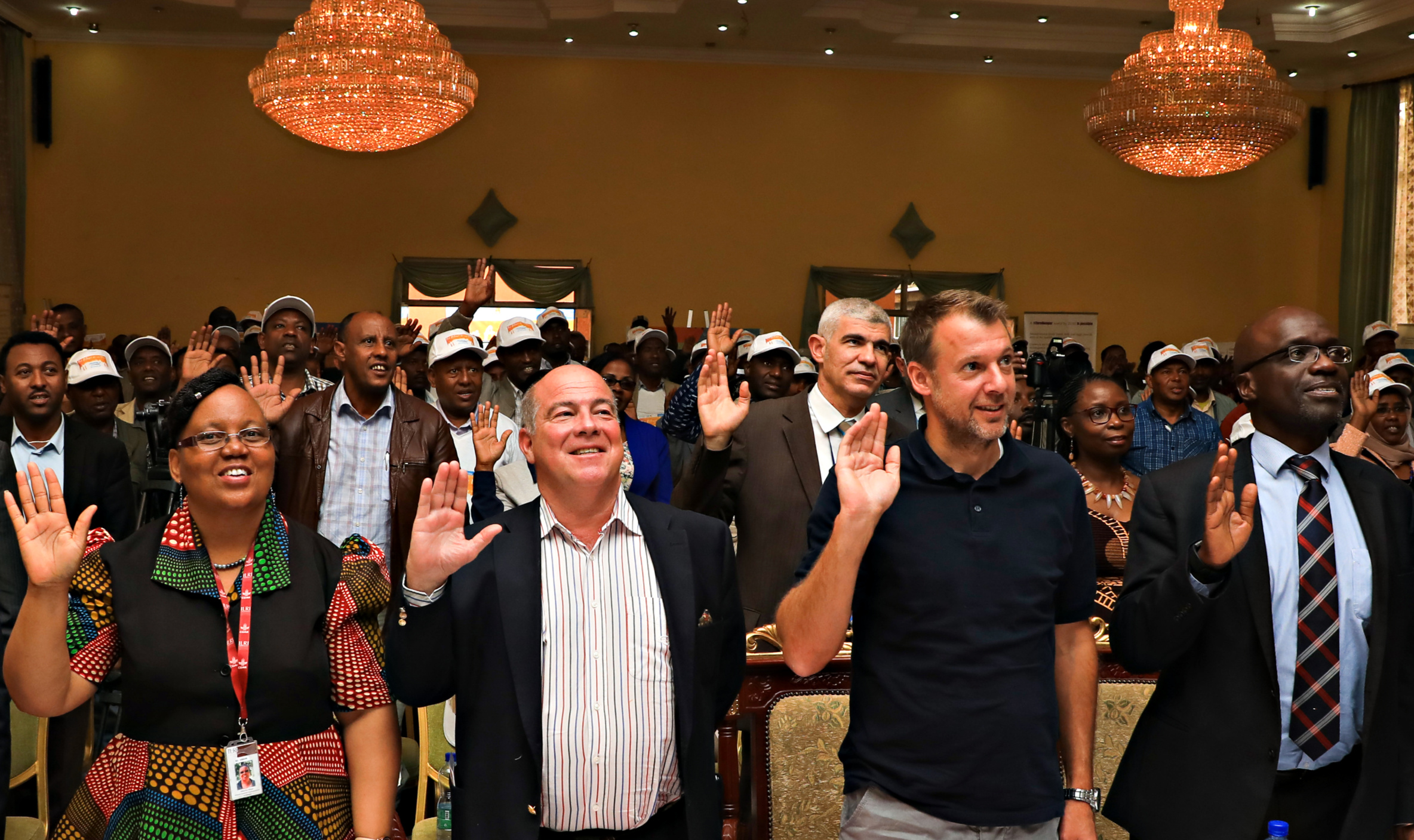 Siboniso ('Boni') Moyo (front, left), the ILRI director general's representative in Ethiopia, pledges with many others to work together toward Zero Hunger in Ethiopia in a celebration on World Food Day, 16 Oct 2018, held in Mojo, central Ethiopia (photo credit: ILRI/Apollo Habtamu).
Siboniso Moyo

, the representative in Ethiopia of Jimmy Smith, the director general of the International Livestock Research Institute (

ILRI

), made the following remarks at an event in Mojo, Ethiopia, to celebrate

World Food Day

 yesterday (16 Oct 2018).
'As we celebrate this year's World Food Day, let us remember the many ways that livestock can help the world meet the Sustainable Development Goal 2 of Zero Hunger by 2030.
'Animal-source foods—milk, meat and eggs—are dense in essential micronutrients and are among nature's 'first foods'.
'Providing poor people with greater access to these foods is a powerful way to improve human nutrition and wellbeing, both through the foods animals provide as well as through the income generated from animals, which many households use to purchase nutritious foods.
'Livestock are critical to meeting the Goal of Zero Hunger by 2030. The International Livestock Research Institute is working with partners to bring about change in livestock-related practices, policies and investments in developing countries. We do this by generating scientific knowledge, exerting influence and developing capacity for more equitable and sustainable livestock development.
'Ethiopia's vast livestock resources, among the greatest in all of Africa, and the Ethiopian Government's outstanding roadmaps and investments in agricultural and livestock development, offer the country unprecedented opportunities to end hunger and undernutrition by 2030.
'It gives me great pleasure that today the International Livestock Research Institute joins Ethiopia and the rest of the world in celebrating this day and reflecting on how together we can contribute to a world free of hunger by 2030.
'A #Zero Hunger world by 2030 is possible. I thank you!'