Workshop on Agriculture Development Support Project aims to improve irrigation practices in Myanmar
From
Published on

14.02.18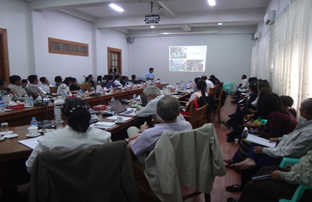 The Myanmar Department of Agriculture (DOA), together with the International Rice Research Institute (IRRI) participated in an inception workshop for the World Bank-funded Agriculture Development Support Project (ADSP).
The project aims to make irrigated agriculture more profitable, diversified, and sustainable through participatory planning, improved management approaches and increased options. It will be implemented in Bago, Nay Pyi Taw, Mandalay, and Sagaing regions, Myanmar, and will upgrade 35,000 hectares of existing irrigation infrastructure. The initiative seeks to provide these direct benefits to 22,000 farm households, particularly those who have less than 0.8 hectares of land.

IRRI will provide farm advisory and technical services to the project's partners for three years. These services will involve support to varietal development and seed multiplication; soil management and crop nutrition; integrated pest management and reducing losses; and extension of modern agricultural practices. In addition, IRRI will also provide advice on upgrading laboratory and field equipment and facilities, developing skills and capacity of the Ministry of Agriculture, Livestock and Irrigation (MoALI) partners and other stakeholders.
During the workshop, MoALI and IRRI developed the workplan and defined the expected outputs for the project. This includes upgrading laboratory and field facilities for seed processing, mechanization and postharvest and facilitating focus group discussions on key constraints at the project sites.
Staff from MoALI and scientists from IRRI participated in the workshop held at Nay Pyi Taw last January 26. It was led by Dr. Ye Tint Tun, Director General of DOA, and Dr. Indira Janaki Ekanayake, Senior Agricultural Economist and Agriculture Global Practice Coordinator for South East Asia of the World Bank together with Dr. David Johnson, IRRI South East Asia representative and Dr. Jongsoo Shin, IRRI representative to Myanmar.
Learn more about IRRI (www.irri.org) or follow us on social media and networks (all links down the right column).