What's science got to do with it? Meet the first cohort from the CGIAR Food Systems Accelerator Program
From

CGIAR Initiative on Diversification in East and Southern Africa

Published on

25.04.23

Impact Area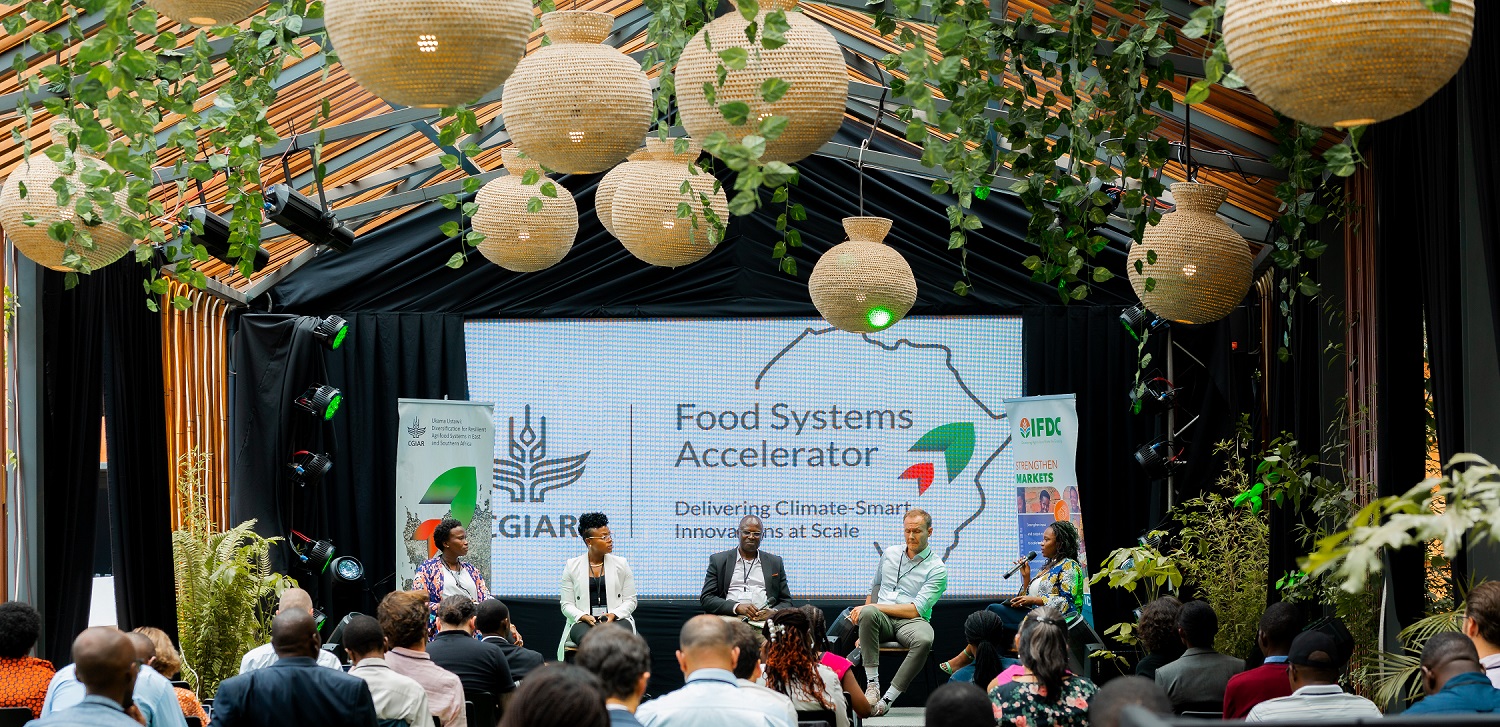 The world is facing a growing challenge in feeding a growing population while also addressing the impact of climate change and ensuring access to healthy sustainable diets. In Africa, this challenge is particularly acute as the continent faces a range of complex and interconnected food security challenges, from smallholder farmer productivity to the lack of private sector investment in the food system. The CGIAR Food Systems Accelerator (CFSA) is a science-based accelerator program that is helping to tackle these challenges head-on, working to transform food systems and attract more private sector investment in African food production.
We are one of the few accelerator programs on the African continent focusing on the scaling of climate-smart innovations that have the potential to create real impact on the ground. What sets this accelerator apart is its powerful blend of investment readiness and science-based technical assistance for climate-smart agriculture. By equipping agribusinesses with the tools and knowledge they need to become more commercially viable and sustainable, the program is driving private-sector investment while also promoting sustainable farming practices that boost food production and mitigate the effects of climate change.  Through minimizing risks and fostering a favourable investment climate, this dynamic combination is designed to attract much-needed funding to the agriculture sector, unlocking new possibilities for innovation and growth.

The Food Systems Accelerator program was launched on 23rd November 2022 in Nairobi, Kenya to support innovations aimed at improving food security, farmer productivity, adaptation, and mitigation of the negative effects of climate change from agriculture. The program prioritizes agribusinesses that scale climate-smart innovations designed with a user-centric approach for smallholder farmers and that have a strong potential for commercial sustainability. The innovations fall under one or more of the following priority themes, mechanization and irrigation solutions aimed at increasing productivity and water use efficiency while reducing labour-intensive farming practices. Conservation agriculture focused on promoting minimum soil disturbance and crop diversification to enhance the natural biological processes. Nutrition-sensitive climate-smart agriculture solutions aimed to produce more nutritious food, and agriculture risk management solutions aimed to identify, evaluate, and minimize risks in agriculture activities.
Science and business acceleration might seem like two separate worlds, but in reality, they are closely intertwined, especially in the agriculture sector. In fact, the CFSA Program believes that using an evidence-based approach to accelerate agribusiness growth is the key to delivering real and lasting impact. By relying on the best available scientific evidence, the program provides technical assistance to agribusinesses, ensuring that their production activities are informed by the latest agricultural research. With over 9,000 scientists, researchers, and technicians globally, the CGIAR is in a strong position to support agribusinesses in their efforts to sustainably produce food efficiently, and mitigate the risks associated with climate change.

The accelerator program offers tailor-made climate-smart agriculture solutions to each agribusiness in the cohort, based on their unique needs, thus enabling them to accelerate their growth while staying mindful of the environment. The program presents investors with a carefully vetted pipeline of agribusinesses that demonstrates that sustainable food systems are not only beneficial for the planet but also profitable. By partnering with the Food Systems Accelerator program, investors can confidently invest in agribusinesses that prioritise sustainable practices, knowing that their investments will be both socially and environmentally responsible.
We are excited to announce the names of the first cohort of agribusinesses that have been selected for the accelerator program. These pioneering companies are at the forefront of the African food system, collectively working with over 39,000 smallholder farmers, and taking on some of the most pressing food system challenges facing the region. The cohort includes Farm Depot, Batian Nuts Ltd, East Agricultural Development Company Ltd, Yellow Star Produce and Food Processors Ltd, Shamba Records, Afri-Farmer's Market, Stable Foods, Forest Africa Zambia Ltd, The Insectary Kenya and Aggregator Trust Rwanda Ltd. Over the coming months, the cohort will benefit from bespoke climate-smart agriculture technical assistance from CGIAR, investment readiness from our partners 2SCALE, and technical support on user experience and gender inclusion from The Rallying Cry. This will enable them to develop and expand their businesses sustainably while ensuring that they are well-equipped to address the present and future challenges.
The Food Systems Accelerator is an agribusiness support program within CGIAR Research Initiative on Ukama Ustawi: Diversification for resilient agrifood systems in East and Southern Africa. Responsibility for editing, proofreading, layout, opinions expressed, and any possible errors lies with the authors and not the institutions involved.
CGIAR is a global research partnership for a food-secure future. To learn more about its Research Initiative for East and Southern Africa Ukama Ustawi, please visit here.
Day 1 [Video]
Day 2 [Video]
Authors: Mercy Zulu – Hume, Program Lead (CGIAR) | Salome Ng'ang'a – Investment Readiness Lead (2SCALE)