'We are more alike than different': Meet Three Youth Pastoralist Participants from the 2026 Vision for Pastoralist Youth Consultation
From

CGIAR Initiative on Livestock and Climate

Published on

05.12.22

Impact Area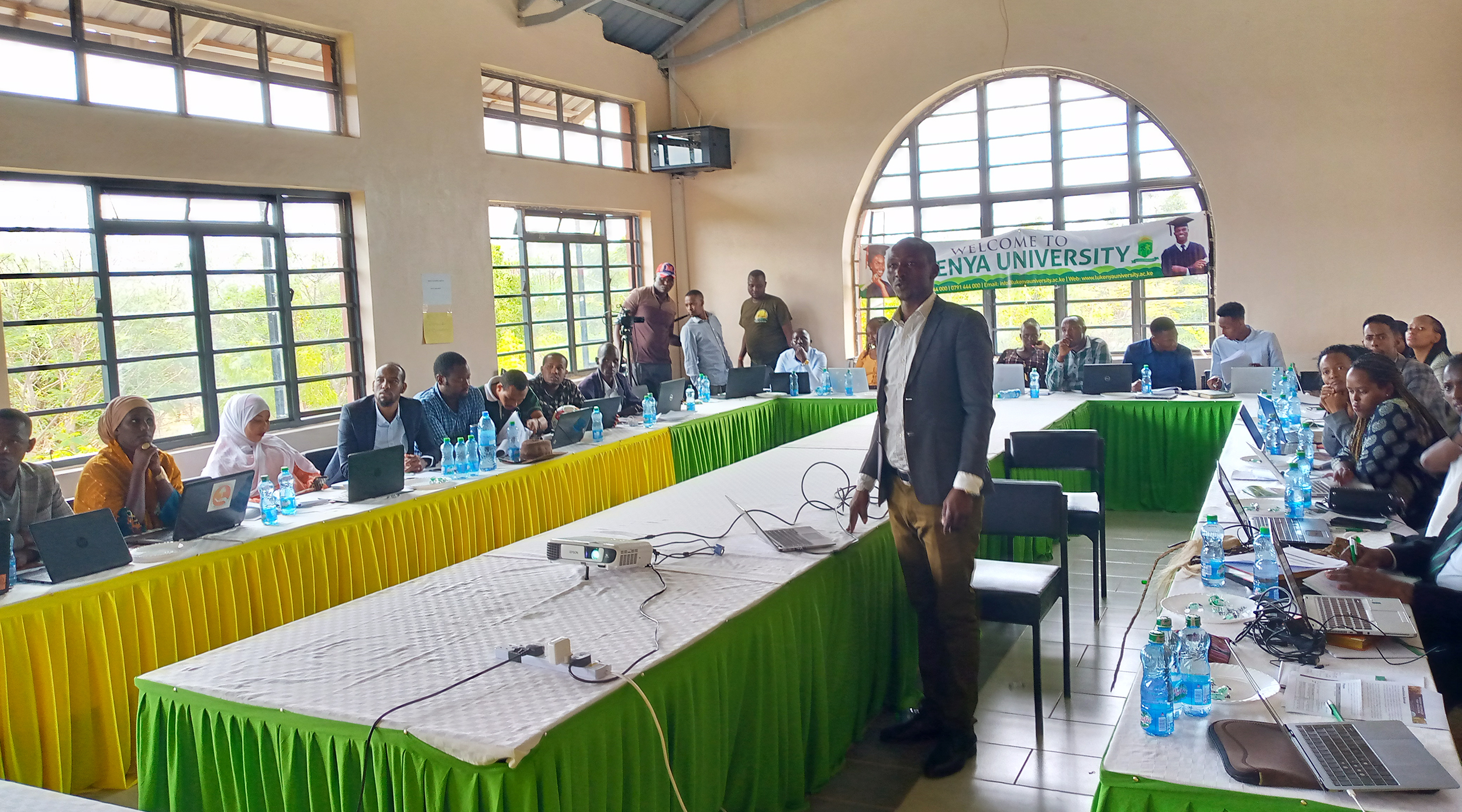 With the United Nations' declaration of 2026 as the Year of Rangelands and Pastoralists, the Livestock and Climate Initiative of the CGIAR is supporting a series of consultations in the coming years with pastoralist youth across the world. Youth can play a key role in strengthening and adapting pastoralism to the challenges being faced including climate change, yet are struggling to find their place in decision making processes and to have their voices heard.   
In partnership with the Climate Smart Agriculture Youth Network and Procasur, ILRI supported the first in the series of consultations held at Lukenya University in Makueni County, Kenya from the 27-29 September 2022, which brought together 28 young pastoralists living and working in Ethiopia, Kenya and Tanzania. Over three days the youth participants shared their knowledge and skills, learned from each other and listened to experts discuss climate change mitigation strategies and adaptations. The consultation was also a space to develop friendships and networks, providing the youth with a stronger voice moving forward. The pinnacle of the event was developing a statement on the future of pastoralism in the face of climate change, addressing the challenges and defining opportunities for future action. 
I sat down with three of the pastoralists at the consultation to hear their life stories, the hurdles and challenges that they have overcome and what they hope to achieve for themselves and their communities.  

Joshua Laizer (33), lives in the northern highlands  of the Ngorongoro District in Tanzania with his wife and two children. Growing up in a Maasai pastoralist community, he tended to livestock at a young age as eldest of 19 children in his family, developing rich knowledge of the land and climate, the seasons and how to optimize production of livestock through grazing movements
'I have always been interested in maintaining my elders' tradition of being a pastoralist and improving it to cope with time changes and climate needs,' he says.
Joshua holds a BSc and MSc in animal sciences from the University of Sokoine Tanzania and Hebrew University of Jerusalem Israel respectively. He works with his fellow pastoralists sharing experiences and improving rangeland management and livestock breeds. In addition to owning and operating a breeding farm, he is the general secretary of the youth centered LOSOTWA  Forum, which brings together young Maasai pastoralists living in the district to discuss and address community challenges. He is a member of the Tanzania Pastoralist Community Forum working to lobby and review policies on pastoralism and rangelands.

Sara Bocohola Arero (22) is from a pastoralist family in the Borana zone, Oromia region of Ethiopia and attends the African Leadership University in Kigali, Rwanda, on a full scholarship.
'I am one of the few people in my community who gained access to education while many youths my age stayed home to do chores and look after cattle,' she notes.
Sara is currently researching the traditional Gadaa governance system of her society and advocates for support to traditional pastoralist systems at conferences. She is passionate about creating impact in her community and as such, she has been a mentor to young Ethiopians applying to colleges abroad and has worked as a communications and public relations intern for the Ethiopian Wildlife Conservation Authority.  After her studies, she looks forward to focusing her advocacy towards supporting the women and children of her community and communities like hers.
'I have been in their shoes, so I understand their needs and frustrations. My people need someone to represent them and let the world know of the grave issues they face every season.'

Living in the dry northeastern county of Marsabit, Kenya, Galgallo Guyo Roba (27) knows only too well the climatic challenges that pastoralists face. Despite the odds stacked against them, Galgallo's family supported him through school and university from which he qualified with a degree in education .
Following the completion of his studies, he spent three years teaching and then became a senior civic education officer in Marsabit County. He is a conservationist and set up and is now director of the Marsabit Botanical Gardens. The Gardens cultivate, protect and document native endangered plants many of which have medicinal properties.  He is also the director of the Indigenous Community Support Program which works with local pastoralists and hunter-gatherers, building their capacity in climate change mitigation and adaptation and to protect their bio-cultural and land rights.
Takeaways from the consultation
An important outcome of the event was the development of collaborations, networks and knowledge sharing between the young pastoralists, and to facilitate this the group established the Afri-CAN Youth Pastoralist Network (AYPN).
'As pastoral youth who understand the situation well, we are responsible for becoming grassroots leaders in our respective communities,' said Sara. Galgallo emphasized the need to collaborate across the region. 'Despite the varying backgrounds of my peers, I learned through their presentations that our pastoral communities, despite their location, are faced with the same problems.'
Joshua found the consultation essential for empowering young pastoralists to be changemakers in their communities. He highlighted the need for their involvement in designing and implementing strategies to ensure that the future of pastoralism will be maintained and managed.
Transforming the vision into action
In November, the vision produced by the youth was shared by nominated fellow participant Robha Murha Abekeri, at the UNFCCC COP27. In addition, the participants have been transforming their knowledge and connections forged at the consultation to advance and improve their pastoral systems at home. Joshua, with fellow Tanzanian consultation delegates, is fundraising to hold a series of workshops bringing together different stakeholders to discuss solutions for addressing climate change in Tanzanian rangelands.
In Marsabit, Galgallo is taking proactive steps to advance pastoralism in his county's agenda. 'I am currently writing a report about the event to share with the County Government of Marsabit Department of Agriculture and Livestock to help them make smart policies surrounding pastoralism and rangelands in the community.'
Finally, Sara has been carrying the lessons learned into her research and interactions with fellow peers at the African Leadership Academy. 'I have been the voice of pastoralist communities wherever I go. I will be an advocate of change for my underrepresented and marginalized community.'
 Looking to the future
Despite the challenges pastoralism faces, the participants are hopeful about their future in the industry and pastoralism's ability to advance climate smart agricultural practices. 'The demand for livestock products increases every year. I am hopeful that rangelands can be secured and properly managed as well as sound policies put in place to support pastoralism,' said Joshua.
Galgallo is excited to continue to learn and contribute to the climate conversation and pastoralism. 'I am especially interested in ensuring that pastoralists benefit from the UN Agenda 2030 in setting policies at the international and national level' he said. Sara is looking forward to continued engagement with pastoralists from across Africa to drive meaningful conversations. She hopes these dialogues will spearhead changes in ways of life and policies to better benefit pastoralists.
From the consultation, participants learned that despite their differences in geographical location, pastoralists share common challenges, and because of this, can band together to create solutions.
Despite pastoralism gaining attention at the recently concluded COP27 aptly named 'the African COP' there is much work to do to integrate pastoralism into the climate conversation. The pastoralist youth consultations that are taking place over the next three years are an important route for advancing this.
About the Livestock and Climate initiative at the CGIAR
CGIAR's Livestock and Climate initiative aims to address the 'double burden' that climate change poses for livestock production across Africa and Latin America- the need to protect and enhance the assets of livestock communities without accelerating greenhouse gas emissions or degrading land, water and biodiversity. CGIAR researchers are working with public and private actors to identify existing solutions and to co-create and deliver innovations that help producers, businesses and governments adapt livestock agrifood systems to climate change.
Madison Spinelli is a Princeton in Africa Fellow at ILRI supporting the communication and knowledge management team.
For more information on the youth consultation please see the following link: Vision Pastoralist for Youth 2026 Consultation outcome document.
Banner Photo: Youth pastoralists share their life stories on the first day of the consultation. Photo courtesy of CSAYN