Voices from the Field: Young women farmers anchor CGIAR session at Cultivate Africa
From
Published on

30.11.20

Impact Area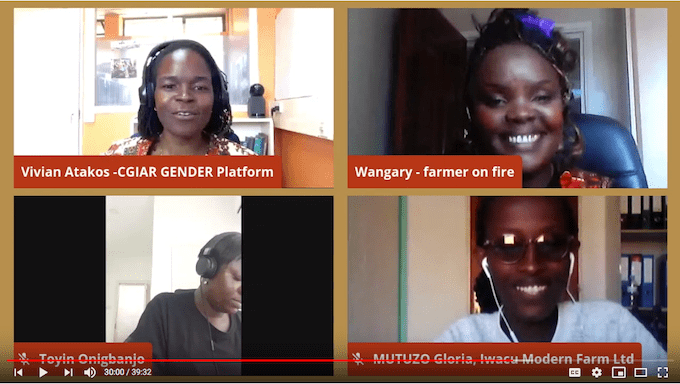 Women must be included to successfully build inclusive and sustainable food systems in Africa. Yet, women are still too often absent from critical decision-making, in the minority in critical roles, and overlooked in terms of support, training and investment. This has to change if Africa is to achieve resilient, productive food systems.
"We live in a time where we can do so much more, and have the ability to do it, but we are constrained by so many factors," said Agnes Kalibata, President of the Alliance for a Green Revolution in Africa (AGRA) and Special Envoy to the 2021 United Nations Food Systems Summit, as she reflected on a recent discussion, convened by the CGIAR GENDER Platform. "We need to double down on the opportunities we are providing for women," she urged.
"Africa's young people are thinking and working hard! We can use this opportunity and ensure that they are the backbone of our economy" @AGRAAlliance President @Agnes_Kalibata #cultivateafrica #africainaction #OneCGIAR @IFPRI @IFAD @Cipotato @CGIAR pic.twitter.com/fODU7i18uG

— CGIAR GENDER (@CGIARgender) November 17, 2020
Listen to women and break down barriers standing in their way
The discussion, titled "Bringing Lessons from African Countries to Scale: How to support young women to drive inclusive and resilient food systems," took place on November 17, 2020. It was part of Cultivate Africa, a two-day dialogue designed to reach across sectors, strengthen understanding, and reinforce efforts to tackle immediate and long-term challenges facing African agriculture and food systems in the shadow of the COVID-19 pandemic. Cultivate Africa was organized by the African Union Commission, who partnered with the CGIAR GENDER Platform to organize the women in agriculture track discussions.
Through lively conversation, with contributions from young agri-entrepreneurs as well as experts in agriculture, a number of insights and suggestions emerged for how to better include women across African food systems. The exchanges were designed to bring out clear recommendations to help inform the African Union Commission's work, including the next meeting of the African Ministers Responsible for Agriculture, Trade and Finance on the Impact of COVID-19 On Food and Nutrition Security, scheduled for early 2021.
Farming can be cool- "you can farm with a lipstick!" great discussion at the #cultivateafrica by Wangary- the farmer on fire @CGIARgender pic.twitter.com/6sN9VsLHci

— Isabelle Baltenweck (@isabaltenweck) November 17, 2020
Nicoline de Haan, Director of the CGIAR GENDER Platform, summarized the key messages, pointing out the need to make visible the invisible challenges women faced, so that they can be better addressed. She stressed the importance of asking women what they need from technologies, although technology alone is not enough – enabling policies, training and access are all needed too. De Haan also encouraged policy-makers to bring in young women's voices when making decisions about food systems, and corrected a too pervasive notion: "Don't assume women are vulnerable people," she said. "Rather, consider and question the harmful norms and values that stand in their way."
Young agri-entrepreneurs blaze trails, but request support
These emerging recommendations were informed by research, but were also anchored by a panel of voices literally from the field: a dynamic group of young women agri-entrepreneurs at the forefront of African agriculture today.
Similar themes emerged as the three women—from Kenya, Rwanda and Nigeria —shared their stories. Among them were having to believe in themselves because others did not, as well as having to learn through trial and error, blazing a path where none existed, and no support could be found. Gloria Mutuzo Rwiyereka, co-founder of IWACU Modern Farm, had studied agricultural economics, but craved the chance to understand it practically. She faced discouragement and bafflement from funders and family alike, eventually cobbling together internships and temporary jobs to get her business off the ground. "It was very difficult in the beginning, and I struggled," she shared, "but I'm proud of what I have now."
Wangary Kuria, otherwise known as 'farmer on fire,' shared that she was immediately judged for her manicured nails and lipstick, for not "looking like a farmer." Her path to agriculture began with a kitchen garden, but she now runs a thriving YouTube channel and online presence to show others that farmers can be smart, successful – and women. It's important for them to see that "farming is cool – you can do it in your lipstick!" she said.
Toyin Onigbanjo, CEO of August Secrets, was a journalist and young mother with a baby who wasn't eating his food. "I didn't mean to start anything around agribusiness," she explained. Yet, when she found her son preferred the healthy meals she made him from local foods, a business was born. She now exports products to countries on three continents.
"We have made the local foods like cassava so attractive. This has made feeding habits of thousands of babies better, including my son who inspired the start of this journey" CEO of August Secrets @OnigbanjoToyin #cultivateAfrica #GenderinAg@_AfricanUnion @HallpaxAfrica pic.twitter.com/x88EEkSvgN

— CGIAR GENDER (@CGIARgender) November 17, 2020
When asked what they felt women needed to thrive in agriculture and agribusiness, their answers were clear and unanimous: support. "Train me to scale my business. Why are you training me on the hoe?" Onigbanjo asked. "Why don't you train me on technology?" "It's about being intentional," Kuria echoed, from targeting trainings to funding. "We need to bring young women in agriculture together to inspire each other and exchange information," Mutuzo Rwiyereka added. "When you see others doing it and supporting you, it gives you strength."
Young women and men's experiences can inform future actions
How do these experiences relate to policy and research? Jemimah Njuki, Regional Director for Africa at the International Food Policy Research Institute (IFPRI), reflected on the women's experiences and the deep connections between gender and farming in Africa.
What in your view represents the biggest challenge for young, women agri-entrepreneurs in Africa?

Join the discussion via #CultivateAfrica #GenderInAg

— CGIAR GENDER (@CGIARgender) November 17, 2020
"We can't talk about women's empowerment in rural Africa without talking about agriculture," said Njuki. She stated that the experiences of young people are particularly important because we make so many important decisions when young: from marriage and family to schooling and careers. This is also the age where some of the stark differences in opportunities become apparent: "While many doors are opening for young men, many are closing for young women," Njuki added. For example, women are unable to own land and are expected to carry out unpaid labor in the household.
Njuki's reflections teed up a discussion from a panel of experts looking at women's, and particularly young women's, experiences in agriculture. Yemi Adeyeye, Director of Young Professionals for Agricultural Development, acknowledged that, "we are in a world where being a man puts you a step ahead of being a woman, and that's before you look at agriculture." He stressed the need for "everyone involved, at every level, to acknowledge that it's an Africa-wide problem."
Solutions to that problem must be nuanced, however, to account for women's different circumstances, underscored Victor Mugo, Regional Coordinator, Climate Smart Agriculture Youth Network, East Africa: "Young women face unique issues, and the faster we can recognize that, the faster we can create innovations that make sense."
Critical to solving the problem is moving from talk to action, and engaging women, especially young women, in the process. Aline Mugisho, Executive Manager, Young Africa Works-International Institute for Tropical Agriculture (IITA) project, spoke of the need to reframe the discussion: "Portraying women as victims puts them into corners, where they need to be nursed instead of involved," she said. Male-female partnerships are important, as well, she added. "Excluding men creates a cultural clash. It's not a competition. We need to break the feeling of us versus them."
As Agnes Kalibata brought the session to a close, she praised opportunities for discussions such as these, noting that, "the African Union Commission and CGIAR coming together here is important. We need country-owned, country-led initiatives that can bring the youth on board."
---
Written by Janet Hodur, CGIAR Research Program on Agriculture for Nutrition and Health (A4NH).
The post Voices from the Field: Young women farmers anchor CGIAR session at Cultivate Africa appeared first on CGIAR Gender.