UN 2023 Water Conference highlights the importance of systems thinking
From

CGIAR Initiative on NEXUS Gains

Published on

04.04.23

Impact Area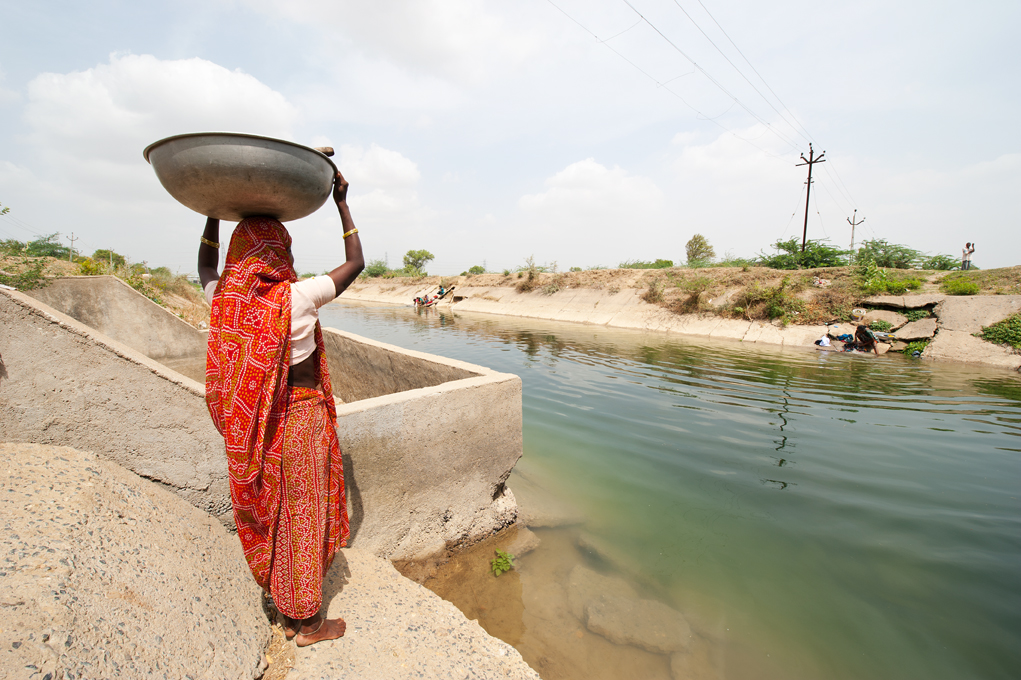 By Matthew McCartney, Claudia Ringler, Manohara Khadka and Mohsin Hafeez
The global water crisis is worsening. This was confirmed at the recently concluded United Nations 2023 Water Conference. Despite the need for action being highlighted nearly 50 years ago at the last major UN water conference in Mar del Plata, Argentina, several billion people continue to lack secure access to water; water shortages, but also floods, increasingly contribute to food shortages and hunger; and energy security goals are in peril due to growing water variability and depletion.
Unprecedented floods and droughts, cyclonic storms and heat waves are devastating the livelihoods of millions of mostly poor people every single day. However, the global water crisis goes beyond the water implications of extreme events. More than two billion people still lack access to safely managed water. 297,000 children under 5 die every year from diseases caused by polluted water and one in five children are stunted, their potential in life hugely diminished. Globally, women and girls spend 200 million hours every day collecting water to meet household needs.
While the official purpose of the March 22–24 conference was a midterm review of the International Water Action Decade and to "collect commitments, pledges, and actions across all our sectors, industries, and interests, uniting nations, stakeholders, and professionals on actions that help deliver on the water actions included in the 2030 Agenda," interests and expectations were much higher. Around 7,000 people participated in events at the UN, in New York City, as well as in virtual events. Participants hoped that the event would provide critical momentum to urgently reset the ways in which water is governed, managed and used. As was stated in almost every session, the time to move from words to action is now!
The NEXUS Gains team, present throughout the three days of the conference, provided input to multiple sessions and discussions including those on groundwater, localizing SDG6, water storage, water and nutrition linkages, and building resilience and adaptive capacity through better water planning and management. We also provided technical support to government delegations from Nepal, Pakistan and Uzbekistan, including sessions on "Achieving water security in Nepal in a changing climate" and "Transformative Futures for Water Security: From Words to Action" for Pakistan.
Two messages were strongly articulated throughout the conference. First, that the mess we find ourselves in today is largely a consequence of weak governance, poor management and institutional failures. One key aspect of this has been the failure to perceive water as a connector linking sectors, people and the environment. The systemic interlinkages across the nexus of water, energy, food and ecosystems have too often been ignored, undermining development and, ultimately, resulting in many of the challenges we face. Siloed approaches simply do not work. Integrated approaches must be prioritized, and systems thinking is now widely acknowledged as a pre-requisite for sustainable resilient solutions. Affirmation of this understanding was reflected in the official Interactive Dialogue on Valuing Water, Water-Energy-Food Nexus and Sustainable Economic and Urban Development.
Secondly, the time has come for much greater application of nature-based solutions (NBS). There is growing recognition that combining built infrastructure and NBS in synergistic ways can improve water storage and supply, lower costs, produce more resilient services, enhance system performance and better protect communities. Many examples were presented at the conference but more research is urgently needed to fully understand both the opportunities and the limitations of NBS in specific contexts.
A tangible outcome of the Conference, the Water Action Agenda grew in both size and scope during the Conference with more than 700 commitments being made by governments, the private sector, intergovernmental organizations and non-governmental organizations. The importance of research was highlighted in several commitments, including that of the International Water Management Institute (IWMI) which committed to a program entitled Transformative Futures for Water Security (TFWS) – a set of high ambition missions for policy-relevant research to deliver impacts at scale. NEXUS Gains will contribute pertinent research, capacity development and advocacy activities to the missions of the TFWS.  A second commitment, focuses on Jointly improving water, food security and nutrition committing NEXUS Gains and partners to jointly improve water, energy and food security and nutrition in South Asia, Central Asia, East Africa and southern Africa with detailed actions identified over the next eight years.
There was also widespread support for the appointment of a UN special envoy on water whose job it would be to ensure visibility of water on the global political agenda, galvanize political action, strengthen coherence across actions, and ensure follow-up of the conference outcomes. In addition, a summary of the proceedings of the conference will be prepared by the President of the General Assembly. This will identify best practices and lessons learned, as well as the obstacles and constraints encountered, and the actions and initiatives needed to overcome them in the second half of the Decade for Action, and will feed into a high-level political forum on sustainable development (July 10–19, 2023) that aims to galvanize action on the 2030 agenda.
As was made very clear at the conference, the water crisis, climate change, environmental degradation, biodiversity loss, poverty and inequalities are closely interlinked. Addressing the water crisis is truly a global endeavor that requires systems thinking, breaking down siloes, intersectoral collaboration, and strengthening gender and social inclusion in water institutions, capacity building, and research processes and outcomes. Put simply, business as usual is not an option; nexus approaches are a must!
---
Matthew McCartney is NEXUS Gains Lead and Research Group Leader, Sustainable Water Infrastructure and Ecosystems at IWMI; Claudia Ringler is NEXUS Gains Co-Lead and Director, Natural Resources and Resilience Unit at the International Food Policy Research Institute; Manohara Khadka is the Nepal Ganges coordinator for NEXUS Gains and Country Representative, Nepal at IWMI; and Mohsin Hafeez is the Indus coordinator for NEXUS Gains, and Country Representative, Pakistan and Regional Representative, Central Asia at IWMI.
 This work was carried out under the CGIAR Initiative on NEXUS Gains, which is grateful for the support of CGIAR Trust Fund contributors: www.cgiar.org/funders
Header image: People living around the canals. Photo by Hamish John Appleby/IWMI.