The missing link: Making women part of the response to the global food crisis
From
Published on

26.07.22

Impact Area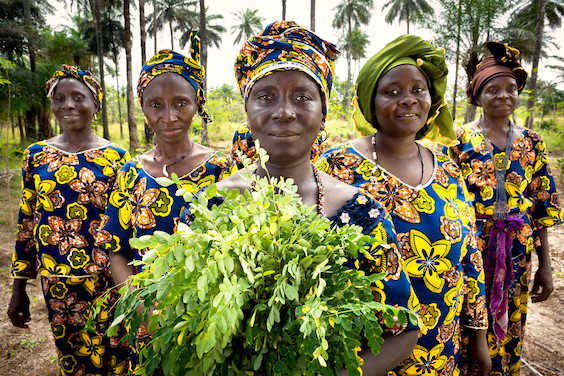 Learning from past crises can help us ensure an inclusive, gender-equitable response to today's global food security emergency.
Today's global food crisis is the result of a perfect storm of risks and disruption that shines a spotlight on the cracks in our food systems and resulting risks for millions of people's food security.
The COVID-19 pandemic and its related recession, fuel shortages and the conflict in Ukraine are monumental crises exacerbating inherent inequalities in food systems – and illustrating our insufficient global response – but they are not the only crises.
The current climate emergency is also devastating communities across the globe. Hundreds of thousands of East Africans have been forced to abandon their homes in search of food and water due to the worst drought in four decades, leaving women and children most vulnerable.
We know that external shocks and stresses impact women and men differently. When crises strike, women are more likely to eat last, although women's assets might be sold first. Women's burdens and risks increase when climate change impacts force them to walk further to collect water or fuelwood, and women are more likely than men to go hungry or die as a result of climate disasters.
Unfortunately, women—their needs, realities and preferences—are too often excluded from decisions on solutions to crises, which harms not only women, but thwarts real progress toward sustainable, equitable food systems entirely.
Even in our own sphere of agricultural research for development, the lack of consideration for gendered impacts and women's needs is not new—for instance, only one in 10 out of more than 100,000 research papers on ending hunger reviewed in 2020 considered gender differences in outcomes, despite the much greater vulnerability to climate change and food insecurity faced by women.
Likewise, our recent evidence review of climate-smart agriculture interventions revealed that out of 144 research studies, only 18 mentioned the different gender and social outcomes, despite such interventions forming a crucial part of women's resilience and adaptability to the impact of climate change.
Now, development partners and funders rally to respond to the current crises. But we need to invest for the long term.
Last week, United Nations officials celebrated the signing of a deal to export Ukrainian grain via the Black Sea, which could improve the flow of food and fertilizer to global markets. Others cautioned that even if successfully effected, the deal will not immediately solve threats of famine.
USAID recently committed more than $1 billion to counter the global food crisis, and humanitarian organizations are calling for even greater investments. In the best of times, these major investments could kick-start us on a path toward a long-term transformation of agriculture and food systems, making them more stable, sustainable and productive.
All the more reason to include women from the start to make sure they will benefit in the long run.
In an effort to move forward, we highlight four lessons from past crises that can guide CGIAR and its partners in ensuring a gender-equitable response to today's global food emergency. These are:
Taking these lessons into account—and including the missing link—will allow us to deliver a more just and fair crisis response to the benefit of the millions of women, children and men who are already facing food insecurity.