The good and not-so-good news about the state of COVID-19 vaccine development: A primer from ILRI
From
Published on

16.05.20

Impact Area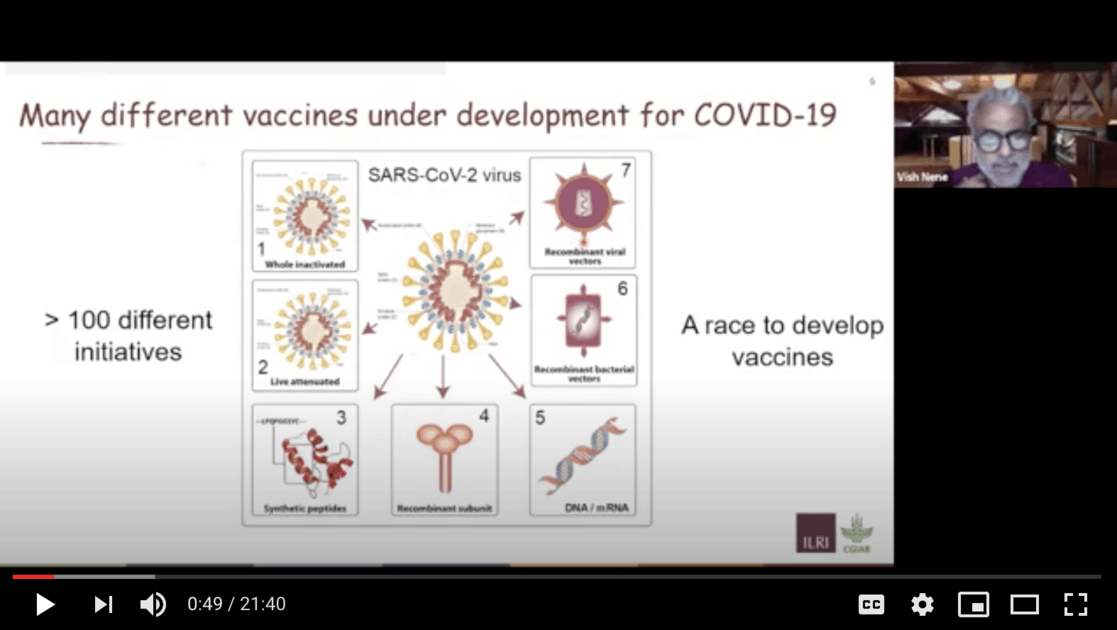 Jimmy Smith, director general of the International Livestock Research Institute (ILRI), holds a weekly town hall for the 600-plus staff of the institute as well as staff from many of ILRI partners who are hosted on ILRI campuses in Nairobi, Addis Ababa and elsewhere.
In the town hall last week, Vish Nene, co-leader of ILRI's Animal and Human Health program, made a short presentation on the latest developments in COVID-19 vaccine work. Excerpts and slides from his virtual presentation follow.
There is good news and (you guessed it) not-so-good news regarding development of vaccines against COVID-19.
The good news
The good news is that at last count more than one hundred initiatives to develop vaccines against COVID-19. Clearly there is a mad scramble in both the academic sector and the large private pharmaceutical companies as well as small biotech companies.
The job of a vaccine is to stimulate your body to raise an immune response, either with antibody molecules or with T-cells. The job of a vaccine is to generate these responses artificially in you before you get infected with a pathogen, so that your body recognizes infection with the pathogen when it enters your body and neutralizes it so that either you are immune to the disease or suffer fewer consequences of it. . . .