The German Federal Government supports Kenya's efforts for COVID-19 testing
From
Published on

18.05.20

Impact Area
Funders

Germany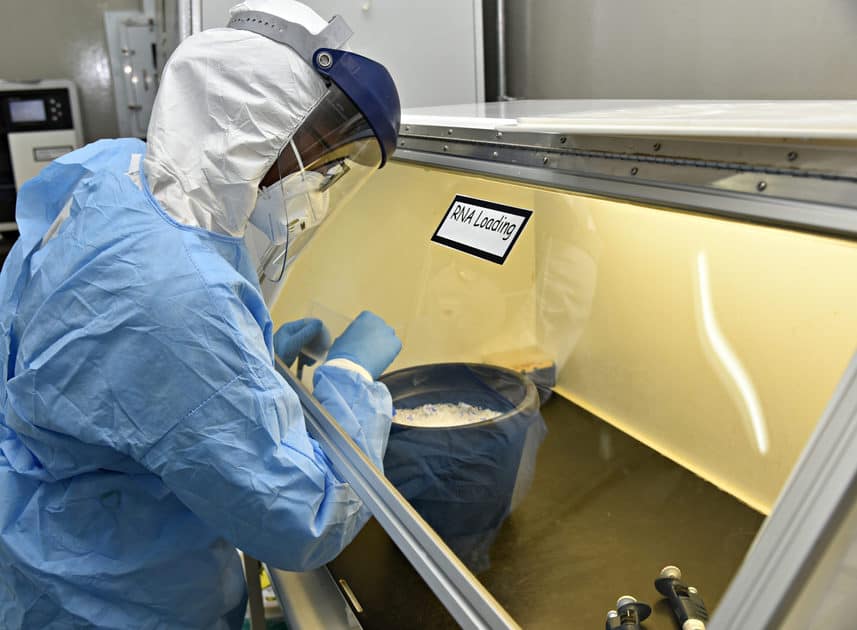 A new partnership involving the Kenya Ministry of Health and the International Livestock Research Institute (ILRI) supported by the German Federal Government was announced today. With Germany's support, ILRI is providing its advanced bioscience laboratories and technical staff to support expansion of the Kenya government's testing capacity for COVID-19, the disease caused by a novel coronavirus that emerged at the end of 2019. This partnership follows preliminary discussions between the director general of Kenya's Ministry of Health, Patrick Amoth, and ILRI's director general, Jimmy Smith. Testing for the new coronavirus disease was launched today (18 May 2020), when Kenya Ministry of Health Director General Amoth and Her Excellency Annett Günther, the German ambassador to Kenya, visited ILRI's bioscience facilities.
We are pleased to be part of this partnership to expand testing for COVID-19 and welcome ILRI and Germany's support in this area. We see One Health as an integral approach to our recovery efforts.


—Kenya Ministry of Health Director General Patrick Amoth
This collaborative work will be conducted under the auspices of a recently created ILRI initiative funded by The German Federal Ministry for Economic Cooperation and Development (BMZ). This new initiative is the One Health Research, Education and Outreach Centre for Africa (OHRECA). Established in Africa and for Africans, the new centre, which will be officially launched with partners later in 2020, will promote a One Health research-for-development approach designed to enhance the health of people, animals and environment in a holistic manner. The One Health Centre will build on state-of-the-art agricultural research facilities for capacity building, training and development located at ILRI, which include the Biosciences eastern and central Africa-ILRI Hub, the CGIAR Antimicrobial Resistance Hub and ILRI's Mazingira ('Environment') Centre. The new One Health Centre at ILRI will work with and through local, regional and international research, policy and extension partners as well as existing One Health networks.
Having long-standing close relations with the government of Kenya, ILRI is delighted to be able to support Kenya's efforts to respond to this pandemic and, through ILRI's new One Health Centre, to help Kenya and other countries mitigate future disease risks.


—Jimmy Smith, director general of ILRI
ILRI and its 'sister institute', World Agroforestry (ICRAF), are both CGIAR research centres hosted by Kenya and operating globally. Demonstrating the Kenya Government's strong cross-ministerial approach to COVID-19, the principal secretary in Kenya's state department for crops and agricultural research, Hamadi Boga, who is also a board member of ICRAF, and Kenya's principal secretary in the state department of livestock, Harry Kimtai, a board member of ILRI, have proactively supported the repurposing of selected ILRI and ICRAF international laboratories for COVID-19 testing. Through their engagement with the Kenya Ministry of Health, ILRI and ICRAF are providing the support of their laboratories, equipment, staff and services to assist Kenya's national efforts in control of COVID-19. The Kenya ministries of health and agriculture recognize the vital links and synergies among the health of people, food and agroecological systems and foster strong continued partnerships with ILRI and ICRAF in hosting these two international organizations in Kenya.

By investing in the One Health Research, Education and Outreach Centre for Africa, the German Federal Government is enabling ILRI's expertise, resources and state-of-the-art research facilities to assist Kenya in its work to control COVID-19. ILRI and Kenya are also working together in research aiming to reduce the risk of future pandemics, to better control zoonotic diseases such as Rift Valley fever in Kenya and the Horn of Africa, improving food safety in informal markets and preventing and controlling the development of antimicrobial resistance.
Germany stands by the people of Kenya and will continue its close cooperation with Kenyan partners at this difficult time in adapting to the current challenges. I salute the innovative approach ILRI is taking to expand COVID-19 testing capacities.
—

Annett Günther, German Ambassador to Kenya
About the German government response to the global humanitarian COVID-19 disaster
In response to an appeal from the United Nations, the German government provided an additional 300 million euros and is helping to finance, among other things, humanitarian healthcare as well as the supply of water and sanitation, especially in Africa. Germany is extensively engaged within the European Union (EU) and will participate as actively as possible in the global cooperation package focusing on Africa (#TeamEurope). Germany supports the EU's global response to the COVID-19 crisis and the strong focus on Africa (3.25 billion euros). Tackling the COVID-19 crisis in Africa will be a key issue during Germany's EU Council Presidency in the second half of 2020. In the East African Community, mobile laboratories and diagnostic kits have been made available to its member states through German funding and a regional training workshop will soon take place on screening measures at airports in Nairobi and Mombasa.
About the Kenya Ministry of Health
The Ministry of Health in Kenya has a goal to attain equitable, affordable, accessible and quality health care nationwide with a mission to build a progressive, responsive and sustainable health care systems for accelerated attainment of the highest standard of health to all Kenyans.
About BMZ
The German Federal Ministry for Economic Cooperation and Development (BMZ) formulates and steers Germany's development assistance and is heavily guided by international commitments to alleviate world poverty. Germany's aid strategy includes support for renewable energy and energy efficiency, climate and development, agriculture and food security and environment and natural resources.
About ILRI
The International Livestock Research Institute (ILRI) is a non-profit institution helping people in low- and middle-income countries to improve their lives, livelihoods and lands through the animals that remain the backbone of small-scale agriculture and enterprise across the developing world. ILRI is co-hosted by Kenya and Ethiopia and offices in 14 other countries across Asia and sub-Saharan Africa.
About World Agroforestry (ICRAF)
World Agroforesty (ICRAF) is a centre of science and development excellence that harnesses the benefits of trees for people and the environment. Leveraging the world's largest repository of agroforestry science and information, ICRAF develops knowledge practices, from farmers' fields to the global sphere, to ensure food security and environmental sustainability.
As CGIAR centres, ILRI and ICRAF funders, through the CGIAR Trust Fund, and their many partners are able to undertake their research.
About CGIAR
CGIAR is a global research-for-development partnership working for a food-secure future. As the world's largest global agricultural innovation network, CGIAR brings evidence to policymakers, innovations to partners and new tools to harness the economic, environmental and nutritional power of agriculture in developing countries.
For more information, contact:
Ministry of Health Kenya
Afya House, Cathedral Road,
P.O. Box:30016–00100, Nairobi, Kenya.
Telephone: +254-20-2717077
Email: ps@health.go.ke
German Embassy Nairobi
Jonas Koll
Political Counselor
Head of Press and Communications
German Embassy Nairobi
113 Riverside Drive
P.O. Box 30180
00100 Nairobi, Kenya
Phone:  +254 20 4262 -253
Mobile: +254 710 334 041
Email:Jonas.koll@opendiplo.de
pr-1@nair.auswaertiges-amt.de (secure)
www.nairobi.diplo.de