Tapping irrigation potential: exploring challenges and solutions in Western Nepal
From

CGIAR Initiative on NEXUS Gains

Published on

13.02.23

Impact Area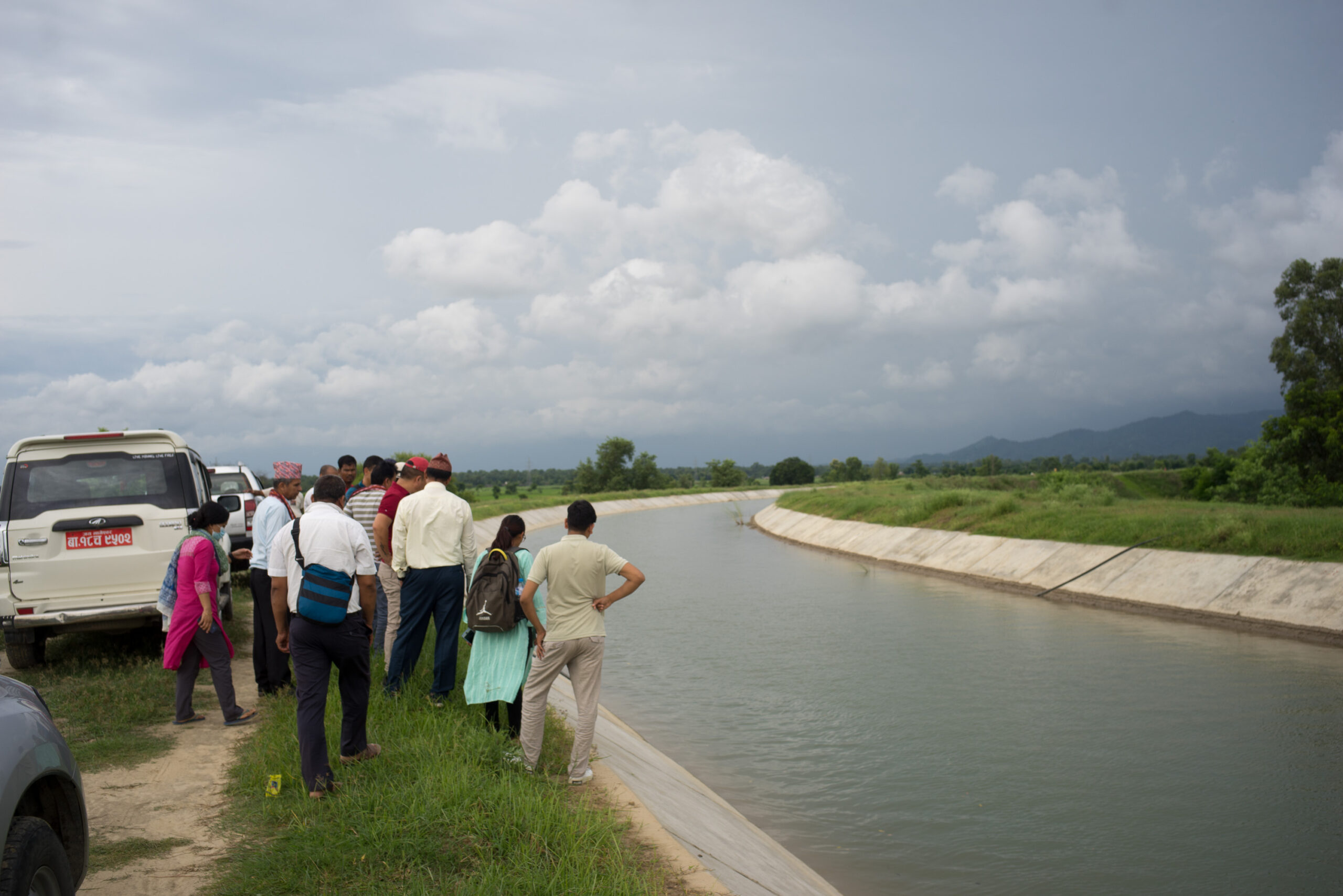 By Pabitra Gurung, Nirman Shrestha, Dinesh Bhatta, Kapil Gnawali, Bala Ram Upadhyaya and Santosh Nepal
Irrigating farmland in Nepal increases crop yields, helping to reduce the country's trade gap for agricultural commodities, and build a more food-secure economy. But despite having plenty of water available – 225 billion cubic meters each year – Nepal has a long way to go in tapping its resources to the full.
According to the 2019 irrigation system inventory of Nepal's Department of Water, Resources and Irrigation (DWRI), about 2,254 surface water irrigation systems are in operation, covering nearly 728,447 hectares of agricultural land. There is a good deal of scope to build on this: in Nepal's Terai region, for example, approximately 40% of the total agricultural area is irrigated.
To help guide future irrigation expansion, the CGIAR Initiative on NEXUS Gains commissioned a project investigating three irrigation projects (including two National Pride Projects) in Western Nepal (see Figure 1). All of these projects are undergoing interventions to increase the amount of water available to agriculture. The project team talked to farmers throughout the area to find out whether the irrigation projects are working for them.

Visit to national irrigation projects
The three irrigation projects – the Mahakali Irrigation Project (MIP), the Rani–Jamara–Kulariya Irrigation Project (RJKIP) and the Babai Irrigation Project (BIP) – are located in Kanchanpur, Kailali and Bardia districts respectively. DWRI manages MIP and BIP and is currently modernizing systems of one of the largest farmer-managed irrigation systems, RJKIP, with financial assistance from the World Bank.
Project managers and engineers visited the three sites in August and October 2022. They concluded that there is currently enough water for irrigation and will continue to be after construction is completed on distribution systems in Stage II of MIP, the linking of three existing systems of RJKIP, and the Bheri–Babai diversion of BIP.
However, water user associations (WUAs) and farmers claimed that they do not have enough irrigation water for their fields, particularly in the dry season. They also expressed doubts over whether water access would be improved as planned, due to ongoing delays in construction activities, ineffective irrigation infrastructure and inadequate operating systems for canals.

Challenges for farmers
In analyzing data from the site visits, we identified specific challenges that make it difficult to manage irrigation water to improve productivity:
Mistimed irrigation: In all three projects, the scheduling of flood irrigation is not optimal. Farmers are neither fully aware of the importance of good timing, nor in a position to schedule irrigation based on the amount of water required at various stages of crop development.
Inequitable access to irrigation water: Farmlands upstream tend to use too much water, while those downstream receive less. This is caused by inadequate structures to control water flow (in some cases due to ongoing infrastructure development), improper system operation and management, lack of an operational plan for canals, and violation of water allocation rules. This disparity in the allocation of irrigation water deepens existing socio-economic inequalities.
Unreliable water supply: Water supply is irregular, especially during the dry season, which stresses winter and spring crops. For example, in BIP, the amount of water discharged from the river into canals is far less than that required for dry season irrigation. Such seasonal shortages in irrigation water may be caused by an inadequate supply, and overlapping maintenance and irrigation schedules. When repair and maintenance is delayed, the situation worsens.
Limited effectiveness of water user associations: MIP is an agency-managed irrigation system, RJKIP is a farmer-managed irrigation system, and BIP is a jointly managed irrigation system, involving both government and a WUA. As such, RJKIP has a more accountable, accessible, well-informed and well-managed WUA than MIP or BIP. But because its WUA is only responsible for irrigation management and does not manage other agricultural inputs or set irrigation schedules, RJKIP is less effective in terms of the large-scale repair and maintenance of physical structures.
Inadequate technical support: Although irrigation systems are developed and managed in consultation with farmers, WUA members and farmers pointed out that they are not getting adequate support for repairs and maintenance, management of tertiary and field canals, or the timely completion of construction of the main canals.
Inadequate design and planning for probable hazards: Probable hazards are not considered during the designing and planning process. For example, in all the irrigation projects, there is a lack of planning for proper field drainage to drain flood water that destroys the crops every monsoon.
Potential solutions
We discussed potential solutions with the project team, WUA members and farmers. Each of these solutions can be adapted by farmers to meet the specific challenges of their situation. Examples include:
Design and implement a cropping pattern with farmers, considering market demand, water productivity, post-harvest infrastructure, etc.

To improve irrigation scheduling, create a 'canal operation plan' and integrate this with farm operations (land preparation through to harvesting).

Align repair and maintenance (R&M) with crop calendars and disseminate an annual R&M plan to farmers before the cropping season.

Practice 'conjunctive water use' (ground and surface water together) when canal water is unavailable, and promote environmentally friendly energy sources to pump water.

Introduce high-value and low-water-intensive crops to improve farmers' economic status and reduce water consumption.

Refine WUAs' roles and responsibilities by integrating agricultural perspectives into the management of the irrigation system.

Improve coordination among key stakeholders.
Overall, we identified that it is important to strengthen the capacities of WUA and farmers – especially in the efficient use of water and technologies – to ensure adequate and properly operated irrigation infrastructure. Only then will Nepal be able to make the most of its water resources and build a food-secure economy for the future.
Water–irrigation–agriculture linkages at the three project sites MIP, RJIKP and BIP are discussed further in the blog: Reinvigorating food production in Nepal: strengthening the irrigation–agriculture nexus.
---
Pabitra Gurung is a Senior Research Officer, Water Resources at the International Water Management Institute (IWMI) Nepal; Nirman Shrestha is a Regional Researcher, Agricultural Water Management at IWMI Nepal; Dinesh Bhatta is Project Director of the Community Managed Irrigated Agriculture Sector Project – Additional Financing at the Department of Water Resources and Irrigation, Nepal; Kapil Gnawali is Senior Divisional Hydrologist at the Water and Energy Commission Secretariat, Nepal; Bala Ram Upadhyaya is a Hydrogeologist at the Water Resources Research and Development Center, Nepal; and Santosh Nepal is a Researcher, Water Resources and Climate Change at IWMI Nepal.
This work was carried out under the CGIAR Initiative on NEXUS Gains, which is grateful for the support of CGIAR Trust Fund contributors: www.cgiar.org/funders
Header image: Main Canal, Babai Irrigation Project, Bardiya. Photo by Nirman Shrestha/IWMI.