Stakeholders evaluate the impact of Alternate Wetting and Drying Technology in Bangladesh
From
Published on

27.02.18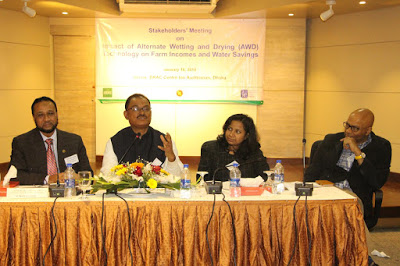 Irrigated rice in Bangladesh accounts for nearly half of the country's rice output. However variability in rainfall, dry spells, depleting water table and water scarcity for agriculture pose a challenge in achieving food security for its 163 million people. The FAO estimates rice production in Bangladesh to be at a five-year low of 50.8 million tonnes in 2017, 2 per cent below the 2016 outcome. This may result to a sharp spike in rice prices in the country. Adding to the burden of increasing cost is the rising cost of irrigation, electricity, fuel and labor.

Alternate Wetting and Drying (AWD) is a low-cost water-saving technology that rice farmers can use during the dry season when frequent irrigation is needed for rice planting and harvesting. The International Rice Research Institutes (IRRI) has been promoting this technology for rice cultivation through research and extension initiatives in South and Southeast Asia, including Bangladesh.
With support from the International Initiative for Impact Evaluation (3ie) and in collaboration with Tufts University (USA), IRRI is conducting a Randomized Control Trial (RCT) of AWD technology at Rangpur, Rajshahi and Mymensingh provinces in Bangladesh. The trial aims to gauge the effect of AWD technology in 4000 farmer plots, and seeks to gain insights on existing norms for water governance, incentive systems, and deciding factors that encourage adoption of new technologies.
In a stakeholder workshop recently organized by IRRI to assess the impact of the project, Dr. Humnath Bhandari, IRRI Country Representative in Bangladesh, highlighted the rising concern over groundwater depletion, leading to escalating market prices of rice, and hence the ever-increasing need to adopt more cost and resource-efficient technologies in farming. One key finding of IRRI's project has been, that adopting AWD technology led to significant profits of almost 1900 Taka more per acre of land, in villages where it co-exists with volumetric pricing.
The workshop also served as a platform to discuss the challenges and strategies for scaling-up AWD, and the opportunities for increasing policy dialogue around it. An advocate of educating farmers on resource-efficient technologies like AWD, Dr. Md. Akram Chowdhury, Chairman of Barind Multipurpose Development Authority (Government of Bangladesh), emphasized the importance of research to provide insights and evidence to policy-makers and agricultural extension systems. To optimise the learnings, Dr.Chowdhury encouraged scaling AWD technology by way of a tripartite partnership between Barind Multipurpose Development Authority, Department of Agriculture Extension and the Bangladesh Agricultural Research Council.
A team of researchers, including Dr. Manzoor Dar, Ms. Swati Nayak and Md. Ashraful Habib from IRRI, and Dr. Kyle Emerick and Dr. Ujjayant Chakravorty from Tufts University, presented the findings of the RCT and qualitative study, to help refine ideas for further research and innovation in promoting the AWD technology.
The workshop was held in Dhaka, Bangladesh on 16th January 2018 and was moderated by Dr. Lutful Hassan of IRRI Bangladesh. Mr. Md. Billal Hossain, Joint Secretary for the Ministry of Agriculture, Government of Bangladesh, served as Chair of the event. It was attended by chief guest Dr. Md. Akram Hossain Chowdhury, Chairman of Barind Multipurpose Development Authority, and other distinguished guests from the Government of Bangladesh including Mr. Md. Abudul Aziz, Director General for Department of Agricultural Extension, Dr. Md. Shahjahan Kabir, Director General for Bangladesh Rice Research Institute, Mr. M. A. Matin, Director General for Rural Development Academy, and Dr. Md. Kabir Ikramul Haque, Executive Chairman of Bangladesh Agricultural Research Council.
Learn more about IRRI (www.irri.org) or follow us on social media and networks (all links down the right column).