Stable and high-yielding farmer-preferred "Matooke" cooking banana hybrids registered
From
Published on

09.01.23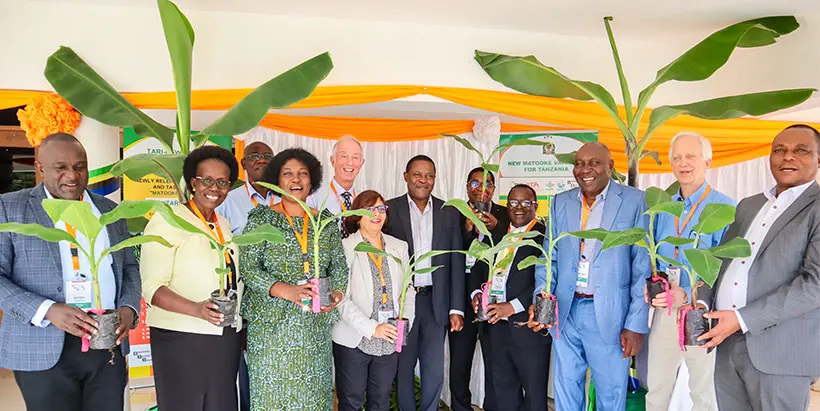 Millions of people around the world depend on banana and plantain (Musa sp.) as vital food staples and sources of income. A unique collection of cultivars known as the East African highland bananas (EAHBs) can only be found in the highlands of the African Great Lakes region. With an estimated yearly per capita consumption of 250 to 600 kg, these bananas are crucial to the food economy of this region's 2.5 million farming households.
The future sustainability of EAHB production across the region is threatened by pests such as the banana weevil Cosmopolites sordidus, the burrowing nematode Radopholus similis, black leaf streak (BLS) pathogen Pseudocercospora fijiensis, Fusarium wilt caused by Fusarium oxysporum f. sp. cubense, and banana bacterial wilt caused by Xanthomonas campestris pv. musacearum.
A multidisciplinary team involving scientists from IITA–CGIAR, the National Agricultural Research Organization-Uganda (NARO-Uganda), the Alliance of Bioversity International and CIAT (ABC), the Tanzania Agriculture Research Institute (TARI), the National Agricultural Research Laboratories (NARL-NARO, Uganda),  the Tanzania Official Seed Certification Institute (TOSCI), the University of Wisconsin-Madison, and the Swedish University of Agricultural Sciences recently conducted a study titled "TARIBAN1, TARIBAN2, TARIBAN3, and TARIBAN4 'Matooke' Cooking Banana Cultivars for the Great Lakes Region of Africa".