Short-Term Effects of Food Price Shocks Ensuing Expiration of the Black Sea Grain Deal: A Food Security Simulation
From

CGIAR Initiative on National Policies and Strategies

Published on

09.11.23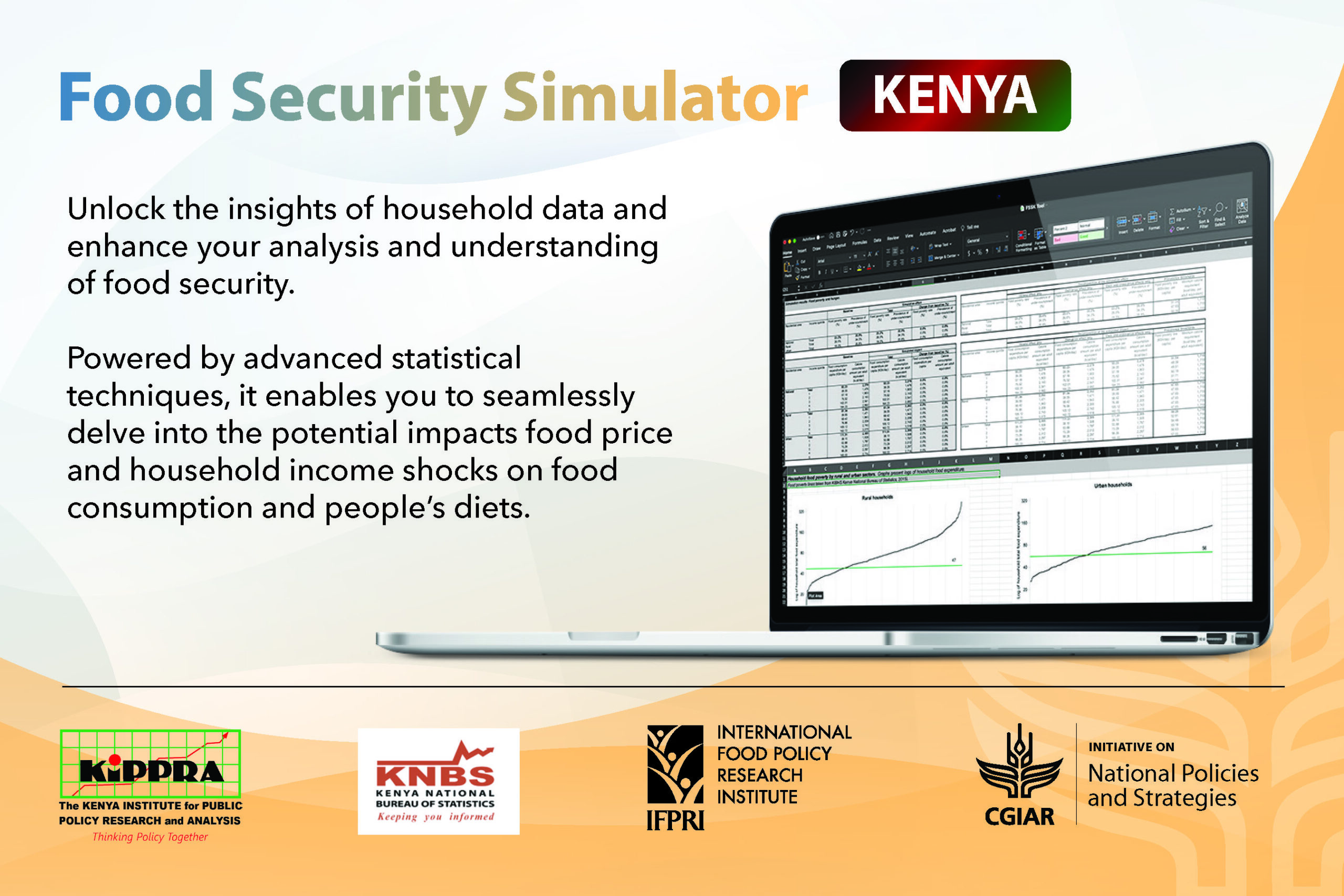 On July 19, 2023, the CGIAR Research Initiative on National Policies and Strategies initiated a blog competition, inviting all attendees of the Food Security Simulator Kenya demonstration to participate. The competition winner would be eligible for a short-term industrial attachment/mentorship at IFPRI's Kenya office and the top three blogs would be published on the CGIAR Research Initiative on National Policies and Strategies site. After receiving numerous submissions, our panel of judges composed of international and country experts has chosen the top three blogs below:
*Any opinions stated in the blog are those of the author(s) and are not necessarily representative of or endorsed by the CGIAR.
---
By Dorah Kwamboka Momanyi 
Russia's invasion of Ukraine has disrupted agriculture and trade, jeopardizing global food security, and, along with other factors, causing food prices to skyrocket globally – especially for wheat.
Wheat Outlook in Kenya
According to the 2023 Food Balance Sheet (FBS) published by the Kenya National Bureau of Statistics (KNBS),  per capita consumption of wheat was 42.1 kilograms (kg), making it the third most important food crop after starchy roots and maize. However, Kenya's average wheat production of roughly 0.3 million metric tons (MT) is often affected by drought and already high outlays for inputs must be increased to meet domestic wheat demand. In order to meet this deficit, Kenya imports 1.8 million MT, roughly 40 percent of which come from war-torn countries (FAOSTAT, 2022). Thus, Kenya is vulnerable to this global geopolitical crisis.
The Black Sea Grain Initiative
In July 2022, the United Nations supported the brokering of a deal between Ukraine, Turkey, and Russia that would allow Ukraine to ship 32.9 MT of food to 45 countries through the Black Sea. Up until August 2023, about 1 million MT and 6 million MT of food was exported directly to low- and lower-middle-income countries, respectively, with Kenya receiving tons. The World Food Programme has chartered 725,000 tons to countries most vulnerable to severe hunger, including 25,000 tons to Kenya.
Expiration of the Black Sea Grain Initiative
As of July 17, 2023, the rare diplomatic agreement ended. Exports of about 2.1 million MT in June dropped to just 0.2 tons in July. Coupled with the effects of climate change and COVID-19, the urban population in Kenya will be the hardest hit, due to over-reliance on market purchases.
Food Security Simulator Kenya Methodology
The Food Security Simulator Kenya (FSSK) was used to assess the short-term effects of urban wheat price shocks on urban food poverty, the prevalence of undernourishment, and diet-quality-related indicators, as shown in Table 1. The simulation used the Kenya Integrated Household Budget and Survey (KIHBS, 2015/16) household survey data. A 10 percent positive wheat price shock resulting from changes in wheat prices was used as an input in the tool. Wheat prices were derived from daily market indicators from Kenya's Ministry of Agriculture.
Table 1: Simulation of the effects of rising wheat prices on poverty rates and the prevalence of undernourishment at urban and national levels
Baseline
Simulation effect
Total
Change from baseline (%)
Residential area
Food poverty rate (%)
Prevalence of under-nourishment (%)
Food poverty rate (%)
Prevalence of under-nourishment (%)
Food poverty rate (%)
Prevalence of under-nourishment (%)
National
23.2%
35.0%
23.1%
34.9%
-0.1%
-0.1%
Urban
19.3%
35.8%
19.2%
35.7%
-0.2%
-0.2%
Effects on Poverty Rates and Food Consumption
The simulation resulted in a 0.2 percent and 0.1 percent reduction in urban and national food poverty rates, respectively. Intuitively, food costs are expected to reduce disposable incomes during food inflation, resulting in higher poverty levels. In previous studies, however, they may have failed to account for the heterogeneous household preferences. The cross-price elasticities of demand, expressed by households and used in the FSSK, may lead to increases in the price of one food (such as wheat) leading to more consumption of other foods. And indeed, this is what the FSSK shows us, with households increasing consumption of fruits and vegetables while decreasing wheat consumption.
This is corroborated by simulation results from the FSSK tool for food consumption expenditure per capita, which increases by 1.1 percent and 0.5 percent at the urban and national levels, respectively. This finding is consistent with the household switching their preferences away from wheat as a source of calories, to somewhat more expensive sources of calories (such as vegetables), and thus increasing their net food expenditure.
The simulation also resulted in a 0.1 percent and 0.2 percent decrease in the prevalence of undernutrition in urban areas and at the national level, respectively. The simulation results also show a 0.5 percent improvement in the diet quality indicator and a 0.2 percent increase in the consumption of various food groups. These are all consistent with household preference switching into more diverse sources of calories following a price increase in wheat.
Policy Recommendations
In the short term, Kenya could investigate alternate import sources, such as the United States and Canada, to meet short-term wheat deficits. Even though some wheat producers have limited or banned wheat exports completely, Kenya can leverage its diplomatic relationships to avert the looming hunger crisis.
In the long term, food system stakeholders should enact policies that enhance local wheat production. Implementation of the Kenyan government's Bottom-Up Economic Transformation Agenda (BETA) prioritizes reduction in wheat imports and leverages the Africa Crop Production model (AfCP) developed by Akademiya2063. The model has earmarked the top five wheat-producing sub-counties expected to produce over 270,000 tons of wheat in 2022. In the face of climate change, the government may consider investing in collecting high-frequency accurate, disaggregated, and timely data to predict, track, and advise on wheat production patterns.
Conclusion
In conclusion, food price shocks caused by the Russia-Ukraine war and other global disruptions will continue to threaten global food security. The FSSK is thus a critical tool for rapid analyses of direct, household-level outcomes of food price and household income shocks, and policy responses. Kenya should prioritize using the tool and executing policy options to meet immediate and long-term wheat domestic demand.
---
Author:
Dorah Kwamboka Momanyi (dorahmomnayi@gmail.com) is the winner of the CGIAR Research Initiative on National Policies and Strategies blog competition and  a Young Professional at the Kenya Institute of Public Policy Research and Analysis (KIPPRA).
---
This work is part of the CGIAR Research Initiative on National Policies and Strategies (NPS). CGIAR launched NPS with national and international partners to build policy coherence, respond to policy demands and crises, and integrate policy tools at national and subnational levels in countries in Africa, Asia, and Latin America. CGIAR centers participating in NPS are The Alliance of Bioversity International and the International Center for Tropical Agriculture (Alliance Bioversity-CIAT), International Food Policy Research Institute (IFPRI), International Livestock Research Institute (ILRI), International Water Management Institute (IWMI), International Potato Center (CIP), International Institute of Tropical Agriculture (IITA), and WorldFish. We would like to thank all funders who supported this research through their contributions to the CGIAR Trust Fund.