Registration is open for ANH Academy Week 2023
From

CGIAR Initiative on Sustainable Healthy Diets

Published on

23.03.23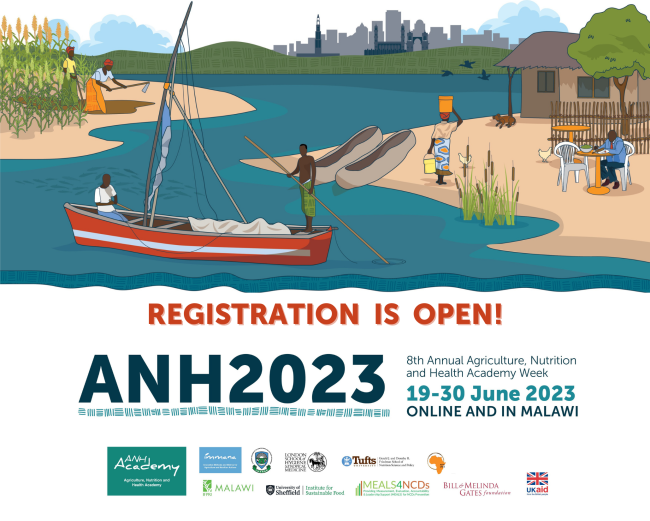 Registration is now open for ANH Academy Week, a series of annual events that aim to foster knowledge, innovation, and uptake of interdisciplinary research. ANH2023 brings together the community of researchers, practitioners, and policymakers working at the intersection of agriculture, food systems, nutrition, and health. The CGIAR Initiative on Sustainable Healthy Diets through Food Systems Transformation (SHiFT), along with Fruits and Vegetables (FRESH) and Transforming Agrifood Systems in South Asia (TAFSSA), will support participation in the event, with many SHiFT researchers leading Learning Labs, featured in plenary sessions, and giving scientific presentations. The International Food Policy Research Institute, Malawi is also one of ANH2023's global partners.
ANH2023 will be held from June 19–30, 2023 through a combination of online, hybrid, and in-person formats in Lilongwe, Malawi. The event features a variety of activities, starting with online Learning Labs and followed by a fully hybrid Research Conference in Lilongwe. The abstract-driven conference includes oral and poster sessions, and special plenaries and keynote speeches, as well as side events, community discussions, and many opportunities for networking. Participants can also attend a series of training sessions and workshops in interdisciplinary agriculture, nutrition, and health research and practice.
The preliminary schedule for the second week is now live, and includes sessions on food system governance and political economy, nutrition in crisis situations, climate change and food systems, and equity in agriculture. The schedule for the first week of Learning Labs will be available in coming weeks, with final details subject to change due to the innovative nature of the hybrid event. Capacity is limited for in-person events in Malawi, so participants are encouraged to register as soon as possible.