Refugee youth: A deferred hope or an elusive dream?
From

CGIAR Initiative on Fragility, Conflict, and Migration

Published on

26.07.23

Impact Area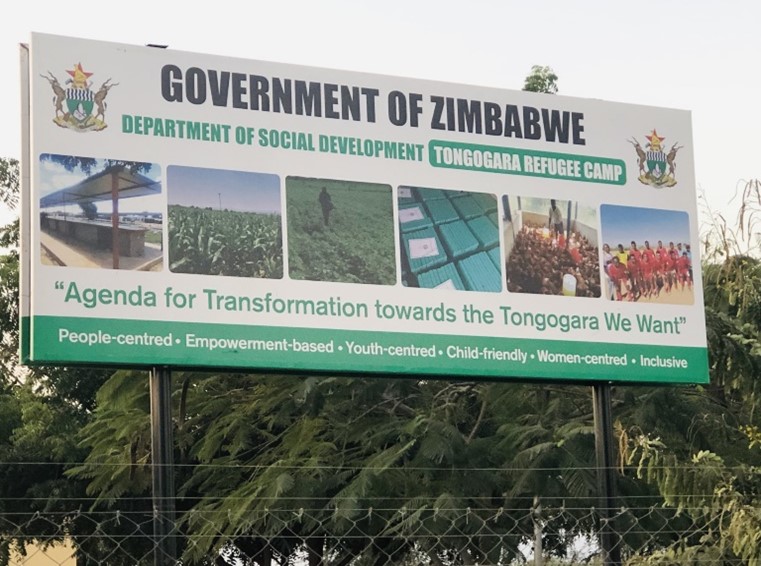 A protracted refugee situation refers to a scenario when an entire generation of a family spend their whole lives in refugee camps. In this blog post, we reflect on the recent fieldwork we conducted at the Tongogara Refugee Camp in Zimbabwe. The majority of the people we interviewed in the camp have been residing there for 10 to 25 years, with some even born there.
Our primary focus during this fieldwork was on the young people, because youth holds the key to the hope and promise of any community. Their imagination and aspirations for the future rekindle hope for unlimited possibilities and a better life. Yet, the research on the aspirations of young refugees in camps has been relatively scarce.
Employing qualitative research methods such as in-depth key informant interviews, observations, and focus group discussions, our investigation focused on understanding the drivers of vulnerability and potential pathways to emancipation within refugee settings. Additionally, we sought to shed light on how service providers address these issues in their operations and supply chain designs across the humanitarian-development nexus. The voices of the refugees themselves take center stage in our study.
The motivation for investigating emancipation pathways is that although the sustainable development goals (SDGs) recognise the importance of development for refugee populations, their emancipation remains elusive. Refugees are among the populations lagging most in the attainment of the goals.
At the Tongogara Refugee Camp, the Department of Social Development has an "Agenda for Transformation towards the Tongogara We Want." The young generation of the camp dwellers are making remarkable contributions to this agenda through initiatives that truly transform their community.
We spoke to young leaders and visionaries working to tackle different issues. One young refugee has set up a training centre that aims to provide skills and knowledge to help youth improve their livelihoods. We spoke with a young man, a graduate of this centre, who opened a gym after completing the training.  Another young man co-leads a climate action group with his fellows from the host community. We also spoke to a champion for girls' sexual and reproductive health rights and a single mother active in peacebuilding within the community. We also met with a self-made videographer and photographer who started saving a little at a time to set up a studio to help people in the community to preserve memories by covering celebratory events, including weddings.
The youth related how they have transformed their lives through an established sense of purpose. They are also changing the people's lives within their community and beyond – one SDG at a time. For example, the youth training centre is a not-for-profit entity, but it has facilitated the start of profit-based social enterprises for the other youths in the camp. The gym owner sees obvious links between mental health and physical fitness and has helped many people overcome their health challenges by getting them to move more. A youth group focused on education helps underprivileged students within the camp and host community. This year, they have helped five students secure a higher education scholarship abroad. Another group focuses on improving nutrition security through fish farming.
During our time at the camp, we witnessed numerous inspiring instances that left us pondering the issue of empowerment for the exceptional young refugees we encountered. Among them were those who embarked on entrepreneurial ventures, offering goods and services at prices well below the market rate. For instance, a hair salon in the camp charged only US$2 for a plaiting session, which amounts to approximately 20% of what similar services cost outside the camp. While the lower overhead costs may provide some advantage, we question whether it adequately compensates for the disparity in pricing.
While these youths are guaranteed education up to the Ordinary level, this qualification alone does not enable them to enter the job market. They must possess rare skills that are desperately needed in the country. However, funding for education beyond the Ordinary level is extremely limited. Currently, there are 68 eligible students for Advanced level, but insufficient funds hinder their educational progression. Even if they manage to reach university, they may still find themselves returning to the camp due to the lack of opportunities available to them. We encountered a young man who had obtained an undergraduate degree in the United States but had ultimately returned to the camp.
We were told that – despite all these great initiatives – just a handful of young people managed to make it out of the camp. Some of the more optimistic youth we interviewed clearly strived to live their lives more meaningfully, but even they felt their optimism was fading. The young activist told us  she was tired of receiving mere online recognition and yearned for acknowledgment that could actually change her life. Will these aspirations be met? In the words of one of the young men we spoke to, "We are here, but our hands and feet have been cut. We cannot do anything truly meaningful."
While great strides have been made to improve the conditions of people in protracted refugee situations and give them decent existence, the stories we heard in the Tongogara Refugee Camp indicate that policymakers and the UN could do more to support refugee youth graduate out of refugee camps and take better control of their lives and livelihoods.  Clear emancipation pathways are needed. For example, education should lead to access to different job markets or possibilities to pursue opportunities in other countries.
So, echoing this year's World Refugee Day theme, what is the "hope away from home" for refugee youths and what can we do better? Based on what we saw and heard in Tongogara, we don't believe that keeping them involved solely in the transformation of their immediate refugee communities is the best use of their potential. Most of those initiatives, in the current state, will unfortunately not lead to financial independence that would allow young refugees to emancipate out of the camps. It is not enough to keep refugees alive; they need to be able to live fully. To support this, as researchers, we should do more to explore: (1) the provisions of national policies and how improve the overall emancipation options for young refugees in Zimbabwe; and (2) the current bottlenecks to refugee youths' emancipation (political or resource constraints) in fragile and displacement contexts and how to foster recommendations for better empowerment outcomes.
This piece is based on fieldwork that was jointly supported by the CGIAR Research Initiative on Fragility, Conflict, and Migration (FCM) and Lancaster University Management School (UK). Within the FCM, it is aligned to the Bridge work package, which focuses on "bridging emergency operations with long-term sustainability principles (…) along the Humanitarian-Development-Peace nexus."
---
Authors: Nonhlanhla Dube, Lecturer in Operations Management, Lancaster University; Gracsious Maviza, Gender and Migration Climate Security Scientist and the Regional Lead for Southern Africa within the CGIAR FOCUS Climate Security Team at the Alliance of Bioversity International and CIAT.
Photo by Gracsious Maviza.