Fragility, Conflict, and Migration: A new CGIAR Initiative for a fragile world
From

CGIAR Initiative on Fragility, Conflict, and Migration

Published on

22.05.23

Impact Area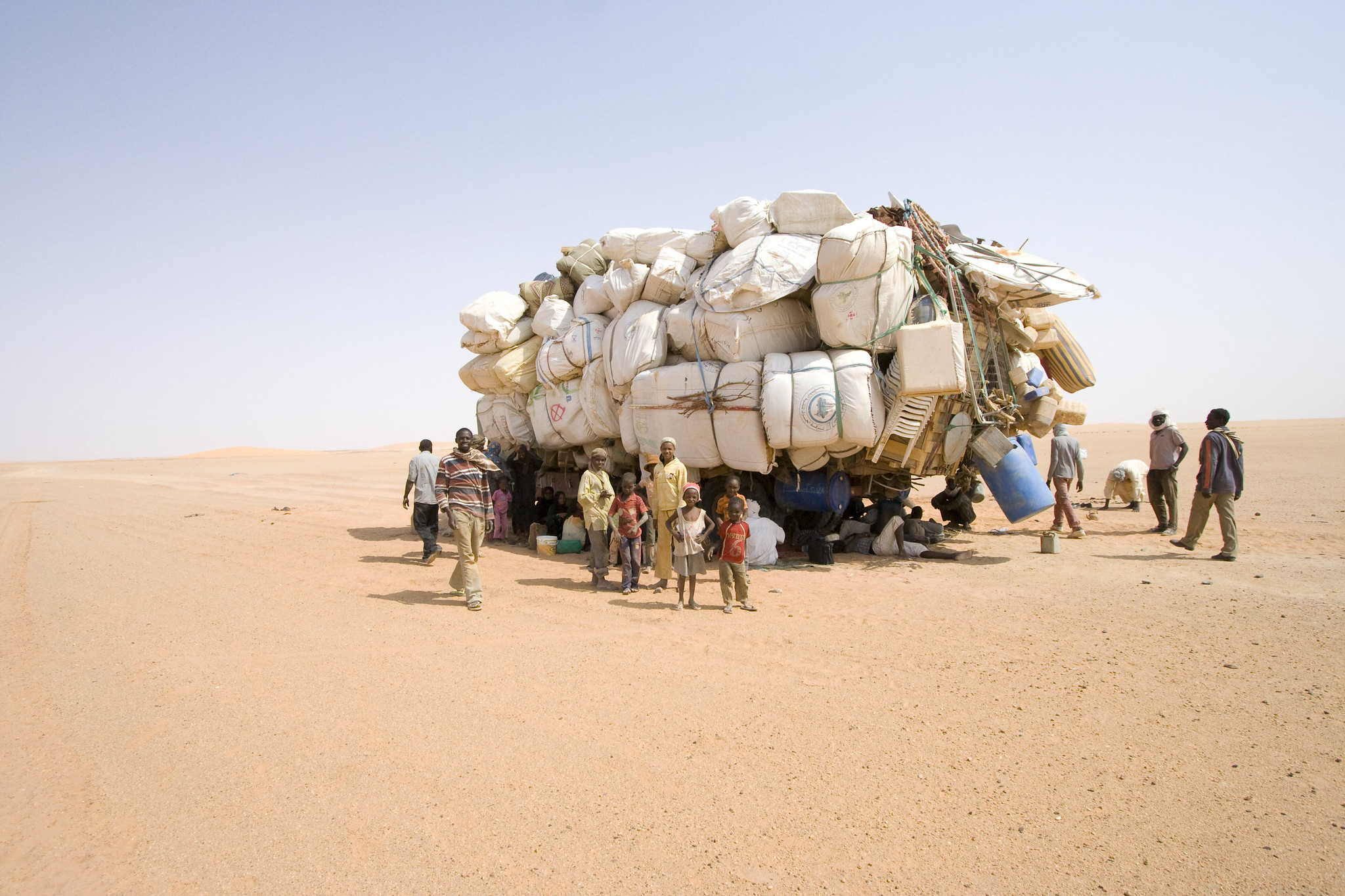 The Fragility, Conflict, and Migration (FCM) Initiative is the newest addition in the CGIAR research portfolio. It officially started in April and is having two launch events in May: in Abuja, Nigeria, on May 11 and Amman, Jordan, on May 24. In this interview, Initiative Lead Katrina Kosec and Co-Leads Peter Läderach and Sandra Ruckstuhl answer a few questions about what the FCM Initiative is about and why the issues of fragility, conflict, and migration are critical for achieving CGIAR goals.
Fragility, conflict, and migration are relevant but not very traditional topics for CGIAR. Why the FCM Initiative?  
Katrina Kosec: We live in an increasingly fragile world. Fragility, conflict, and migration are global issues affecting many countries and regions and spilling across national borders. A focus on fragile and conflict-affected settings is necessary given they house 1.5 billion people globally and are a location of severe hunger and malnutrition. These challenges are compounded by climate change, unsustainable resource consumption, poor governance, and weak social cohesion, leading to economic disruptions, forced migration, and conflict. In 2021, 84 million people worldwide were forcibly displaced, with 80% experiencing acute food insecurity and high levels of malnutrition.
In many cases, migration is a tool for adaptation and resilience building. However, it can also strain food, land, and water systems and create challenges for those left behind. Climate change and social inequalities exacerbate conflict, with climate change intensifying rapidly and increasing pressure on livelihoods and ecosystems. Women and youth are disproportionately negatively affected by shocks and crises and have less access to the power and resources required to overcome them.
However, while these challenges are present in many places, their causes, manifestations, and impacts can vary widely depending on the specific context. Governments and development organizations require evidence to address these compounding challenges, and a systems approach is needed to devise practical solutions that promote gender equity and social inclusion and enhance resilience in fragile and conflict-affected settings. CGIAR is uniquely positioned to generate evidence and support more effective and transformative policies and programming to address these complex global issues, and this is the main goal of the FCM initiative.
Can you tell us a little more about what and how the initiative aims to achieve?
Peter Laderach: Our approach is based on a four-pronged strategy, which aims to address complex challenges and strengthen anticipatory action and governance. Our focus areas (a.k.a. work packages) are Anticipate, Bridge, Stabilize, and Accelerate.
Anticipate is centered around being proactive and forward-thinking to identify potential issues and mitigate risks. We aspire to adopt anticipatory action approaches in at least five Fragile and Conflict-Affected States (FCASs) by 2025, with the participation of government, humanitarian, and development partners.
Bridge is focused on bridging emergency operations with long-term sustainability principles, particularly in conflict, fragility, and migration programming along the Humanitarian-Development-Peace (HDP) nexus. We aim to inform and integrate such programming in at least five FCASs.
Stabilize seeks to improve livelihoods, food security, and gender equality in FCASs, especially for youth. Our ultimate goal is to enhance resilience to the compound conflict-food, land, and water system risks that FCASs face and promote peacebuilding and youth opportunities in settings characterized by abnormally high migration. We aim to accomplish this by designing and deploying scalable interventions in partnership with CGIAR scientists.
Finally, Accelerate is geared towards accelerating innovations that address HDP priorities in partnership with local innovators, including women.
By achieving these four outcomes, we hope to provide a foundation for rapid scaling-out of innovations on the HDP nexus.
As an example of our commitment to the HDP nexus approach, on May 23 we are launching, jointly with the CGIAR Climate Resilience Initiative, the Climate Security Observatory, a key innovation. The CSO is an online platform for stakeholder decision-making that provides access to a range of global climate and security-related analyses. The CSO uses science on land, water and food systems to address the root causes of conflict. The aim is to reduce or avoid the risk of climate-driven insecurity by providing accessible and actionable knowledge at multiple scales. In the long term, this should contribute to the creation and maintenance of climate-resilient peace.
To measure our progress towards these outcomes, we have developed a comprehensive monitoring, evaluation, learning, and impact assessment (MELIA) plan.
How does FCM distinguish itself from other programs and initiatives working in the field?
Sandra Ruckstuhl: The Fragility, Conflict, and Migration (FCM) Initiative's research is unique in three ways. First, FCM seeks to address gaps in the existing literature by conducting systematic reviews and stock-taking exercises to identify knowledge gaps.
Secondly, this research is demand-driven, meaning that it responds to specific policy questions that are currently being considered, including those on national agendas.
Finally, the FCM Initiative employs innovative data and methods to shed light on critical questions that have received inadequate attention in the past. For example, the initiative will leverage data generated by CGIAR researchers to explore the impacts of fragility and conflict over time, including through panel data and tracking studies. All of this will be done in close collaboration with humanitarian and development partners, as well as national governments and local stakeholders.
By employing these three approaches, the FCM Initiative aims to provide policymakers and practitioners with a more nuanced and evidence-based understanding of the issues related to fragility, conflict, and migration.
What are your plans and priorities for the next 12 months?  
KK: In our first quarter, the FCM team is deeply engaged in scoping missions in the global south as well as launch events and regional dialogues to share our research plans with partners at the very start. It is our strong belief that end-to-end engagement of our partners is the only path toward durable and scalable innovations and policy solutions. We plan to refine our research aims according to the rapidly changing realities on the ground in the priority countries in which we are operating. At our in-person global launch event in Abuja, Nigeria on May 11, we had an opportunity to discuss research needs and perceived gaps with the Nigerian Ministry of Agriculture, the Nigeria Ministry of Humanitarian Affairs, the World Food Program, and Action Aid Nigeria – all of whom helped inform our research program. At our upcoming launch event in Amman, Jordan on May 24, we look forward to talking heavily about ways to effectively address food security concerns in Yemen with representatives from the public, private, and NGO sectors that are actively addressing these challenges – and seeking research to better inform their decisions.
At the same time, we are beginning research activities in a number of countries. For example, this month in Nigeria we began training women affected adversely by farmer-herder conflicts to better advocate for their policy needs with their leaders. We have worked with them to develop programming comprising civic education as well as advocacy training to empower women in community decision-making. We will work deeply this year with the Red Cross Red Crescent Climate Centre to identify ways to strengthen anticipatory action programming and make it conflict- and gender-sensitive. And we are studying the impacts of climate action interventions in mobility hotspots in countries such as Mozambique and Somalia.
Who are your external partners and how are you engaging with them?
PL: FCM engages with a diverse range of external partners which can be categorized into three broad groups: demand partners, innovation partners, and scaling partners.
Demand partners include various entities such as donors, development banks, multilateral organizations, governments, the UNFSS HDP Nexus Coalition, and humanitarian and development NGOs. These partners play a crucial role in providing financial resources, policy support, and expertise.
Innovation partners are instrumental in driving research, development, and technological advancements. They encompass local NGOs, the private sector, global and national research institutions, and research consortiums.
Scaling partners are key collaborators in expanding the impact of FCM. They comprise multilateral organizations like the International Organization for Migration (IOM) and the World Food Programme (WFP), international non-governmental organizations such as the International Committee of the Red Cross (ICRC) and World Vision, governments such as USAID's Famine Early Warning Systems Network (FEWSNET) and ministries of agriculture, private actors, and UN agencies including the UN Refugee Agency (UNHCR) and various UN Systems clusters.
A principal innovation in FCM, the Migration Decision‐Making Assessment Partnership (MDAP), illustrates the value of our partners. This partnership, currently with UNHCR and IOM, aims to develop a suite of quantitative and qualitative tools to guide analysis of migrant decision‐making in key corridors. We hope this will expand to other institutions.
What does your team look like and who might be interested in joining or collaborating with FCM?
SR: The team includes experienced researchers from across CGIAR working on fragility, conflict, and migration with specializations in development and environmental economics, political economy, peace and conflict studies, climate sciences, hydrology and water management, agriculture and marketing, livestock management, GIS and computational modeling, disaster risk reduction and forecasting – the list goes on and it really runs the gamut. Our team members live in Africa, Asia, the Americas, and Europe and are embedded in the communities where they live and work. This ensures our expertise is rooted in real-world, current challenges that those communities face, and that the solutions our research informs are feasible and relevant.
Fragile and conflict-affected scenarios, and situations with high levels of migration, are entwined with social, economic, and environmental complexity. This demands highly interdisciplinary approaches and a diverse team, as well as a strong connection between science and practice. In these circumstances, humanitarian and development agencies are demanding the technical analysis CGIAR is known for, but with a fragility and conflict -sensitive lens, to strengthen their programs, improve efficiencies, and conserve financial resources in these increasingly unpredictable and resource-constrained times.  Partnership with these agencies and access to the practical experience and tacit knowledge of their field staff and the people that they support in affected communities is critical to building resilience and achieving impact. We are always looking for innovators and critical minds to join – and we encourage anyone who is interested in collaborating to reach out to our team.
---
To learn more about the Fragility, Conflict, and Migration initiative, visit our site and read the FCM brochure.
Photo credit: EU Civil Protection and Humanitarian Aid