Promoting inclusive water governance in Bangladesh deltaic food-systems
From

CGIAR Initiative on Asian Mega-Deltas

Published on

03.08.23

Impact Area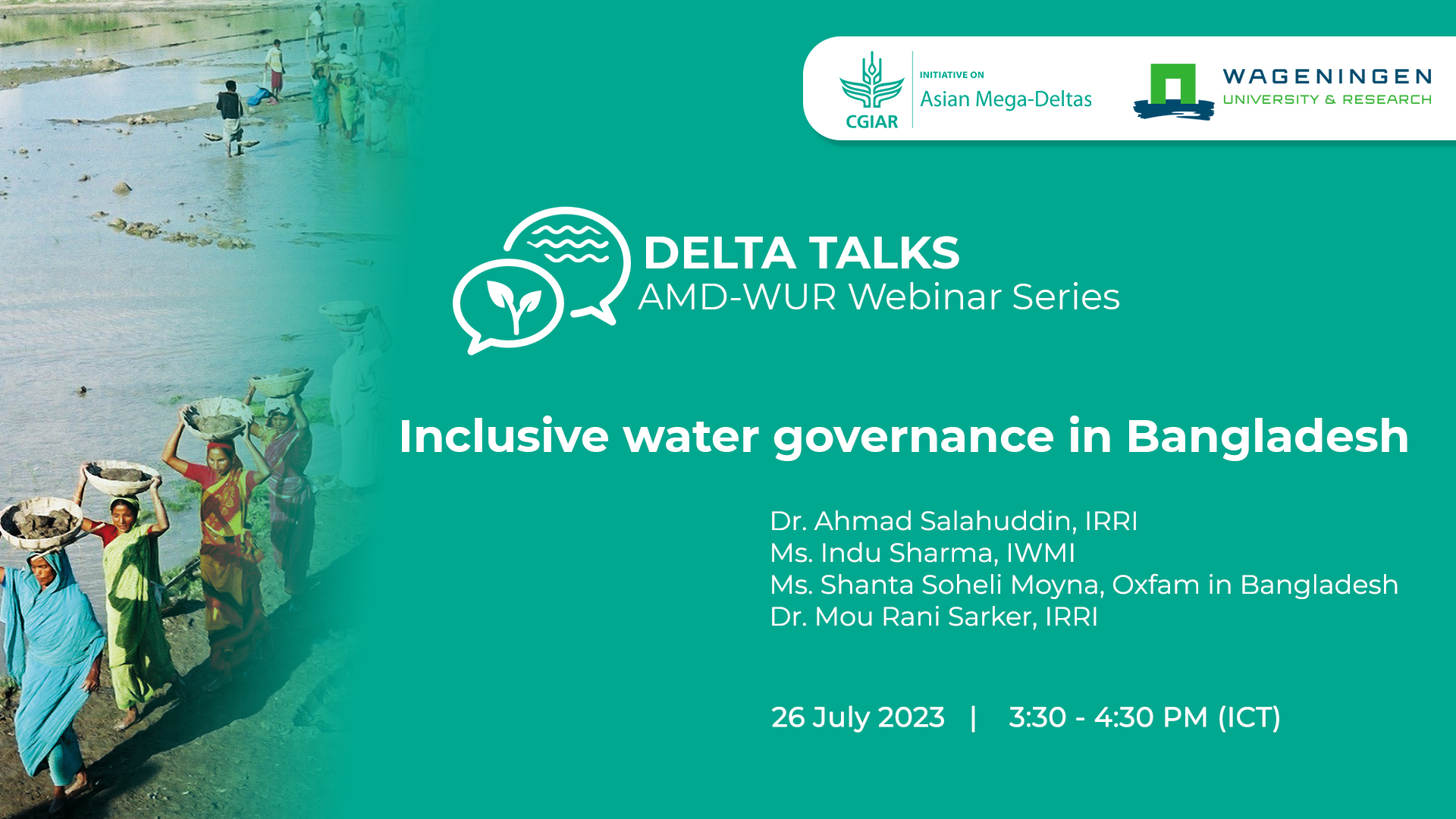 For the second installment of the Delta Talks, the CGIAR Initiative on Asian Mega-Deltas (AMD) and Wageningen University & Research (WUR) presented a webinar on inclusive water governance in Bangladesh deltaic food-systems. Four experts from different institutes working under AMD shared on the challenges related to water governance and the Initiative's efforts to address them.
To provide the overview, Dr. Mou Rani Sarker, assistant scientist on gender research at the International Rice Research Institute (IRRI), provided a glimpse of how AMD is harnessing partnership and impact on influencing policies and strategies to promote gender and social inclusion in water governance. She shared AMD's work on analysing Bangladesh's contemporary agriculture, food systems, climate change, conservation, and natural resource management policies and interventions in relation to inclusive governance in agri-food systems.

Diving deeper to AMD's work on addressing water management issues, Dr. Ahmad Salahuddin, a senior associate scientist at IRRI, discussed the centrality of water governance in the South Coastal Delta region. He shared the findings of their field visits and workshops on Climate-Smart Mapping and Adaptation Planning and the planned action research for institutional change.
Ms. Indu Sharma, postdoctoral fellow at the International Water Management Institute, shared about their literature review to study inclusiveness of water governance in Bangladesh. Using the environmental justice framework, she discussed the barriers to fair distribution of environmental resources, particularly water, across different groups in terms of "recognition, representation, and redistribution." She further introduced the transdisciplinary research approach to water justice in Southwest Bangladesh, co-developed by AMD and the Transboundary Rivers of South Asia (TROSA) Project.

Ms. Shanta Soheli Moyna, a natural resource specialist at Oxfam in Bangladesh, talked about the Transboundary Rivers of South Asia (TROSA) project. She shared how TROSA is working on awareness raising on river rights and governance, capacity building of community, local CSOs and private sectors, influencing and advocacy to the duty bearers, and knowledge development on river issues, especially of women and youth.In the open forum, the group discussed the issues on water conflicts including the unequal control of water resources, which highly affects the smallholders whose food production is highly dependent to water systems. The discussion highlighted the importance of linking the food system and water management perspectives.
To learn more about the topic, watch the full session:
https://www.youtube.com/watch?v=NAUltLTjIBo&t=3s
A collaboration between AMD and WUR, Delta Talks is a webinar series focusing on the development and results of research activities on securing food systems and strengthening climate resilience in the Asian mega-deltas. Delta Talks serves a platform for joint exchange of research results or ongoing work between AMD and WUR.