Policy seminar: Agriculture in the Americas and COP27
From
Published on

14.11.22

Impact Area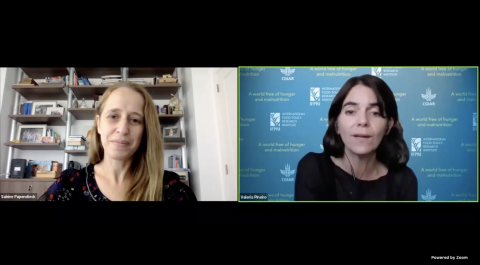 With the COP27 global climate conference now underway through November 18 in Sharm El-Sheikh, Egypt, what are the prospects for transforming agriculture in the Americas to better contend with climate change?
This was the theme of an October 27 policy seminar, "Agriculture in the Americas on the path to COP27: challenges and opportunities for public policy." The event was organized by IFPRI in collaboration with the Inter-American Institute for Cooperation on Agriculture (IICA) and the U.S. Agency for International Development (USAID).
Greenhouse gas (GHG) emissions from agriculture have remained relatively steady over the last 30 years, accounting for between 15%-20% of the total. Globally, agricultural activities released for 11 billion metric tons of carbon dioxide equivalent in 2019, according to FAO data. Asia, Oceania, and Latin America present the highest GHG emissions in absolute terms. In an analysis of emissions by country, Brazil, Indonesia, and China accounted for over 50% of global emissions from agriculture, said Valeria Piñeiro, Acting Head of the Latin America and Caribbean Region and Senior Research Coordinator at IFPRI.
As climate impacts intensify, agriculture in Latin America will see more extreme temperatures, stresses on water sources, and economic volatility. Thus it is necessary to increase the sector's resilience, improve monitoring, better prioritize investments, and design more efficient policies and incentives, Piñeiro said.
In Spanish