Policy coherence: Essential to strengthening policy impact across CGIAR initiatives
From

CGIAR Initiative on National Policies and Strategies

Published on

02.08.23

Impact Area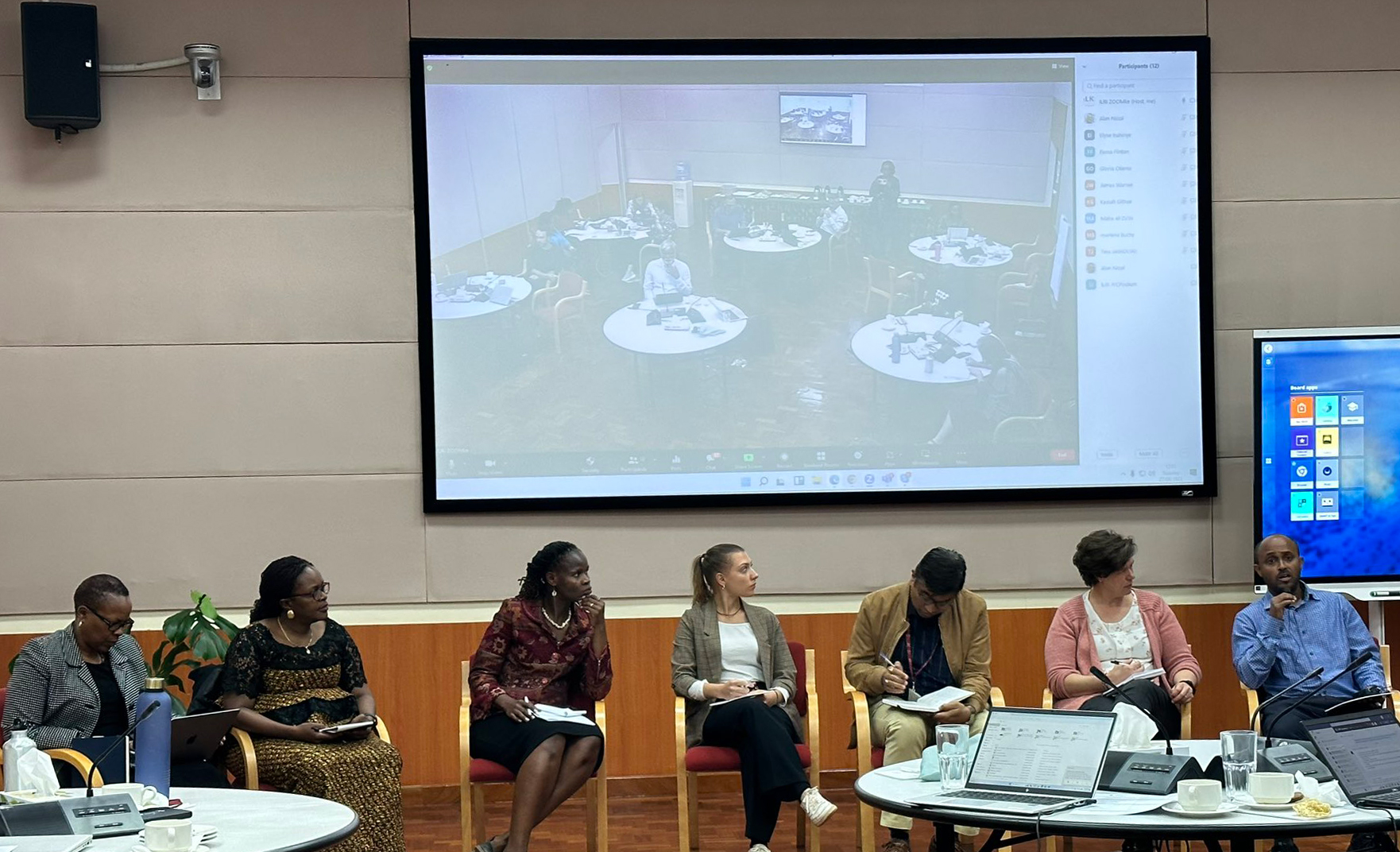 By Dr. Alan Nicol (IWMI), Dr. Juan Carlos Sanchez Ramirez (IWMI), Dr. Joyce Maru (CIP), and Mr. Michael Victor (ILRI)
Complexity can be overwhelming and the CGIAR initiatives are a contributing factor. Numerous countries face intense policy challenges as they tackle interlinked food, water, and energy emergencies amid a climate crisis, and some host initiatives engaging in different and sometimes overlapping policy spaces. Supporting the poorest and most vulnerable communities requires policy that is well targeted, effectively implemented and joined up. The joining up is often touted, but difficult to achieve, especially beyond the level of paper coherence and in the more bruising world of actual policy implementation.
With this in mind, the CGIAR Initiative on National Policies and Strategies on 27th and 28th June convened nearly 20 initiatives in Nairobi to discuss coherence building approaches, building on past experiences and thinking ahead to the new business cycle. We tackled a core question: What can we do differently, and how?  As Dr Alan Nicol, NPS Co-Lead stated in his opening remarks to the meeting: "As the CGIAR approaches a second business cycle of three-year initiatives, now is a crucial time to get coherence right and achieve more effective inter-initiative policy engagement across the six regions in which the CGIAR works, and especially at national level." Over the two days of deliberations and intense examination of current practice, six core messages began to emerge, as outlined below:
There are policy successes, but fragmentation dilutes them. CGIAR centers and staff are well placed to have effective policy engagement and potential influence given their presence and set of relationships to policy makers across diverse countries. However, based on the presentations given, policy activity can be quite fragmented, based in research silos, and even competing for recognition and policy space. This can easily lead to the duplication of efforts. Joyce Maru, leading on building communities of policy practice under NPS described how "Collaboration around policy coherence should be driven by demand. We need to build more effective and joined up working methods across initiatives and centers, including strengthening the role of the country convenor," a point echoed at various points during the two days.

A range of opinion on the policy impact-research continuum also emerged. This involved a (creative) tension between initiatives working in a policy 'entrepreneurial' and influencing role versus simply carrying out policy research and engagement ending with research 'being fed in' to the wider policy environment. Certainly, a sense emerged that the CGIAR needed to do more to distinguish points along this continuum and how different approaches could be supported in different contexts, especially given the range of demand for different kind of policy 'services' by government and other actors. Key questions included 'how far do we go and what role should researchers play across the policy cycle from design, through to implementation, monitoring, evaluation, etc'. One point highlighted by CGIAR initiative Transforming Agrifood Systems in South Asia (TAFSSA) was the importance of early engagement with policy stakeholders, bringing their inputs into conceptualization and program design, and not 'after the event'. This also included understanding political economy issues, especially how political economy implications shape government approaches to policy change – and the role researchers could play in analysing these relationships.
A third area related to country coherence building and convening. The core challenge identified here was a lack of resources. Whilst the role involved key knowledge brokerage and management capacity, it also required a set of new approaches to help structure and, to an extent, formalise coherence building as a process. As set out in the meeting by Kenya's country Convenor Joseph Karugia, this could involve establishing a national framework for policy engagement, convening a country-wide meeting to apply this framework to the policy environment and identifying a structured policy-wide approach to initiatives in-country leading eventually to an agreed country implementation plan.  Dr Karugia highlighted the importance of not just understanding and working with policy content, but also understanding the institutional dimensions of policy implementation, and emphasised that engagement at all levels including lower levels was also important.

Once a set of research inputs have been designed and implemented in any given country or regional context, the next major challenge is measuring the CGIAR contribution.   Developing a theory of change and monitoring policy processes and changes that accrue is key, including methods to document the specific attribution of different initiative contributions. "What's important is understanding the complexity of policy formulation and implementation. Patience is required, as is understanding the landscape on the ground. And messaging is important in this process" Joyce Maru, stated. This challenge is compounded, however, by the fragmented nature of policy engagement in many countries, underlining the need to establish greater country and regional coherence from the start of the process – and monitoring frameworks – rather than trying to retrofit coherence towards the end.
Mechanisms to support cross-initiatives policy work were also identified and a clear need emerged for a platform or network that could enable continued learning and sharing on policy engagement and support, whilst bringing together researchers working on policy, and acting as a focal point for the CGIAR's policy work. This would help support continued updating and refining of policy approaches and results across – and beyond – the initiatives portfolio.
Finally, one of the most challenging issues that arose was the existence of a policy gap in the CGIAR's over-arching policy goals. A clearer articulation of what the whole portfolio of initiatives sought to change globally at a policy level could cascade down to country engagement processes and help in planning initiative policy support at lower levels too.  The key question is whether we possess shared policy objectives that unite us, or if we will continue to be driven by demand and opportunities as they arise. Much more discussion will be required on the above key points, but this NPS meeting made a good start ahead of new business cycle planning.
---
Stay updated with NPS's free quarterly newsletter – sign up now!
---
This work is part of the CGIAR Initiative on National Policies and Strategies (NPS). CGIAR launched NPS with national and international partners to build policy coherence, respond to policy demands and crises, and integrate policy tools at national and subnational levels in countries in Africa, Asia, and Latin America. CGIAR centers participating in NPS are The Alliance of Bioversity International and the International Center for Tropical Agriculture (Alliance Bioversity-CIAT), International Food Policy Research Institute (IFPRI), International Livestock Research Institute (ILRI), International Water Management Institute (IWMI), International Potato Center (CIP), International Institute of Tropical Agriculture (IITA), and WorldFish. We would like to thank all funders who supported this research through their contributions to the CGIAR Trust Fund.