Opinion: Forget ChatGPT – the greatest tech breakthrough would be getting cell phones to rural women
From
Published on

06.03.23

Impact Area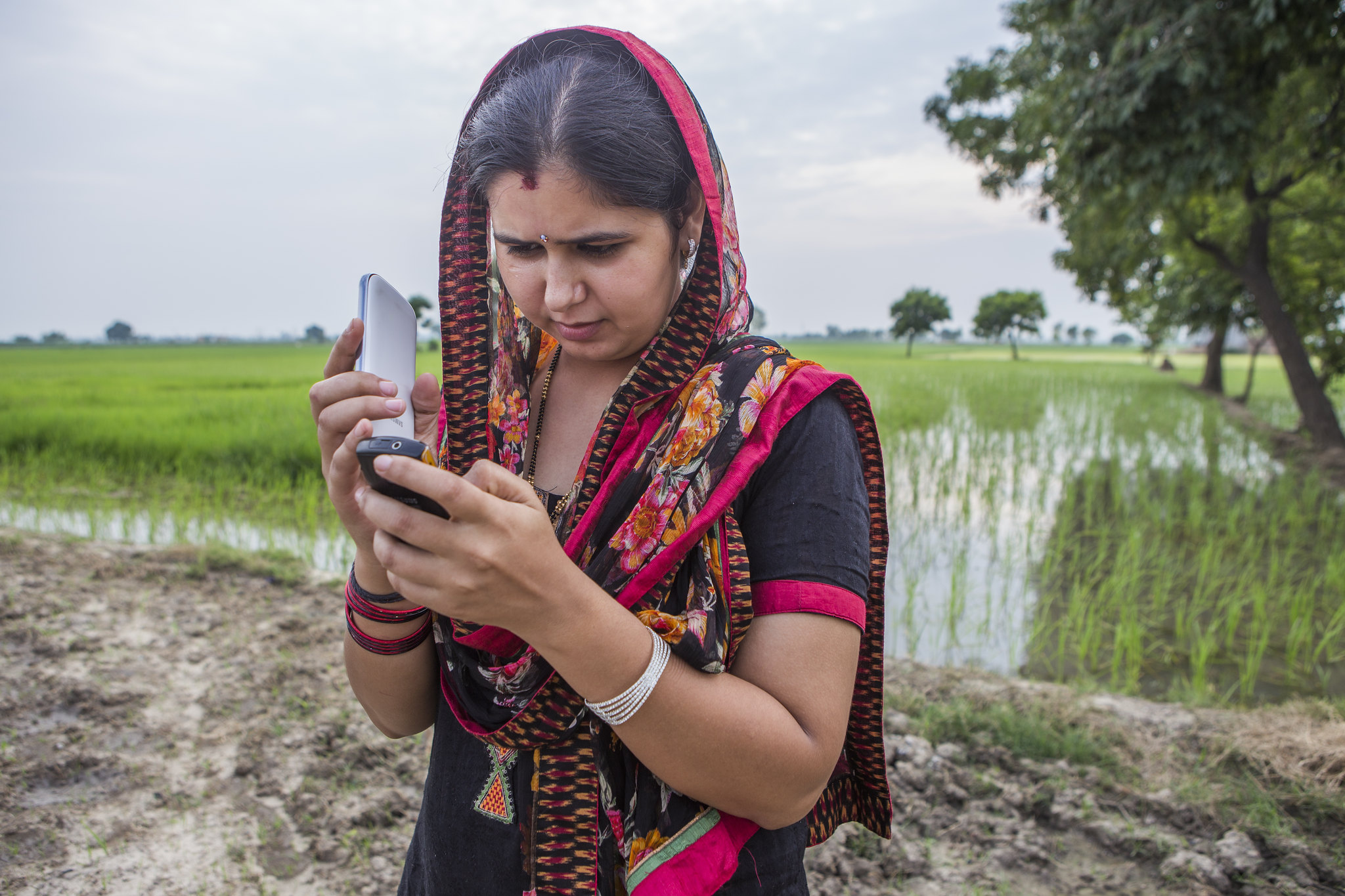 While 100 million people worldwide are using the AI chatbot ChatGPT to get ahead on homework and try out for top jobs at Google, more than 370 million women in developing countries lack the services of a simple cell phone.
This opinion piece by CGIAR GENDER Impact Platform Director Nicoline de Haan was first published by IPS News.
The world may be witnessing a quantum leap in the digital revolution, but cell phones and mobile internet would give these women enough of a foothold to access unprecedented opportunities to improve their incomes, nutrition and health.
For rural women and girls in low-income countries who rely on small-scale agriculture, ICT can unlock financial services, training and networks, and, importantly, information and knowledge. Without these core technologies, women are farming with one hand tied behind their backs, making up just a quarter of registered users of agricultural applications in Africa.
The potential of digital technology to transform farming and agriculture in countries across the Global South is increasingly compelling. Producers in sub-Saharan Africa who adopted online services were found to increase their incomes by up to 40 per cent while new forecasting and early warning systems can also help farmers stay ahead of climate shocks. Digital innovations are therefore an essential component of agricultural research strategies to strengthen food and economic security around the world.
Subsidising technologies like cell phones for women can be one effective way for governments and NGOs to start closing the digital gender divide while boosting overall agricultural productivity.
Women in sub-Saharan Africa are 15 per cent less likely to own a cell phone and more than 40 per cent less likely to use mobile internet than are men. Yet when women were given cell phones, SIM cards and time charge cards in one study in Tunisia, 75 per cent said they benefitted either through better connectivity to agricultural information, such as veterinary advice, or greater levels of communication.
Meanwhile, a project to provide app-based drone delivery of livestock vaccines is set to allow women in Ghana to overcome gender norms that dictate men farmers liaise with men veterinarians, and better care for their chickens and goats.
But to ensure that women get maximum benefit, both the technology and the training to use it must be optimized to account for different needs and contexts – and this needs ongoing investment into gender-responsive agricultural research.
While cell phones and SMS have increased the reach of agricultural information services, disproportionate levels of illiteracy among women require innovative forms of delivery to be impactful. For example, developing interactive voice response (IVR) technology and voice messages in local languages can allow women to receive the same valuable information in a format that acknowledges gendered differences in education levels.
Similarly, complementary technologies ensure that greater access translates into greater benefit. Using radio programming in combination with SMS, and avoiding gendered greetings such as "dear brother farmer", can improve both women's access to and capacity to leverage information.
Perhaps the greatest barrier when it comes to closing the digital gender divide are the norms that continue to limit women's access to technology, and the slow social and cultural acceptance of women making use of digital tools in agriculture.
One approach is to support efforts to work with the gatekeepers of technology within the community, whether fathers, clerics or elders, to encourage behaviour change. Another promising tactic is for governments and research partners to develop community-based opportunities for women to access and act upon information technologies collectively.
Radio Listeners Clubs in Rwanda were found to help remove the significant disparities in awareness, access and use of climate information that usually exist between women and men smallholder farmers. The greatest improvements in income and social standing as a result were among women.
Digital innovations can themselves play a part in deconstructing gender norms. #BintiShujaaz ("Heroine Girl"), a social media campaign launched in Tanzania, used posts, videos, comics and two online panel discussions to showcase positive examples of young women in the chicken business. The campaign reached 4.4 million young Tanzanians, with more than 500,000 engagements, to help improve the perception of women in the poultry business.
Access to information through digital technologies can be a powerful leveller and a critical weapon in the arsenal. And when it comes to gender inequality, it can generate multiple benefits, not only for women but for their families, communities and economies.
It is vital that governments, development partners and agricultural research institutes do everything they can to ensure women not only have access to the information and knowledge they need but are empowered to use it in their best interests.